Superhuman: An email management service for 27 euros per month | Technology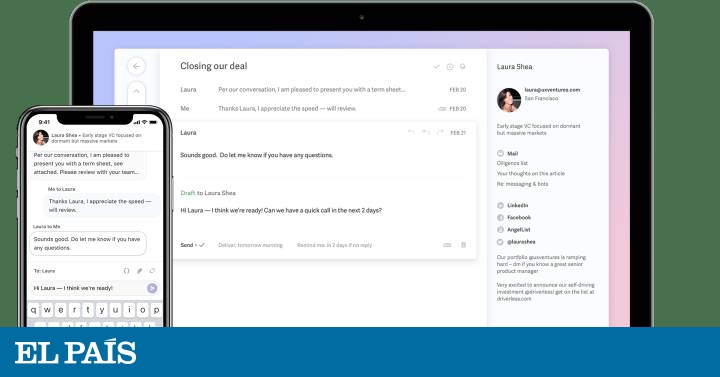 Email has become an indispensable tool for millions of users. Gmail, Outlook or Yahoo They are just some of the free email services in the market. In a context in which managing emails can be done manually and without paying anything, a startup which charges $ 30 – about 27 euros – a month to help make it faster has become fashionable in Silicon Valley. It's called Superhuman and promises "the fastest email experience ever created." The service, which can only be accessed by invitation, has a waiting list of more than 220,000 people, according to its founder, Rahul Vohra.
The key to Superhuman is that it has keyboard shortcuts that allow the user to perform multiple actions without having to lose a second in catching the mouse. The startup has recently received in a round of financing 33 million dollars from Andreessen Horowitz, the influential venture capital company that since its creation in 2009 has backed Twitter, Instagram, Facebook and many other important companies.
Vohra started creating Superhuman in 2014. Before that, he had founded Rapportive, an email company that was acquired by LinkedIn in 2012. "I realized that the email market had adopted a unique model. Everyone had to use Gmail or Outlook, regardless of whether they sent one or 100 emails a day, "he explains to this newspaper. This led him to create a service aimed at "the people who live within the email". That is, "the people for whom email is work and work is email."
To reduce the time it takes to write emails, Superhuman has implemented the snippets. These are keyboard shortcuts that allow the user to automate typing and quickly type default phrases, paragraphs or even complete emails. They are also used to attach files, copy someone, delete a sent message, schedule emails or cancel a subscription. Vohra gives as an example an email in which a user asks for access to Superhuman. It is a message that you receive on a regular basis, so, with the press of a key, you can ask the issuer to complete the incorporation survey.
"If you ever think you need to move your mouse to do something, a suggestion will appear at the bottom of the screen that will explain how to do it faster from the keyboard," says a journalist from The New York Times You could try the service. To reduce the time it takes to check emails, the user can move from one to another quickly with a keyboard shortcut as if it were Instagram stories. And to open them in order of importance, you can establish a series of VIP contacts and prioritize the emails of the tools you use most as Asana, Trello, GitHub or Google Docs.
By sending an email, the system also allows you to choose the period of time in which you would like to receive a response. If at that time you have not received a reply, it will remind you to track the email. In addition, users can know when people read their emails. This is already possible to do for free with different extensions, but Superhuman has received criticism for this function, as it provided additional information from the recipient without his consent.
Mike Davidson, technology expert, explain in this post as the system reported the approximate location of the person receiving the message due to "hidden tracking pixels within the emails sent by their customers". "Superhuman calls this function' reading receipts 'and activates it by default for its customers, without the consent of its recipients," he says at the entrance. After the criticism received, the startup has stopped recording information about the location of the recipients and although it maintains the function of read states, it deactivates it by default. "Users who wish should activate it explicitly," explains Vohra in a blog post of the startup in which he responds to criticism.
Gmail or Google G Suite users
The company has not specified the specific number of users currently using this system. To use Superhuman, it is necessary to have an account in Gmail or Google G Suite, although in the future the company plans to offer this service also to Outlook and Exchange users. It is also essential to have an invitation and fill out a questionnaire about email habits and workflow. Vohra explains that this is because a company worker makes a mandatory video call with each user to teach him in detail how to get the most out of the service.
Radicati, a research firm that studies messaging trends, says that almost 300,000 million emails are sent and received every day. Vohra now boasts that Superhuman users can access their inbox twice as fast as before, they take less time to respond to important emails and many see their inbox without any pending message for reading for the first time in years. The service, which runs from the Chrome browser, stores in its memory the emails received instead of on an external server to speed up the search and sending them. The user can read and write emails even without connection to the network and, once connected, the actions they have taken are updated.
"The creator of Gmail, Paul Buchheit, had a rule: each interaction should be faster than 100 milliseconds. Why? Because 100 milliseconds is the threshold where interactions feel instantaneous. In Gmail, interactions can take a second and searches can take many seconds. We have taken the rule of 100 milliseconds to the next level, and we constantly turn 50 milliseconds or less, "says Vohra.
The founder of Superhuman explains that currently about 50% of the emails sent are from a single line and that "they will be shorter and shorter". In the future, he says, email platforms will offer more collaboration features. For example, it will be possible to "assign emails to a coworker or have them write an email for you." In addition, he points out that artificial intelligence and machine learning will be increasingly present so that "one day most users' emails will be written completely automatically."
. (tagsToTranslate) service (t) management (t) electronic mail (t) (t) 27 euros (t) month (t) superhuman (t) put (t) fashion (t) silicon valley (t) allow (t) control (t) message (t) only (t) keyboard shortcut (t)



Source link