Sunderland wins its second Dakar on motorcycles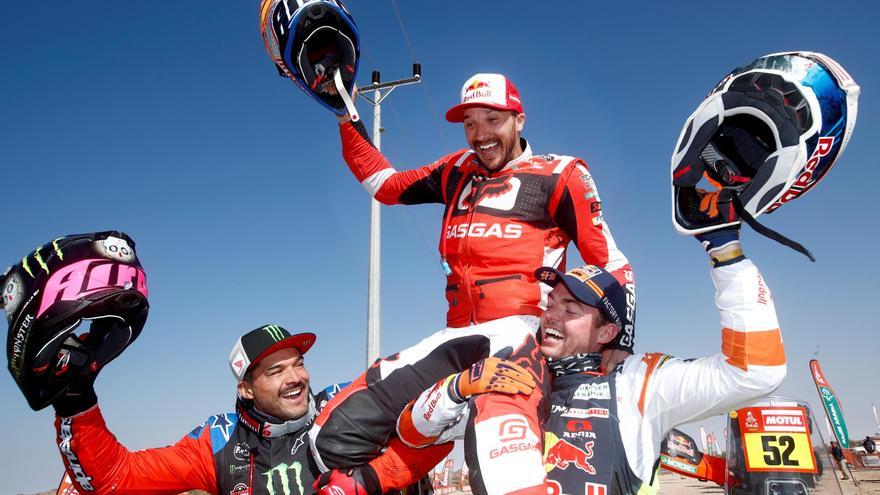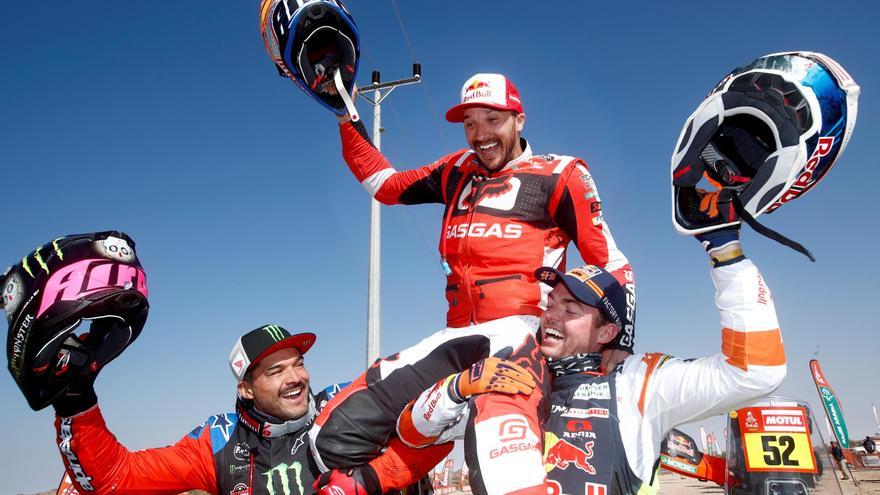 The British Sam Sunderland, of the Spanish Gas Gas team, which has the support of the Austrian brand KMT, got his second Dakar in the motorcycle category, after winning it in 2017, by winning the general classification ahead of the Chilean Paul Quintanilla (Honda), winner of the twelfth stage held this Friday between Bisha and Yeda, and the Austrian Matthias Walkner (KMT).
It was not an official team that took the victory, but after 18 consecutive years in which a KTM prevailed in the desert, the Japanese Honda added two editions in a row achieving the victory, so in 2022 the Austrian breaks this streak and gets her first 'Touareg' in Saudi Arabia.
And he does it with surprise since they 'snatched' Honda, the current champion until this Friday, from the Argentine Kevin Benavidez; but the 36 minutes lost on the second day of competition and, above all, the mechanical problems of stage 10 prevented him from fighting to defend his crown.
One that Quintanilla fought for Honda to retain until the last stage, despite the fact that the timed section (special) had only 163 kilometers and most of the track, without overly complicating the riders beyond some difficulty in navigation. In the end, he was only able to cut 3'25" from it, which served to certify his second place in the general classification, 3'27" from Sunderland.
Third, at 6'47", was a Walkner who, despite taking the lead in the ninth stage, could not maintain said place of privilege.
Barreda finishes fifth
The best Spanish on two wheels was a Joan Barred (Honda) who ran from the fifth stage with the fractured clavicle. He crashed again in eighth and still finished fifth overall. For his part, Lorenzo Santolino (Sherco) finished in 12th position, 58'26" behind the winner.
A twelfth stage, disputed between Bisha and Yeda, which, as expected, did not change the first places in the general classification but which had a fight until the end. Quintanilla took five seconds off the American Ricky Brabeck (Honda) and 18" to Australian Toby Price (Honda) to finish a Dakar in which he equals his best result (2nd in 2020).
Top five finishers of the 12th Stage in motorcycles:
Pablo Quintanilla (CHI-Honda): 1h40'
Ricky Brabec (USA-Honda): 5"
Toby Price (AUS-KTM): at 18"
Nacho Cornejo (CHI-Honda): at 29"
Joan Barreda (ESP-Honda): at 1'13".
Dakar provisional classification in the motorcycle category:
Sam Sunderland (GBR-Gas Gas): 38h47'30"
Pablo Quintanilla (CHI-Honda): at 3'27"
Matthias Walkner (AUT-KTM): at 6'47"
Adrien Van Beveren (FRA-Yamaha): at 18'41"
Joan Barreda (ESP-Honda): at 25'42".