Successful start of Animayo Gran Canaria 2022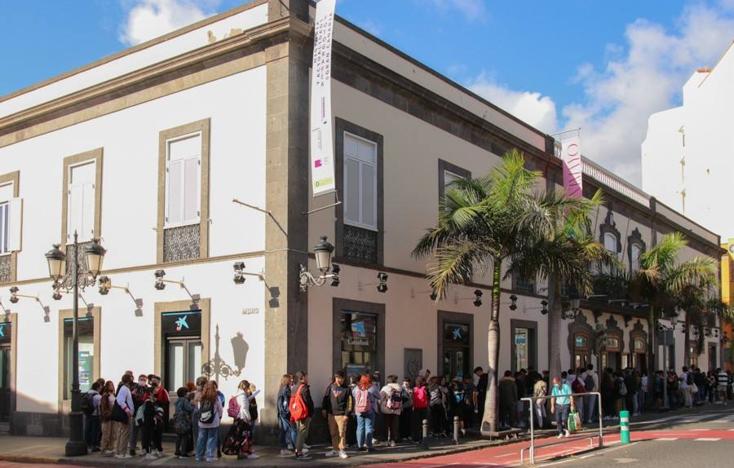 More than 600 people gathered on the first day of the 17th edition of the festival that will last until this Saturday, May 7
More than 600 participants, - counting only the morning activities -, in Animayo Gran Canaria 2022 attest to the successful start of a new edition, which under the motto
'The Future to Come' displays a poster of renowned international artists, producers, engineers and creators.
With the joy of returning to face-to-face activities floating in the air, and after the screening of the official trailer for the edition, the CICCA space auditorium stage received
Damián Perea, director and producer of the festivaland the President of the Cabildo of Gran Canaria, Antonio Morales, who took the floor and welcomed this
17th edition Animayo that, once again, "shows that there is a quarry, that there is interest and that there are expectations", "
a luxury for Gran Canaria.
One of the events in the film sector that gives our island the most visibility and that this year will mobilize the entire local industry and many who will come to the island to take advantage of a program full of great professionals who will teach
14 Master Class, they will participate in three debates, two workshops, or they can even be recruited by the talent scouts who attend these meetings. And it is that there will be half a million euros in scholarships to be able to learn working in the great international production companies«.
Next, Damián Perea presented the first activity of the day, the masterclass and making off, exclusive to Animayo,
«The longest night dawns. How it was made:
from the idea to the NFT.", given by its directors, Carlos Fernández de Vigo and Lorena Ares, founders Dr. Platypus & Ms. Wombat. A Coruna, (Spain). The following masterclass, in this case by Concept Artist and in collaboration with U-tad, Centro Universitario de Tecnología y Arte Digital (Madrid),
«From your notebook to the screen / My life as an artist», was in charge of Aurora Jiménez, visual development artist. -DreamWorks Animation, Los Angeles, (USA).
And in line with the new technologies on which Animayo Gran Canaria 2022 focuses, a first in the Canary Islands, the exhibition was inaugurated in augmented reality, only visible when we focus on it with a mobile device; NFTs themselves «
that can be acquired, with 100% of the profits going to associations and NGOs that help refugees from Ukraine«. An exhibition dedicated to the 2D animated short, with a pictorial aesthetic, 'The Longest Night Dawns', based on a story by three-time Goya winner Ángel de la Cruz.
In the afternoon, Damián Perea, presented the Animayo Gran Canaria 2022 program and from 8:30 p.m., at the Guiniguada Theater, the first of the four projections of the Official International Competition Section took place. And it is that Animayo is the first and
The only festival in Spain designated a "Qualifying Festival" by the Academy of Motion Picture Arts and Sciences in Hollywood for the Oscar Awards® in the animation category.
Aniimayo programming for this Thursday

This Thursday, Animayo continues to display its always innovative programming by speakers who have worked with legendary studios –
DreamWorks Animation, Walt Disney Animation Studios, Sony Pictures, Ubisoft, Maybe Movies, Norlum Entertainment, Netflix, Skydance or Platige Image, among others– coincide with speakers specialized in new technologies, artificial intelligence, the Metaverse, virtual reality or NFTs. This is how the masterclasses will be held:
10:00 a.m. to 11:30 a.m. CICCA.
«Virtual Production, the era of Real - Time». VR. By Xes Vilà Roig, CTO and Founder of Punk Visual. (Barcelona, ​​Spain).
12:00 to 1:30 p.m. CICCA.
«Ideas come from observing / Design and visual storytelling». Production design.By Carlos Saragossa. Production designer. -Sony Pictures Animation. Los Angeles, (USA). In collaboration with U-tad, University Center for Technology and Digital Art (Madrid).
4:30 p.m. to 6:00 p.m. CICCA.
«Animation career: Recruitment and production perspective – case study». Recruitment. By Zofia Sieracka. Senior Recruiter. Platyge Image. Warsaw, Poland). In collaboration with the Polish Institute of Madrid. (CICCA. Language: English).
6:00 p.m. to 6:30 p.m.
. Autograph signing.
6:15 p.m. to 8:00 p.m. Guiguada Theatre. Debate
'Women in the audiovisual industry'. Participants: Mercedes Ortega, Aurora Jiménez, Lorena Ares and Claudia Morales.
6:30 p.m. to 8:00 p.m. CICCA.
Masterclass «Metaverse: Uniting Web2 to Web3». New technologies. By Yuan Yinzi. Project Manager Ubisoft, founder Metaverse Summit. Paris France).
8:00 p.m. to 8:30 p.m. CICCA.
Autograph signing.
8:30 p.m. to 9:30 p.m.
Guiniguada Theatre. Screenings International Official Section to Contest II.
Animayo's supports

The Animayo Gran Canaria festival, has the collaboration of the Cabildo de Gran Canaria, the Promotion Society of the City of Las Palmas de Gran Canaria, La Caja de Canarias Foundation, Government of the Canary Islands, Canarian Institute for Cultural Development, Guiniguada Theater, Film Library Canaria and all the institutions, organizations, universities, schools and private companies that have sponsored and collaborated with Animayo for 16 years, making the Canary Islands very fertile ground for new generations.