'Streets of Rage 4', a nostalgic coup executed with mastery | Blog 1 UP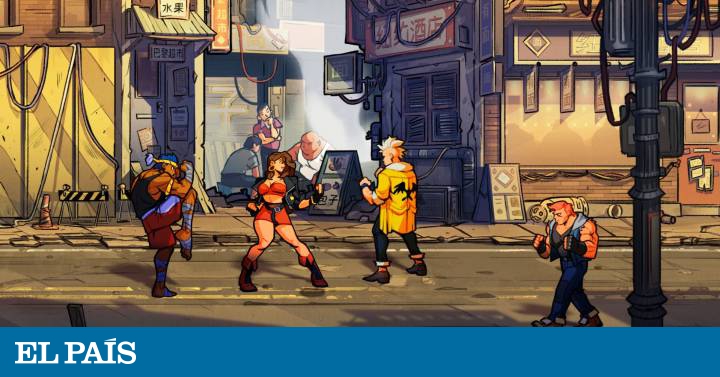 The video game industry is driven by fashions, by trends. Nowadays, breathing the essence of works of yesteryear with a current look has ceased to be a trend and has become a style, a way of transforming into Phoenix, and flying, letting go. Because works like Streets of Rage 4 They show that, no matter how many ten or twenty-six years pass between the last installment and the one that concerns us today, if the work is done well, you will not only dazzle those who are now inevitably adults, but also serve so that the new generations understand where we are and where we come from.
Video game culture needs new life, but experience is a degree and seniority can also sometimes be a way forward. Lizardcube, Dotemu and Guard Crush Games are responsible for the fact that we are now talking about an excellent product, capable of rubbing shoulders with the original works of SEGA and worthy of the name it bears. Ben Fiquet, creative director at Lizardcube; Jordi Asensio, designer at Dotemu; Beausoleil Samson-Guillemette, programmer at Guard Crush Games; and Cyrille Imbert, CEO of Dotemu and executive producer, open up to tell EL PAÍS what this complex development process has been like where all the pieces have fit where they should.
The result is a title available on PS4, Xbox One, Nintendo Switch and computer with twelve perfectly differentiated levels, which lend themselves to being played over and over again with their multiple levels of difficulty and scores, as if we were in the arcade. His managers, who have already recorded their talent with the applauded Wonder Boy: The Dragon's Trap A few years ago, they have had the opportunity here to demonstrate that they are not only staunch fans of SEGA's works, but they stand as a team capable of respecting and even improving some of the elements of the titles that now headline the history books. in the genre me against the neighborhood or beat 'em up.
Question: When did you realize that this finally chosen artistic section was going to be the definitive one? Artistically, the title looks stunning on screen.
Ben Fiquet: Thank you. The great thing about a 2D game is that you can really define the look of the game before final production. Everything can be drawn by hand in Photoshop and then transferred to the game as planned. It took more than six months of pre-production to define the final appearance; But it wasn't until I hired Julian Nguyen You as a background director that he really gave a big boost. You really have done a splendid job.
Q: What has been the most complex part of getting ahead during development?
BF: I think the inherent pressure you feel when working on a license so loved by fans. It can be quite difficult to create when expectations – not just from fans but from yourself – hang over your head.
Jordi Asensio: For me, finding the balance between making a new game and the faithful sequel to Streets of Rage. To do this, we asked ourselves how the original team would have done this game today. It was about identifying what worked and why while adding new features; but keeping some trends of the current games. Some kind of neo-retro experience that could attract new players and please those of the old school.
Q: Something we always like to know in video game studios, regardless of whether they are big or small, is the number of people involved in development. Here we talk about three studies, how many people have actually worked on the title?
BF: The core team is around 10 people, but I think more than 50 people have been working on it at some point in development.
Beausoleil Samson-Guillemette: Yes, the main team was really small, about 5 people: Jordi, Ben, Julian, Cyrille L and me. But then there is Swann, the sound manager, Olivier and all the musicians; And you can imagine, we could not have done anything without what I would call the infrastructure of Dotemu: first, our producer Christian and, in turn, the entire marketing team, quality testing, business area or even legal matters. Therefore, if we focus on day-to-day life, from the beginning there were five of us, but then it was multiplied by ten; more if we count all those who tried the game.
Q: A considerable amount of fans are playing Streets of Rage 4 on Nintendo Switch, a hybrid platform that has the advantage of being portable, to transfer the experience anywhere. Was this adaptation to a console with less gross power complex?
Cyrille Imbert: To do the port At Nintendo Switch we have worked with our partner Seaven Studios. We started the adaptation process quite early during production, so we didn't have any bigger than typical issues like optimizing performance and size.
B SG: Once we started working with him masterSometimes we saw that some part could be optimized especially more than others. For example, I was leaving comments here and there in the code with those ideas for optimization, and then the guys at Seaven saw them and could go on to implement them, depending on whether it was really necessary. Sometimes we made changes directly to the master so that all platforms [PS4, Xbox One, PC] could benefit at the same time. Overall, if I had to identify a single troublesome aspect on the Nintendo Switch, I'd say it's its memory. A game like ours uses a lot of textures, probably much more than an average 3D game, since backgrounds are hardly reused: each image frame in the animation requires a Sprite brand new. In the end we didn't have to sacrifice anything or compromise our initial idea, just to optimize things a little. One of them, reducing the size of blurry textures or using texture compression; reduce the volume of particles that added too much detail to every scene … that kind of thing.
Q: This game is really aimed at a very specific, narrow market niche. How did you plan to seduce those who played three decades ago Streets of Rage original? How are they given reasons to return?
CI: It is all a matter of balancing nostalgia and modernity. We have worked very hard to bring together the feeling of the original game and the spirit of the series. But, to be a proper sequel, we had to add many new features that would bring more depth and richness. We've also added a lot of content to the game to ensure greater replayability. Finally, the game has various difficulty options, all designed to facilitate greater accessibility. We hope that, with all these elements, SoR4 arouse curiosity and interest among those who have just arrived at the saga.
BF: On an artistic level, we have tried to go a step further than what had been done before. I think HD art and animation helps connect with many gamers who don't know the original games. It will reach a wider audience, and perhaps it may attract more people to give the classic genre of games a try again. beat 'em up.