Stop on the way back to the classrooms for safety before the volcano of La Palma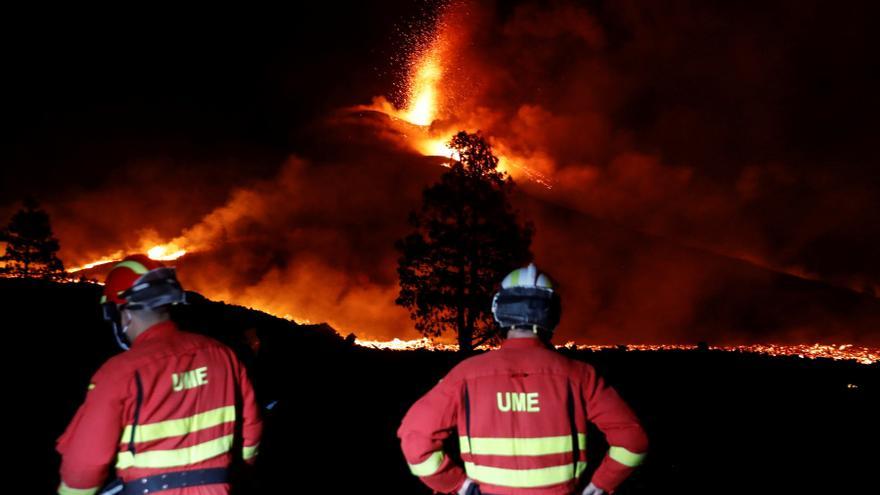 Twenty educational centers of Los Llanos de Aridane (13), El Paso (5) and Tazacorte (2) with 4,073 students they have been harmed by the damage caused by the eruption, which has forced the planning of a regrouping of schoolchildren.
The CEE Princesa Acerina de Los Llanos de Aridane will receive the most students due to the receipt of enrollment from the unitary schools of Los Campitos, Todoque and the Milagros Acosta School (112 students).
Also the CEIP Adamancasis of El Paso (8) and Roque de los Llanos de Aridane (11) will increase the number of places for the 2021-22 academic year due to an emergency situation that have not yet been able to be solved one hundred percent by the workers of the Los Llanos de Aridane and El Paso consistories who since last week have participated in the cleaning tasks: removal of ash from patios, courts, ceilings and inside classrooms.
There is no deadline for the return
Manuela Armas, Minister of Education of the Government of the Canary Islands, met last week with members of the school community that has been affected by the volcanic crisis and as a first measure it was decided to develop a security device that does not yet exist. And it is that, in addition to maintaining the measures imposed by the health pandemic, those in charge of organizing the return of schoolchildren to the three municipalities of La Palma will have to guarantee that it occurs safely.
At this time, self-protection plans are being analyzed - routes of the school transport service, evacuation times in the event that there is an immediate eviction notice, where to take the schoolchildren (a high percentage are not occupying their main residence) and how consolidate the proper functioning of the centers - whose development continues to be compromised by the large amount of ash that accumulates in the facilities.
The cleaning of the volcanic material has to be continued and that is something that affects the dynamics of the classes: one of the biggest concerns is associated with the quality of the air that teachers and students must breathe in the classrooms. And it is that if the covid recommendation includes teaching classes with the windows and doors open to facilitate continuous air traffic, that option with the levels of volcanic particles that exist in Los Llanos de Aridane, El Paso and Tazacorte it is almost impractical. The travel times of school transport are also a difficulty given the state in which some roads are located. The complexity to close an action guide that allows to reestablish classes is being so complicated because it must include aspects that must be analyzed by the General Directorates of Security and Emergency and Public Health and the Ministry of Ecological Transition.