Stop in Santa Catalina – The Province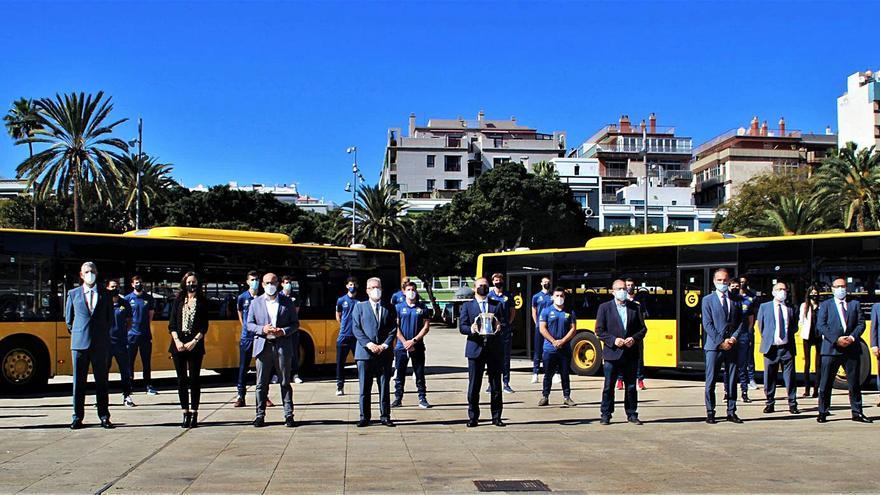 Santa Catalina Park was decorated to receive the Copa del Rey conquered by the CV Guaguas. The squad and board of the brand new champion of the KO tournament were received by the mayor of Las Palmas de Gran Canaria, Augusto hidalgo, in an emblematic enclave for the city and for the club itself on the occasion of that last trophy won by Sergio Miguel Camarero's boys.
Along with Mayor Hidalgo were also the Councilor for Mobility, Jose Eduardo Hernandez, and the Councilor for Sports, Aridany Romero. After a family photo surrounded, how could it be otherwise, by two buses from Guaguas Municipales, the mayor wanted to express his gratitude to CV Guaguas for "reviving a scenario that we had lost such as men's volleyball and that now fills its showcases with new trophies ". "The Guaguas will become a symbol of this city in the world," said Hidalgo
"From the City Council we are proud to have linked the company Guaguas Municipales to a historic volleyball club that promised titles and that, fortunately, has already begun to deliver. I am convinced that from the drivers and mechanics to the managerial staff of Guaguas Municipales they feel proud of the club and of this company, "said Councilor José Eduardo Ramírez.
For his part, Romero highlighted "the willpower, teamwork and choral effort shown by this squad when it comes to shining in such a demanding competition, thus rescuing one of the historical references of sport in our city."
For his part, Juan Ruiz, president of the Gran Canaria club, pointed out that he does not want to stay in this Copa del Rey and that the expectation is to create "a world-class club. "I know I'm a bit ambitious, but ambition is good when it is healthy and Guaguas' ambition is good for the city," added the club's top president.
The event ended with the delivery by the mayor of Las Palmas de Gran Canaria of a small gift for the staff of CV Guaguas.