Stephen Shore: The Distracted Beauty of America | Babelia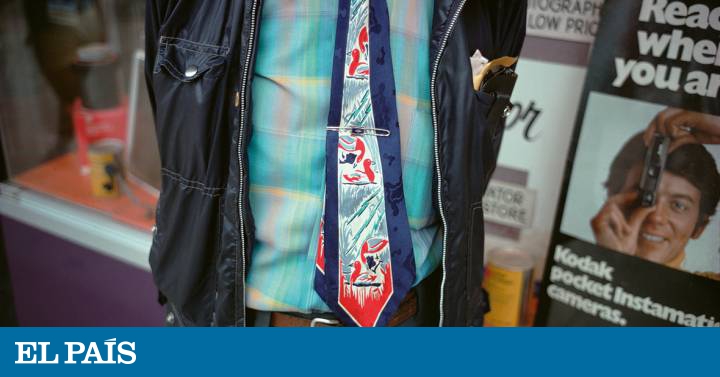 "Until I was 23, I lived mostly on a few square meters in Manhattan. In 1972, I set off with a friend to Amarillo, Texas. I was not driving, so my first vision of America was framed inside the passenger window. Was a shock"He remembered a decade later Stephen Shore (New York, 1947). This was the author's initiatory journey that, during the 1970s and 1980s, set out to capture the quintessence of his country through practically unexplored paths: making use of color (accepted within fashion photography and advertising) and focusing his attention in the most banal moments of everyday life. His work would be a turning point in American visual culture.
"Seeing something spectacular and recognizing it as a photographic possibility is not a great leap. But seeing something ordinary, something that one sees every day, and recognizing it as a photographic possibility, that is what interests me, "the artist would say. Thus, the food served at breakfast time, the fold in the leg of a pair of pants, the lonely roadside motels, the old doormat of a house and the soulless avenues of the cities, became the object of his gaze. They shaped a kind of visual diary made up of repetitive, neutral and emotionless images, the same one that initially raised the subject. They consciously emulated the characteristics of aesthetics amateur and they should be 'natural', as if they were the result of the process of observing and not of the process of shooting with a camera, conditioned by multiple visual canons. "I think everyone is aware that he often writes differently than he speaks and that his texts can sometimes be more affected and even use a different vocabulary. And I wanted photos that were as natural as talking. At random times, when it occurred to me, I would do what we would today call a screenshot of my field of vision, "said the photographer. The result was collected in two of his referential series: American Surfaces and Uncommmon Places. It would be the latter, published by Aperture in 1982, which established his fame as a renovator of documentary photography.
Unframed, taped to the wall with double-sided tape, it was first shown in October 1972, American Surfaces, at the LIGHT Gallery in New York. The title alluded both to the superficiality of the brief encounters on the road, and to the underlying character of the color images captured with a Rollei 35 camera. The criticism was harsh. In a paternalistic tone by Paul Strand, he argued that "great emotions cannot be communicated in color" - it should be noted that all this happened four years before William Eggleston make his now-weighted color debut at MoMA. Almost two decades passed before the groundbreaking series was brought together in a book edited by Phaidon Press. The publisher now publishes a revised edition, which includes forty unpublished photographs accompanied by a text by the writer and photographer Teju Cole.
The bad reviews did not succeed in dwarfing the artist's well-known determination. At just 14 years old, he had dared to make an appointment with Edward Steichen himself (then head of the MoMA photography department) in order to view some of his work. The famous photographer ended up buying him three photographs. Five years later Shore I'd knock on the door of the Factory. Andy Warhol would admit it within his exclusive and diverse cohort. There he would change his way of looking at the world. In 1971 he became the first living photographer to whom the Metropolitan Museum dedicated a solo exhibition since that dedicated to Alfred Stieglitz, 40 years earlier. There, he showed a series of conceptual-based black and white images, but only his parents and some friends attended the opening, as he narrated then. The New Yorker.
Its success would not come until the publication of Uncommon Places, in 1982. This is the author's best-known series, which today already has 25 books published. It was made between 1973 and 1978. He returned to the road loaded with an 8X10-inch wide-format camera, the descriptive capacity of which allowed him to create a small world with each shot; It delimited a space with a high density of information, inviting the viewer to explore it with his own eyes instead of the photographer's. The weight and size of the camera forced the author to make conscious decisions, "the camera was no longer an extension of the eye," he acknowledged. The Guardian. Hence, he decided to also carry a light and manageable Leica that allowed him to shoot more instinctively and complement his vision.
Since its initial publication, Uncommon Places It has been republished and revised in various formats adding new images, but all of them made with the large format camera. Published by the British publisher Mack, Transparencies: Small Camera Works 1971-1979, offers an alternative story and brings together for the first time the images that Shore took with the Leica during his journey. They are more intimate and spontaneous, less formal images where the so-called instantaneous or snapshot, pursued in American Surfaces, "If you dispense with everything you can from photographic conventions, what remains is yourself and your way of looking," he would say in an interview.
An image is not always worth a thousand words to Shore, as he recalled in an interview with the San Francisco Museum Modern of Art. "There are thoughts that cannot be expressed in an image, and there are no number of words that can communicate the experience that involves looking at certain photographs. The more words, the longer it takes to read them; the simultaneity of the experience and the specificity of the description are lost. So I take that picture. If I could put it into words with the same quality and complexity, it would save me money and time. "
Transparencies: Small Camera Works 1971-1979. Mack Books. 192 pages. 57.18 euros.
Stephen Shore. American Surfaces. Phaidon Press. 256 pages. 59.95 euros.