Stephen Curry's Warriors, hegemonic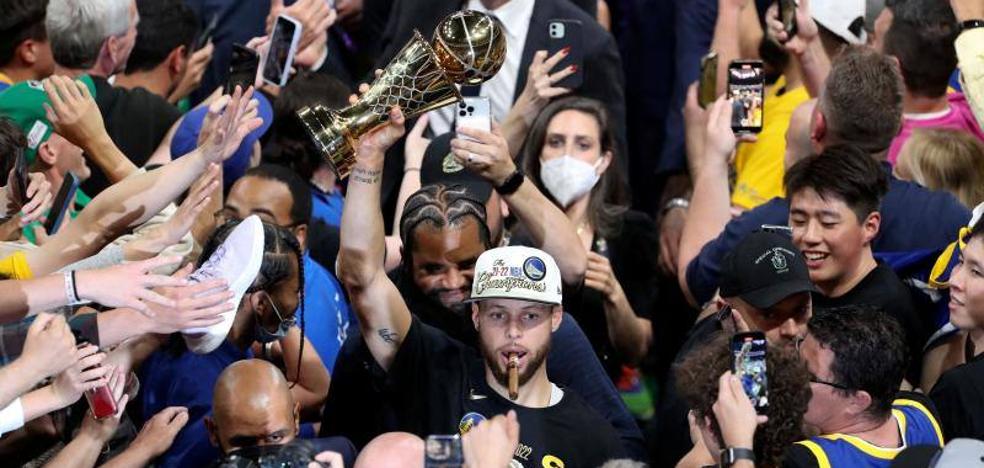 NBA
An exhibition by the San Francisco point guard made it 4-2 against the Celtics and gives Steve Kerr's team their fourth championship ring in eight seasons
The Golden State Warriors are the new NBA champions after beating the Boston Celtics in six games, who started higher in the tie but after losing three games in a row they say goodbye to the Larry O'Brien trophy. With this victory, the Bay team culminates a dynasty that began in 2015, and which places them third in the ranking of the most successful teams, precisely behind the Lakers and the Boston Celtics.
This ring, in addition, supposes for Stephen Curry the first MVP of the finals, the highest individual award among the players who dispute it. With averages of 27.4 points, 5.2 rebounds and 5.9 assists, the player gets the coveted trophy that eluded him in the three previous championships.
Another great protagonist in this final tie has been forward Andrew Wiggins, who has given a recital on both sides of the court and has managed to unclog the team at specific moments and stop the Celtics' attack. Those from Boston showed problems in the face of the basket, despite a great defensive game that was not enough against the Golden State scheme. Ime Udoka's team put up a fight, but the Warriors' slate surpassed the talent of Jayson Tatum or Jaylen Brown.
Stephen Curry, Klay Thompson, Draymond Green and their coach, Steve Kerr, increase their extensive ring collection and enhance their place in the Olympus of American basketball, while their star is positioned at the level of the best in history.