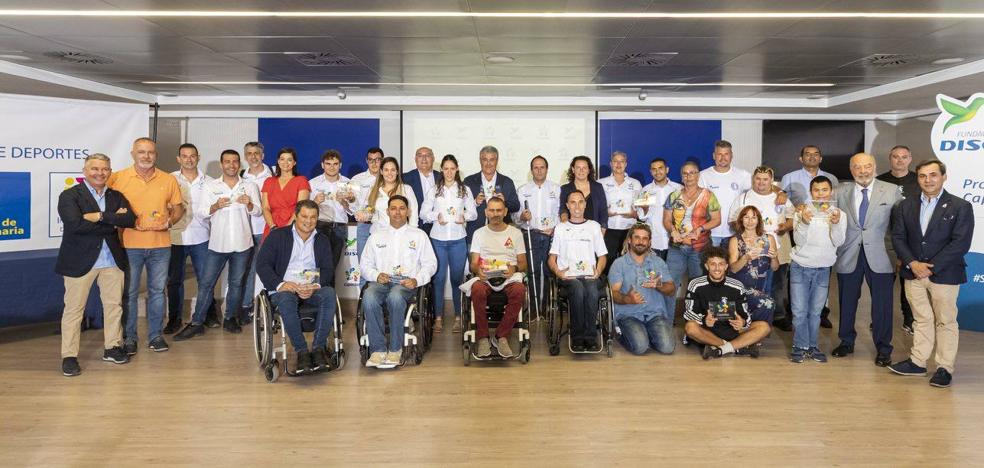 The DISA Foundation is committed to promoting sports practice among people with disabilities from childhood
The DISA Foundation has been working for 10 years creating and supporting projects that contribute to the improvement of different groups, betting with greater energy on those initiatives that have a real potential for change.
From its sports area, the entity works
the promotion of sport not only as a generator of health and well-being, but as a source of community values that promote camaraderie, respect or teamwork, as well as the promotion of effort and personal work to achieve goals and dreams.
Capacitas, a springboard for Canarian athletes

The geographical position of the Canary Islands hinders the competitive career of its athletes, a situation greatly aggravated in the case of people with disabilities, for this reason,
In 2016, the DISA Foundation launched its Capacitas Projectan initiative that offers financial aid to those who compete in different categories and sports modalities and who fight every day to reach the top of the world podiums.
In addition, aware of the importance of contributing to the growth of the sports academy, as well as making visible the different realities and sports modalities, it has recently included a new line of aid for the execution of integrating and overcoming challenges, as well as a specific line aimed at sports clubs and social entities that are committed to physical activity as a priority tool for the development of their users and their social integration.
Since its creation six years ago, this initiative has granted a total of
107 individual scholarshipshas recognized 5 challenges and has promoted the work of 30 clubs and associations, all with a total investment of 406,500 euros and with the assessment of the Spanish Paralympic Committee (CPE).
This new edition, held a few weeks ago, has recognized a total of
11 athletes, 2 challenges and 10 groups. The individual scholarships «Gold Category» have been for Juan Jesús Aguiar Rodríguez (paratriathlon), Alejandro Meneses Medero (swimming); Laura Pérez Suárez (swimming); Alejandro Rojas Cabrera (swimming); and Adrián Santana Hernández (swimming).
In the
"Silver Category" have stood out: Laura Báez Pulido and Inés Rodríguez Martínez, both swimmers. Finally, the "Bronze Category" has awarded Rosa Cigala García (horse riding), Francisco Hernández Cabrera (swimming); Isaac Juliá Martínez (swimming); and Iván Carlo Pérez Álvarez (swimming).
The sporting challenges highlighted in this sixth call have been '8 Canarian summits' by David Rodríguez Acosta, who will run to the top of Pico de Las Nieves in Gran Canaria and Teide in Tenerife; Y
'85 km so as not to forget you'with which Ayoze Sánchez Martín will travel that distance on a handbike, corresponding to the days of the eruption of the Cumbre Vieja volcano.
In the category of clubs and associations, the sports modalities are expanded. The Athletes Without Borders Association bets on boccia; the Club Fuerte Tribu and the Trisomía 21 Association will promote surfing among its users; the Iberia Toscal Club stands firm in its futsal school for people with intellectual disabilities and the Inclúyete Club will organize the 'Neither + nor - equal' tournament for this modality.
For their part, the Las Palmas Swimming Club and the Social Association Growing Yaiza remain firm in their commitment to promoting swimming among people with disabilities, and the Viclass Club launches a commitment to cycling with a competitive objective.
For its part, the association Life goes on positive will give the opportunity to spend
"a day on wheels"and Play&Train is committed to a variety of sports through gatherings.
Equality and sport from childhood

In addition, the DISA Foundation works hand in hand with the Spanish Paralympic Committee (CPE) in promoting initiatives that help encourage physical activity among people with disabilities from the earliest ages.
Five years ago, it launched Includes-t Canarias, a training program for Physical Education teachers to acquire and update knowledge and teaching strategies to teach inclusive classes, where students with and without disabilities can enjoy sports together, avoiding situations of exclusion and differentiation that were common in some classrooms.
A total of 207 educators from the islands have already participated in different training courses, to which has been added a line of supplies of material for educational centers that aims to facilitate the application of what has been learned in the classroom and that has already been delivered
28 lots in different schools and institutesconsisting of a wheelchair, vision loss glasses, multi-purpose sound balls and a boccia set.
Another of the initiatives recently implemented in the Canary Islands thanks to the Foundation is the Paralympic Relay project, which aims to locate, attract and encourage the practice of sports by people with disabilities on the islands and support them in their transition to high competition.
Its main objective is to increase the number of people with disabilities who perform physical activity on a regular basis outside the work and school environment in the Islands, with the purpose of subsequently joining a sports club for people with disabilities, without disabilities (inclusive model ) or even create their own club. For this, they are offered the practice of those sports included in the program of the Paralympic Games.
Currently the project works together with different Canarian clubs in the creation of their
own adapted sports sections, identifying new sports disciplines and providing specific material. It also works, hand in hand with federations and associations, so that each year the offer of sports that can be practiced by people with disabilities in the Canary Islands continues to grow in quantity and quality.