SPAR Gran Canaria visits the field of a direct rival, Campus Promete Logroño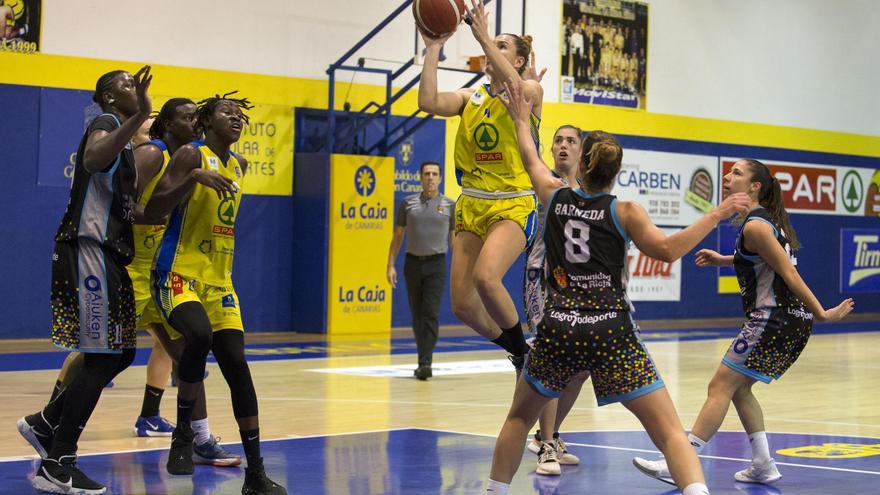 Another duel to try to climb positions in the Endesa Women's League. It seemed that the Campus Promete Logroño had started strongly, but the reality is that it only has two more victories than the SPAR Gran Canaria and that makes him a doubly dangerous rival. They will face each other tomorrow, Friday, January 15, starting at 6.30 pm, Canarian time, and can be followed live on the official Twitter of the Spanish Basketball Federation, @BaloncestoESP.
Placed in the 11th place in the table, the team led by César Aneas has seven victories and 12 defeats to date, and has accumulated a streak of three consecutive defeats. Meanwhile, SPAR Gran Canaria, which is ranked number 13, with five victories and 14 defeats, only drags the defeat by the minimum experienced this past weekend against Durán Maquinaria Ensino Lugo.
For the set of Jose Carlos Ramos, a victory in La Rioja lands would bring a little closer to the goal of remaining in the category, which will have a crucial appointment next weekend in La Paterna against Alter Enersun Al-Qázerez Extremadura, located in square 14 with the same numbers than SPAR Gran Canaria.
However, the Promete Logroño Campus will not make it easy for you in this first stop towards salvation. Las Riojanas, with Paula Estebas, Laia Flores, Maimouna Diarra and Adrijana Knezevic At the top, they have shown great effectiveness under the basket and the ability to go from low to high in matches.
In fact, already in the first round of the competition, despite the fact that SPAR Gran Canaria won 16-7 in the first quarter, those of César Aneas managed to turn the scoreboard and prevail in the following sets to end up taking the victory.
With all this, the team led by José Carlos Ramos will have to throw, once again, concentration and defense, two key pieces for victory, thanks to the great scoring ability of their reference players, such as the one recently recovered from a slight knee injury Sparkle Taylor.
With all this, an interesting match is expected under the hoops of the Palacio de los Deportes de La Rioja, where SPAR Gran Canaria will try to seek its sixth victory, and compensate for the defeat harvested in the first round of the competition, by 59-71 in La Paterna.
Hard work and seriousness to get added a new triumph away from La Paterna that leaves something closer to the permanence in the highest category of national women's basketball next season.
On the other hand, it should be noted that this game will feature the top three rebounders in the league: Maimouna Diarra (217 sacks), Sika Koné (200) and Kai James (183). The show is served.