Spar Gran Canaria establishes a strategic alliance with Glovo for online sales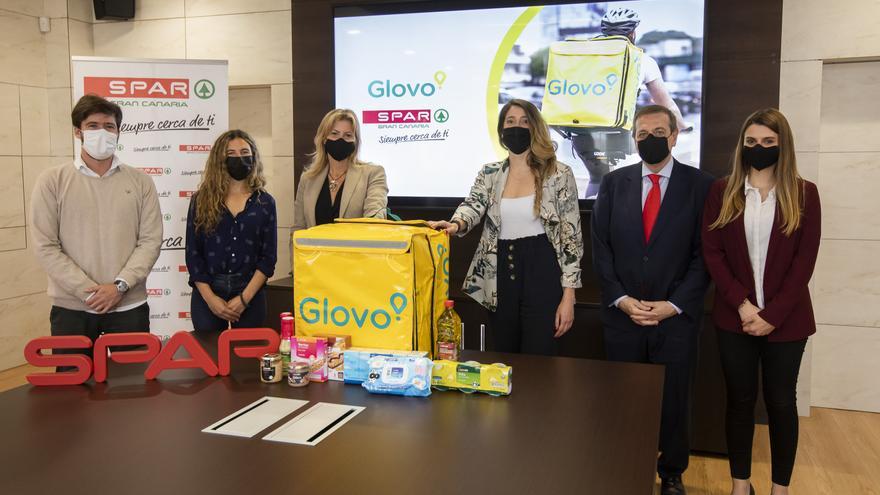 SPAR Gran Canaria has formalized a strategic alliance with Glovo, the Spanish technology platform present in more than 20 countries around the world. Thanks to this collaboration, users of the Glovo app will be able to purchase a wide range of products provided by SPAR. This service will be available in the coming weeks for Glovo users in Las Palmas de Gran Canaria, Telde, Vecindario, Maspalomas and, soon, in Puerto Rico. Given the extensive presence that SPAR has on the Island, it will accompany Glovo in its growth to other populations.
SPAR Gran Canaria thus becomes the first supermarket chain on the island that will offer the online shopping service in several municipalities through Glovo. Consumers will be able to choose from more than 1,000 references, which will include fresh products, fruits, vegetables, bread, pastries, food, hygiene, drugstore and perfumery, as well as special packs and promotions.
With this agreement, SPAR Gran Canaria continues to advance in its digitization plan, to meet the needs of its customers while innovating in its services, as a result of continuous active listening. The general director of SPAR Gran Canaria, Dunia Pérez, highlighted after the signing that "with this new strategic alliance we reinforce our closeness with the Gran Canaria consumer, facilitating access to packaged produce and quality local fresh produce through a new purchasing channel, comfortable and fast, which will have a wide assortment ".
"We launched our first city in the Canary Islands in 2018 and since then the number of users who trust Glovo has not stopped growing. Now, collaborating with SPAR Gran Canaria will not only allow us to continue increasing an offer that is already differential in the delivery sector but will also boost our expansion in the Islands with the help of a strategic partner ", highlighted Cayetana Galaz, Glovo's regional director for the Canary and Balearic Islands.