SPAR Gran Canaria delivers 2,500 kilos of milk and Canarian gofio to the solidarity project 'No home without food'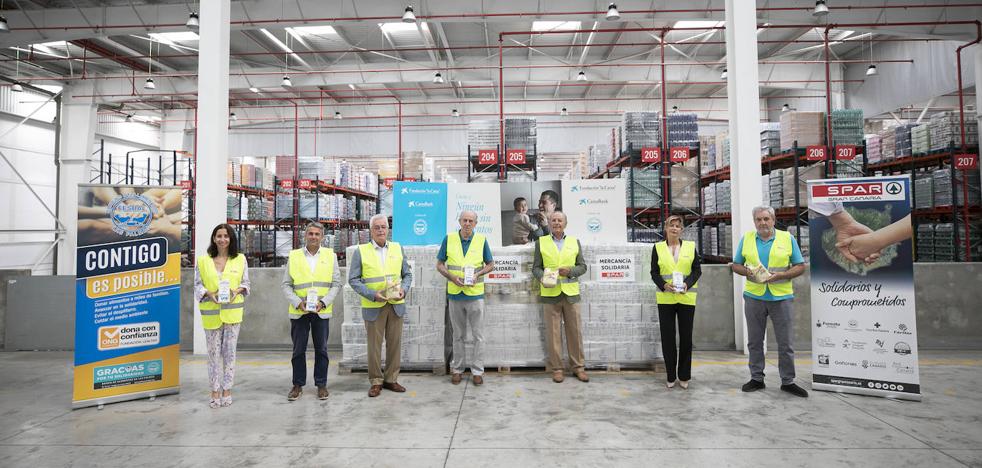 Firmly committed to solidarity with the most vulnerable groups, SPAR Gran Canaria has once again joined the 'No Home Without Food' campaign promoted by the 'La Caixa' Foundation and CaixaBank. The chain has donated 2,244 liters of milk from Canarian farms and 300 kilos of gofio that have been delivered to the Las Palmas Food Bank. With this collaboration, the group of Canarian merchants contributes to alleviating the situation of need experienced by many families, while supporting the livestock sector of the islands and the producer of Canarian gofio that supplies this food to the chain for its own brand 'Yugui SPAR'.
The director of Business Banking at CaixaBank, Jose Mª Herrero, the head of Social Action for the Network, Olga del Pino López, and the president of the Food Bank of Las Palmas, Pedro Llorca, received the donation at the SPAR logistics center Gran Canaria in El Goro. They were accompanied by Ángel Medina and José López, president and vice-president of SPAR Gran Canaria who, together with the general director, Dunia Pérez, highlighted the importance of collaborating in solidarity initiatives, such as this one, which help alleviate the situation in need of many families thanks to the collaboration of private entities and non-profit organizations such as Banco de Alimentos.
In the Canary Islands, more than 1,560 people in vulnerable situations are guaranteed basic food this summer thanks to the 77,350 kilos of basic food obtained for the archipelago with the 72,972 euros collected in the third edition of the solidarity initiative 'No Home Without Food' . The electronic channels of the initiative will remain operational until August 31.
The supermarket chain with 100% Canarian capital allocates part of its resources to food donations, thus collaborating with the Sustainable Development Goal 2: 'Zero Hunger', set by the UN, so that the needy situation of Canarian families does not prevent access to healthy and nutritious food. In this way, the chain has donated more than 211,600 kilos of food in the last two years in Gran Canaria.
About SPAR Gran Canaria

SPAR Gran Canaria is the only supermarket chain with 100% Canarian capital present in the 21 municipalities of the Island. In a total of 197 establishments, SPAR Gran Canaria offers fresh products from 'KM. 0' of the highest quality, which makes it a leader in the sale of fresh fruits and vegetables.