Spar Gran Canaria debuts as the main sponsor of the Unión Sardina Canarian Wrestling Club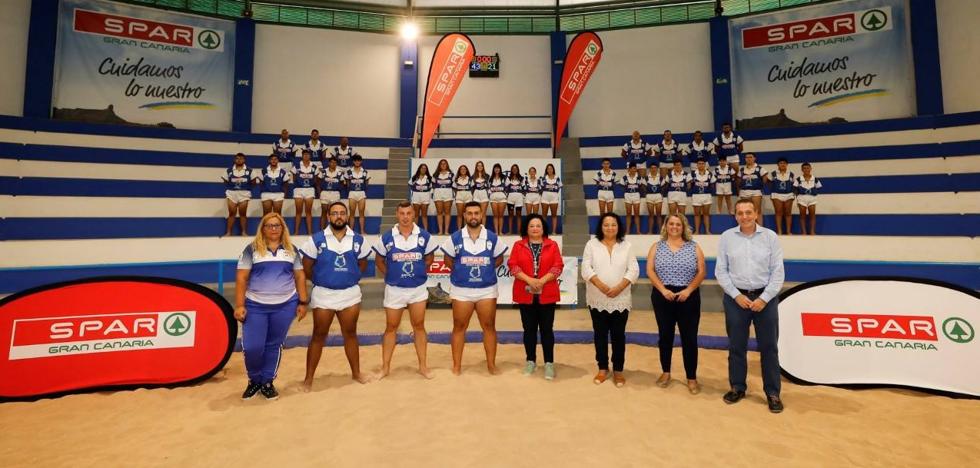 This is a commitment by the chain to proposals that promote healthy lifestyles, as well as a show of support for indigenous and traditional sports
The SPAR Gran Canaria supermarket chain has signed a new sponsorship commitment with the Unión Sardina Canarian Wrestling Club. After this support, the club changes its name to CL Unión Sardina SPAR Gran Canaria, thus contemplating the chain as its official sponsor for the new season. More than 30 wrestlers, the club's technical team and directors celebrated the signing of the sponsorship together with the director of SPAR Gran Canaria Operations, Francisco Navarro, the businesswomen associated with the chain, Sonia Ortega and Noelia Ortega, and the councilor of the municipality, Ana Gopar.
After the signing, the coach and president of the club, Francisco Ramos Vega, indicated that "we are very happy to reach this agreement with SPAR Gran Canaria, a company that is committed to our way of working, trying to transmit values ​​to boys and girls, making it possible for the new generations to practice sports and learn about Canarian wrestling». For SPAR Gran Canaria, this new sports sponsorship is a clear example of the chain's commitment to proposals that promote healthy lifestyles and support for indigenous and traditional sports.
The CL Unión Sardina SPAR Gran Canaria, founded in 1947, which consists of four men's Canarian wrestling teams and one women's team, face the new season "with enthusiasm and desire to continue promoting the women's category, we celebrate that more and more girls want to meet this sport, in addition to having a great team and playing in the senior, youth, cadet, child and junior categories", the coach highlighted.
SPAR Gran Canaria's collaboration with the club began in 2020, but due to the health crisis, the Canarian wrestling ceased its activity, resuming in recent months. After the presentation of the sponsorship, the club will begin training for the competitions, which will take place from October, in the Cabildo de Gran Canaria, La Caja de Canarias Social Work Foundation Cup, Lucha Corrida Dielca and the women's youth league. ABT Canarias.
About SPAR Gran Canaria

SPAR Gran Canaria is the only supermarket chain with 100% Canarian capital present in the 21 municipalities of the Island. In a total of 197 establishments, SPAR Gran Canaria offers fresh products from 'KM. 0' of the highest quality, which makes it a leader in the sale of fresh fruits and vegetables.