SPAR Gran Canaria believes in permanence after knocking down Bembibre León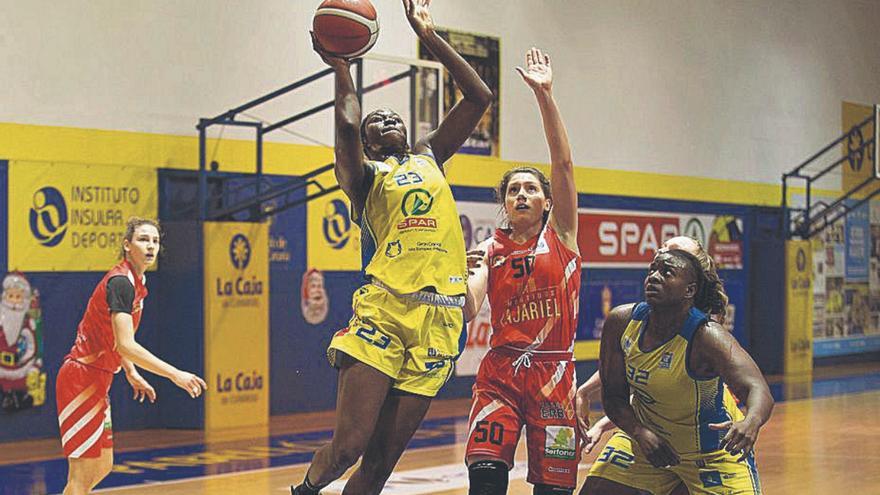 A key victory for SPAR Gran Canaria to close 2020 with great hope. The yellow team finished with Embutidos Pajariel Bembibre by 89-73 in the match corresponding to matchday 18 played in La Paterna.
The team coached by José Carlos Ramos achieved their fifth victory this season against a key rival in the fight for salvation in the Endesa Women's League. Because the result that the yellow team achieved also allows them to win the basket average since they fell in the first round by ten points.
A collective team effort where the participation of Marta Hermida (18 points and 4 rebounds), María España (18 points and 2 assists), Kai James (19 points and 12 rebounds) and Djeneba Ndiaye (22 points and 6 rebounds) stood out. who became the top scorer of the game.
This fifth triumph leaves behind for SPAR the painful defeat in Valencia, in which it was probably the worst game of the season, and it is worth it to follow the path that it faced the previous weekend, where the yellow ones beat Clarinos with criteria in the Canarian derby.
SPAR dominated the game from start to finish, with a good rhythm and the absence of Sparkle Taylor, the top yellow player. The first quarter ended with 31-23 and at halftime, after a great second period, the Gran Canaria almost took 20 points from the Leonese (52-31). El Bembibre tried to fight and succeeded, but SPAR was clear that they wanted the party. It was worth that to close the third quarter 14 up (66-52) and face a final with a certain margin.