Spanish photography gains prominence in Paris Photo | Babelia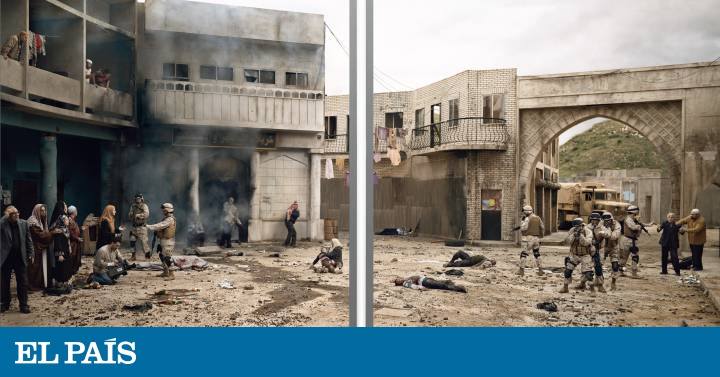 As every November, with the new edition of Paris Photo, Paris becomes the world capital of photography. An inescapable meeting that brings together artists, gallery owners, collectors, different professionals and enthusiasts of the artistic medium under the glazed vault of the Grand Palais, as well as in the different venues that hold events parallel to the fair. "An appointment to discover, buy and dialogue about photography", which also aims to "broaden the spectrum of what photography offers, from its origins to the present", as expressed by Florence Bourgeois, director of the fair since Five years ago. In its 23rd edition the official image stands as a declaration of intent: it is a self-portrait of the South African artist and activist Zanele Muholi. "An image with a very powerful aesthetic, but also with a story behind, that of a woman, black, and fighting for the LGBT cause," adds the director.
Founded in 1997, the fair began its journey with 53 galleries in the Carrousel du Louvre. Today it has 180 galleries from 29 countries. It was from the transfer to the Grand Palais when the fair reached the great packaging that it enjoys today, entrenched during these last five years. "We have developed two new curated sections. Prism, is one of them. It brings together 14 projects in an attempt to explore the photographic medium in its variety of forms and mixed practices through facilities, which in turn allows us to exhibit large-scale works. For this we travel for six months a year in search of projects and galleries, as part of a research project, "explains Christoph Wiesner, artistic director of the fair." We also have Curious, which opened in 2018, is dedicated to emerging artists. "Curated by the writer and curator Osei Bonsu, this year encompasses two Spanish galleries among its 14 proposals: the Cibrián Gallery in San Sebastián, and Madrid's Valverde Space.
With just one year of travel, Cibrián exhibits the work of Cuban Leandro Feal, where he creates an imaginary of what Cuba is through a photograph as political and social as sensual. "So when people think of Cuba, they do so through images that are far from the country's topics, through more intimate and unbridled realities," says gallery owner Gregorio Cibrián. In the same way, in the section Film a silent black and white film by the author is included, The wonderful Journey of Stanley & Dorothy, 1919, 2019. Made using a 1919 photo diary, found in an antiquarian, the author travels in time to investigate analog photography as a precedent for social networks. The experimental work of Alfredo Rodríguez surprises in Espacio Valverde based on the human body, and using various supports with a clear purpose of widening the limits of the photographic medium.
Within the main section, there are 30 individual exhibitions, of which four are dedicated to Spanish artists. Aitor Ortiz's work attracts the viewer with its mysterious and timeless character on the walls of the German Springer gallery. Through careful use of light they are erected as impenetrable landscapes. "I work with space, architecture and the object as starting elements towards a series of visual and cognitive unknowns. I propose a series of dilemmas between representation and interpretation (perception) and I try to establish a relationship between the content of the images , the physical properties of the materials on which the works reproduce and their position in the exhibition space ", explains the author, who has been present in other editions of the Paris fair through collective exhibitions.
Like Chema Madoz, to whom Elvira González dedicates her exhibition space. In this case, the idea started from the organization of the fair and a selection of recent works is exhibited. "Chema already has a tour and generates great interest. He is already known in France, mainly since his exhibition at Los Encuentros de Arles, in 2014," said Isabel Mignoni, director of the gallery.
"I am glad that the presence of Spanish artists is increasing at the fair," says Madoz. "It is being corrected, let's say, a kind of anomaly. I believe that in the photographic tradition of Spain there is a journey with authors of a look comparable to international photographic works. Until recently it has been difficult for us all to fit into an international market but, little by little a weight is gained, although much remains to be done. Years ago this was unthinkable and you found the work of Spanish artists with droppers. I think that Spanish photography will end up being within the specific weight it has. "
In the Luis Adelantado gallery, we find one of the 'encapsulated' by Darío Villalba, who died in 2018. These were methacrylate structures, which enclose inside the photographs of a series of losers or disinherited of society, which placed the artist as a reference of contemporary Spanish art, after obtaining the Grand Prix at the XII Biennial of Sao Paulo, in 1973. "Four years ago we presented an individual proposal at the FIAC and the reception was very good. The work is in several important collections French. ", says Olga Adelantado. The Catalan Antoni Miralda, is represented by the gallery Henrique Faria, where for the first time his fashion photography is exhibited, made for the magazine Elle French (1964-1971), along with works belonging to the series Soldier Soldats (1965-1973).
Among the individual exhibitions of the fair, the one that Gagosian dedicates to Man Ray stands out, as well as the impressive portraits of August Sander presented by Hauser & Wirth. The Serie Raised by Wolves Jim Goldberg is shown in Casemore Kirkeby. The African Malala Andrialavidrazana exhibits her work in the Caroline Smulders gallery; an anthropological work related to ritual and memory through collage. "It is very important that the galleries are not the same from year to year," says Bourgeois, "our selection committee always tries to find the best projects within a photographic panorama as diverse and extensive as possible."
"This year we have less fashion photography," says Wiesner, "we try to accommodate a bit of everything: documentary photography, a more experimental one where the medium is manipulated, another with a narrative character, and the most classic. We try to make way in which it is exhibited is also diverse, preventing, for example, that all African photography, or vintage be next. We try to approach it from points of view that enrich the dialogue and offer diversity. "Next April, and for the first time Paris Photo will be held in New York." Our idea is to do something complementary to Paris. Do not play it. Something that allows us to reach North, Central and South America, "qualifies the director.
The most veteran Spanish gallery owners in Paris Photo are Rocio SantaCruz and Juana de Aizpuru. "I've been coming for 15 years and the fair is becoming more attractive," says Aizpuru. "Every time we have more artists who practice photography. Its projection outside Spain is difficult. In the eighties our country was very interesting, everything Spanish was interesting and it was easier to position the artists, who soon found galleries abroad. But now Spain has lost credibility. For so many things! Look at what moment we live, we have gone back. "
Within your space, The Dreadful Details, a piece by Eric Baudelaire attracts the attention of a large audience. It is an image that staged a war. "It is made on a film set with actors," explains the gallery owner. "An image that shows the creepy war as a concept. The drama of fleeing families, the media trying to capture an image, death, terror, barbarism, everything is very well shaped. It would be too cruel that the image it would be real and have to sell it. If it were real, it would not have been so perfect, neither so poetic nor artistic. Among the artists represented we find Montserrat Soto, a recent National Photography Prize, with Alicia Framis and a work with pictorial dyes by Cristina García Rodeo, who uses color in her series about India. Cristina de Middel presents a work that pays tribute to African women as a fundamental, family and social support.
A guideline seems to have been established within this year's fair: less bets on spectacular large-format copies, in favor of smaller formats, which include unpublished work and vintage, and less secure and contemporary values ​​are included dialoguing with referential or historical archives. Following this model a bit, RocioSantaCruz introduces Ouka Leele and Miguel Rio Branco in a dialogue with the photography of the fifties, where we find the components of Brazilian Foto Cine Clube Baneirante, among them the Catalan Marcel Giró and his wife Palmira Puig- He turned, and German Lorca.
"The level of international collecting here is not anywhere else in the world," says the gallery owner. "It is the result of many years, its rigorous selection and its ability to attract the great American private collectors, as well as the presence of all American and European institutions. They are collectors who do not seek isolated pieces, but insist on authors , which is very stimulating for the gallery owner.That is really great collecting.In France there is traditionally a knowledge of photography.A market has been created around the medium, but an interest has been previously created for this purpose. to the public".
La Galerie Vu ', has shown since its inception a clear link with Spanish artists. In this edition the bet is very evident. The most dedicated Manuel Castro Prieto and Ouka Leele, share space with a new generation composed of David Jiménez, Israel Ariño and Juanma Requena. "I am much more interested in this new generation of Spanish photographers than French photographers," says Caroline Benichou, current director of the gallery. "Perhaps they contribute the attention that these artists put in achieving an exquisite reproduction of copies, something that has somehow been lost in France. But also to their manifest freedom of creation. There is a real curiosity for them in France. I work with several collectors who have started their collection with Spanish artists. "
In a stand Following the French gallery, the Alarcón Criado gallery exhibits the work of Sevillian José Guerrero. A work of marked toponymic character that includes pieces from his most recent series, inspired by the House-Workshop of the architect Luis Barragán, with a clear tendency towards abstraction. Inside the fair we can also find the work of the photographic duo Albarrán and Cabrera in the Esther Woerdehoff gallery, as well as the fashion photographer Txema Yeste in the Staley-Wise gallery. Laia April, winner of the Paris Photo-Aperture award for the best photobook of 2018, with On Abortion, He exhibits his latest work at Les Filles du Calvaire.
There are 33 publishers who attend the fair and include nine countries, including Spain, where we find the Catalan publisher RM. "We have the presence of 130 authors signing books," says Bourgeois. The fair is complemented by an interesting program of conversations with key figures of the medium. Inside the section Film It is worth noting a documentary dedicated to the recently deceased Robert Frank: A Voyage Américain: South Les Traces by Robert Frankby Philippe Séclier.
. (tagsToTranslate) photography (t) Spanish (t) Spanish (t) win (t) prominence (t) paris photo (t) consolidate (t) important fair (t) world (t) world (t) cite (t) parisian (t) Parisian (t) celebrate (t) 23rd (t) edition (t) programming (t) great (t) presence (t) artist



Source link