Spanish 'high yield' bonds sink and anticipate refinancing | Markets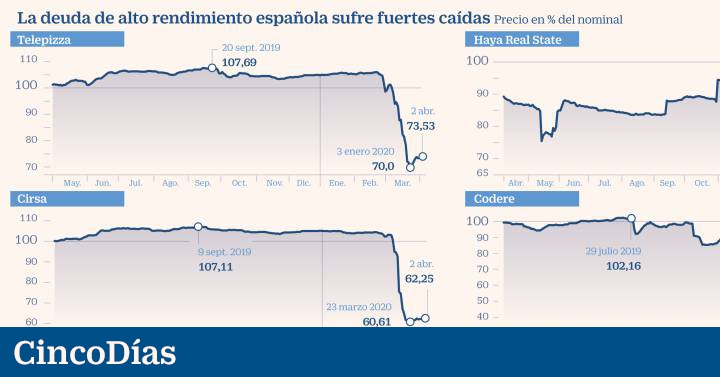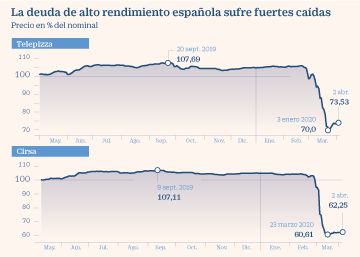 The coronavirus bomb threatens all companies, but some more than others. Those with the misfortune of being more indebted and having notes below the sacrosanct investment grade (BBB-) suffer added pressure. The collapse of high yield bonds has been historic, and the financial sources consulted anticipate a wave of emergency refinancing, with liquidity injections included.
Among the Spanish companies with bonds that are trading with strong cuts are Telepizza, Haya Real Estate, Cirsa, Codere (see chart), Gestamp, Antolin, Tendam and WiZink, among others. The ECB will buy around a trillion euros of debt, but these issuers with bad grades are outside its area of ​​influence.
The biggest decline is Codere, with debt of 775 million that matures at the end of next year and has gone from paying 100% of the nominal to 36%. The gaming company has suffered a downgrade of its rating by Moody's, from B3 to Caa1, and has a weak cash position, with about 140 million and a situation of paralysis in its business due to the state of alarm.
In a similar situation is Cirsa, acquired by Blackstone in 2018 and later indebted in a classic leveraged buy out (in jargon). The advantage is in the maturities of its bonds, between 2023 and 2025. The latter quote around 60% of the nominal amount. From the firm they assure that they do not plan to resort to any extraordinary formula to achieve liquidity.
Tendam, the former Cortefiel, controlled by Pai and CVC, had 88.4 million cash available at the end of February. Its shareholders had even shuffled a refinancing to pay a dividend (dividend recap in the jargon), given the good performance of the company's operating results and the inability to go public, as they had designed in early 2018. The situation The fashion group is very different now, with some 500 million bonds quoted around 70% of the nominal and a recent downgrade of the rating decreed by Moody's, to B2 from B1 with a negative outlook. The agency acknowledges that the company has taken preventive measures, such as having withdrawn 198 million euros of liquidity from its revolving credit line for 200 million last March. The bonds, furthermore, do not expire imminently: Tendam has time until September 2024.
Telepizza, which was banned from the Stock Market last year after a KKR takeover, also suffers from its high leverage. It issued bonds for 335 million, to finance the acquisition, which mature in 2026 and pay an annual coupon of 6.25%. The company is suffering in its accounts the global pandemic and its debt is now paid at around 75% of the nominal amount.
Haya Real Estate, a manager of brick-linked debt and real estate portfolios held by Cerberus, has been for sale for more than two years. First, an IPO was attempted; later, a direct sale, in which Citi commanded the operation. There was even a favorite: British venture capital fund manager Centricus. But, like the vast majority of corporate operations, it has stopped dead. And the bond has suffered, falling from 95% of the nominal to around 65%. It has 475 million euros in listed debt.
Auto parts manufacturers, who have been struck by economic paralysis, also suffer from Covid-19 fever on their liabilities. Antolin's bonds are trading at around 65% of nominal and Gestamp's are trading at around 80%.
WiZink, Värde's specialized card bank, is plagued by its own problems, adding to the strain of the virus. The Supreme Court has quarantined its business model and its bonds are trading at 40% of nominal.
Sales. Central bank debt purchase programs have a crucial limitation: they don't even look at bonds that don't make it through (BBB-). And right now a vicious circle is taking place. The economic situation is producing massive downgrades of debt ratings and the high yield market is expanding. Bank of America estimates that in March alone it has been downgraded below the revered $ 41 billion debt threshold. And the sales have affected absolutely all sectors.