"Spanish football is unbearable"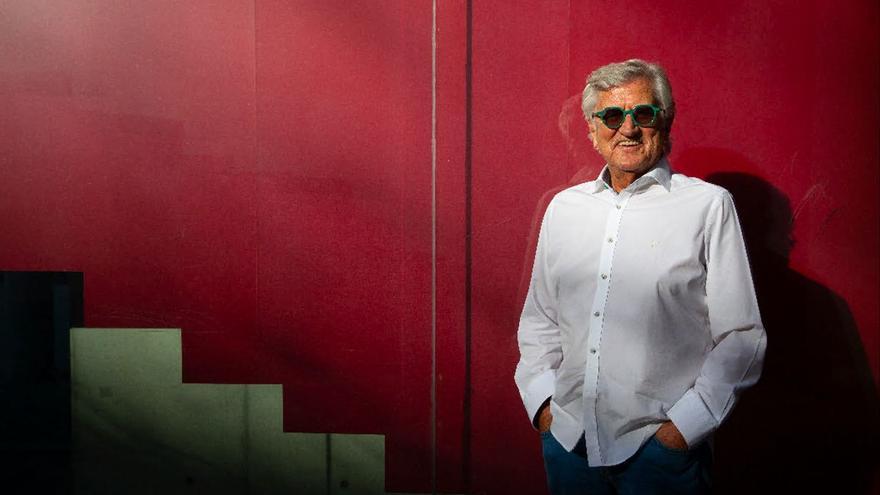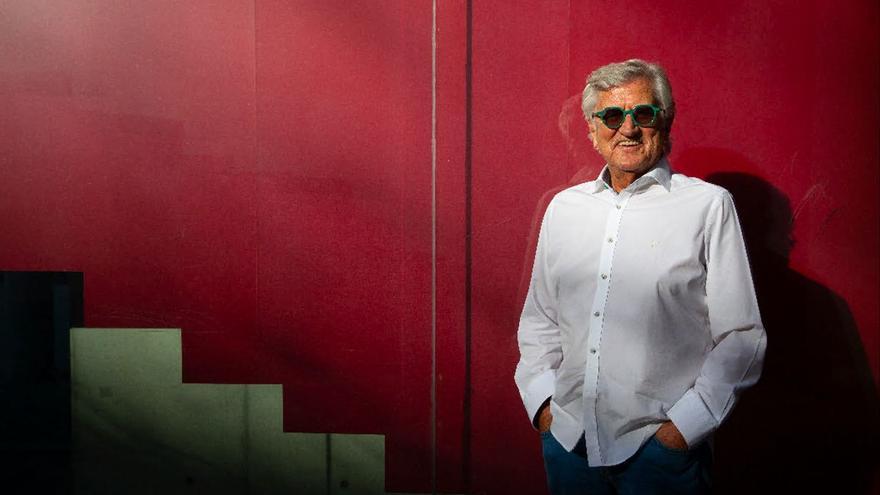 "Pepe, a little cigar." That was the first of the choral commercials that he created Pepe Domingo Castano ("Coronita, uh, cool, uh; checkbook, checkbook, Bancotel checkbook..."). The historic announcer of the 'Sports Carousel' and 'Game time' It is part of the soundtrack of Spanish radio. He was going to be a priest but he heard the call of "the other life". He dreamed of being a goalkeeper and then a singer, like Julio Iglesias, although he ended up helping his friend write songs and earning a living with a microphone, but in a different way. At the age of 79, he publishes his memoirs, 'Until I run out of words' (Aguilar), with a prologue by his friend Julio de el.
He says he's alive thanks to the radio. Start strong.
I am alive thanks to the radio because when I have been ill, had a heart attack or covid, the only incentive, the only thing I wanted was to get well to continue doing radio. The desire accelerates, the desire to return accelerates, even if you lose your voice, as I was left with the heart attack and the coronavirus, which affected what I wanted most, my voice. The radio is the end point of everything that happens to me. When you unite voice and heart, it is unbeatable.
He was going to be a priest but ended up doing homilies on the radio.
In a way, yes. For a priest it was not worth it, because I liked the other life. In a procession, already dressed as a friar at the age of 16, I saw how the girls told us things and I thought 'I have to know this world'. And I left the convent.
In the biography it is seen that he made up for lost time.
I started that life late but then I made up for lost time. They called me Pepe Fiestas. I had a reputation as a rake, I went from festival to festival. I used to go up on stage to sing with the orchestras and when they returned to town they let me sing again. In other words, he shouldn't have done it all wrong. That's where my desire to record an album, to sing one day... It's all part of dreams.
You and Julio Iglesias had parallel paths. In the end he couldn't be a singer but he helped him with his songs and everything.
If there were no radio announcer, he would not have been a solo singer but an orchestra entertainer. When Julio recorded 'Un canto a Galicia' he asked me to help him, being Galician, with some parts of the lyrics. I went to the studio, he listened to me in almost everything except one thing: far in Galician it's 'lonxe' and not 'leixos', but I was never able to get him to say 'lonxe'. I made quite a friend there. And one day he told me that he had found out that I was going to write a book and that he was talking about it. I sent it to him, he read it and told me that he loved it. And I, who saw him warm, told him that I was missing the prologue. 'How can I deny you, if you are my brother', he told me. And now he asks me 'how is the book going'. 'We have sold 50,000, I reply'. And he freaks out. The more it sells the better because it's not for me, but the benefits go to Caritas and the Asleme Foundation. It is a way of repaying life for what life has given me.
How was this book born?
It was born 15 years ago, when I wrote the first part as a catharsis, taking refuge in writing. I began to write about the rain and ended up unloading my arsenal of memories until my arrival in Madrid on December 31. That's where I finished. I wasn't going to publish it because it seemed very bad to me. A guy in A Coruña insisted that I send it to him and told me that it was a 'best-seller' but that it was incomplete, that my entire professional life in Madrid was missing. One day I put it on and when it was laid out I thought: 'how can it be that the first time you read it you think it's shit and when time has passed you think it's good? I will never understand.
He says that on the radio, as in football, it is more difficult for those from the quarry to succeed.
I left Santiago deceiving the radio director because I wanted to see Madrid. In Madrid I didn't say that I came from the radio because then they would have treated me like people from the quarry, who take longer to succeed. I did some tests for 40 Principales and they accepted me. When my director in Santiago listened to me, they made me go to Santiago to apologize. He didn't give me permission, I sent him to hell and he told me 'whoever sends a director to hell doesn't return to the BE in the life'. 'We'll see,' I replied. And that was my spur for five years until they called me. And it was one of the days I remember with the most emotion, when Alfonso Morata (father of the soccer player), called me to tell me that they wanted to sign me. And I started crying like a child. It was 1973.
He spent 37 years in the SER and has the thorn stuck in not having been able to say goodbye to the chain of his heart.
It is logical. When you've been in a company for 37 years, you have the right to leave, to stay, to ask permission to leave... The two of us had given each other a lot. It was a good time to say goodbye with good words but it was not possible. I tried but they shut down, sued me and lost.
Sentence that the end of 'Carrusel' was the greatest revolution in Spanish radio. Is it for a TV series or after 'Kings of the night', better not anymore?
Better that they don't touch it, please, or if they do touch it, call us and be trustworthy and don't do the ridiculous thing of 'Kings of the night', which has nothing to do with what happened. That everything is distorted. Having spoken with the protagonists and with those who lived through that time. Joserra (De la Morena) was not called. I have never seen anything worse in my life. Horrible. If they even put Jose Maria Garcia drunk, when not drinking. If they do a series of ours, call us.
In his biography he talks about his divorce with De la Morena and their recent reconciliation.
Yes, because it is not worth creating eternal enmities in life. I had nothing against Joserra and he had nothing against me, it was a disparity of criteria. I saw that Joserra was changing and he was looking a lot like a person with whom he had had an affair (García) and I told him so one day. And he told me that I was not the Pepe that he had known. A spark was enough for him to stop making the comment I made at the end of 'El Larguero'. We kept talking and saying hello, but we distanced ourselves. Meeting again now served the same not to be close friends but not to be enemies and to be partners again. I am so glad to have regained your friendship.
He says that in the 'Carrusel' he learned to love sport above all else.
Before, I knew a lot about soccer and sports, but I didn't know what it was like, I didn't love it. When you're in the thick of it, you see the reactions of the players, the managers, the union of commentators with the protagonists... Now all that has changed, before it was affordable people, with whom you talked, had drinks. I have had drinks with many players on Sunday nights. Nothing was happening. Now when do you meet a footballer and he agrees to have a drink with you? In the life. And an interview? It has to pass 20 filters. We have turned footballers into gods. The fault is ours and now to get to Olympus, fuck what you have to go through. I loved the sport and we are many guilty of many of the vices that it now has.
In the book there are no anecdotes of those nights with football players. Secret confession?
When you went out at night and saw a journalist there was a kind of censorship. Neither did I mention that I had seen him, nor did he. I have seen great figures 'sucked' lost, falling at six in the morning. But we have never said anything. Occasionally I still see one. Less, because I don't go out as much anymore and they hide more.
yes it counts that Luis Eduardo Aute He wanted to hit him, but they ended up being friends.
I say that because I was responding to the fact that I had told something that was a truth like a temple, the other belongs to intimacy. A night of revelry with a secret pact of silence.
Is it one of those with eternal hatred of modern football? Are you nostalgic for the football of yesteryear?
Before you went to the plane or hotel of the soccer players and nothing happened. If they wanted to tell you a secret they did and if not, no. Now impossible. Before it was prettier, more familiar, more intimate. And in the field Spanish football is now unbearable. There is no god who can endure an entire match between simulations, protests, interruptions, people who spend three minutes without having anything. A football that is played backwards, is not played to win but not to lose. That they pass it 20 times in defense so that the goalkeeper takes it long. Except for some good game, I love the game of Celta, Athletic or Villarreal. Madrid plays backwards, against PSG they didn't even play. Before we earned almost everything in Europe now we earn almost nothing. Why? We have turned football into an ugly, unpleasant game.
Although the Messi-Cristiano duels will not return, do you think that some pepper would be recovered with Haaland-Mbappé pulses?
Of course it will change Haland and Mbappe. The problem is that those who generated it are gone. Spain used to be the center of the football world, now England beat us. I would like football to be lived in Spain like in England and Germany, with that intensity. In Spain between the covid, that the stars have left and no one important has come, football has collapsed. If Mbappé and Haaland come, that will change in two days and real football returns to Spain.
His best and worst moment in football has been given to him by his Depor.
The worst, Djukic's penalty, all of Spain felt that he failed.
Well, just like the culés already seemed good to them.
I have heard some culés say that they were sad to win a title in that way, by carom. Djukic will be the culprit all his life, but he shouldn't have taken it, those who should examine their conscience, those who had to take the penalty and had no balls and it had to be Djukic. It was my worst moment because we sportsmen had never experienced it: being aspiring to win the League. The magical moment was when the League returned what Depor owed them. It was an apotheosis, the entire city in the street. I really enjoyed it but I had the feeling that something in me was dying. The best thing about happiness is the journey, the best thing about a trip is the preparations. The day we won the League, I didn't know what to write for the end of 'El Larguero'. And now that?
The 'Centenary'.
The day we won the Cup at the Bernabéu on Madrid's centenary, I was on the pitch animating the party, I even won the ham that was raffled off.
The president who speaks the most is 'San Lendoiro'. With which one would you take a fresh crown?
With Florentino, who I like very much and seems like a fantastic manager.
Define Jesús Gil in one word.
Unrepeatable. He told me that he wanted to give me a house in Marbella. I told him I already had one. I was determined that I go on his boat but I never got on, while many others did and never said so. He wanted me to be part of his team, of his Marbella, but I didn't accept. He was a genius, in all respects, the good and the bad. He could be the best and the worst. And with all that he may have done I loved him.
Ruiz Mateos.
overshot
Mendoza.
Sibylline.
Nunez.
Anodyne.
Bartomeu.
Incomprehensible.
Laporta.
Mad.
Who will retire first, Joaquín, from Betis, or you?
I think he before me. In May I always do my illusion blood test: if I have an 80% or higher I will continue for another year. But the book has given me new strength to continue, so that the analysis goes well.