Spanish airports set a new record with more than 275 million passengers in 2019 | Economy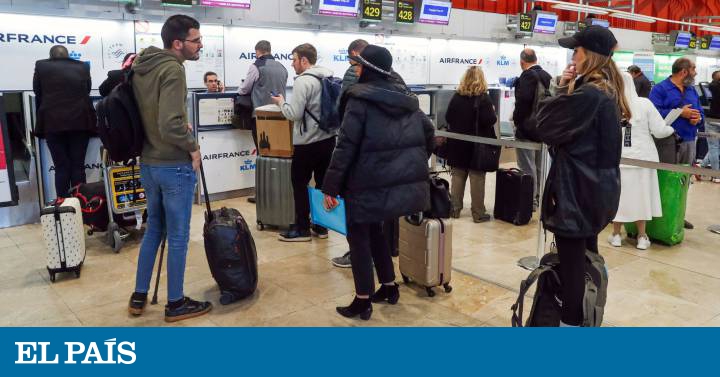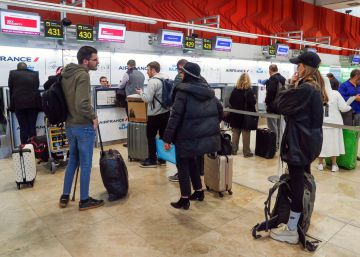 The airports of the Aena network closed 2019 with more than 275.2 million passengers, which is 4.4% more than in the previous year and a new historical record, the sixth consecutive, according to data published on Monday by the airport manager. A new maximum of movements was also registered, with 2.36 million operations, 2.6% more.
Of the total passengers registered during the past year, 188.8 million made international flights (+ 3.5%) and 85.5 million were domestic flights (+ 6.4%), according to Aena data for 2019. almost 275.2 million passengers, 274.4 million corresponded to commercial operations (+ 4.4%).
In the last month of 2019, 18.2 million passengers were registered at Aena airports, 3.7% higher than the previous December, and more than 162,940 operations, 8.5% more. Regarding cargo traffic, it exceeded 95,211 tons, up 13.6%.
During 2019, Adolfo Suarez Madrid-Barajas Airport was the facility with the highest passenger traffic in the entire network, with almost 61.7 million passengers, 6.6% more than in 2018. Regarding operations, Madrid- Barajas recorded a total of 426,376 aircraft movements during 2018, representing an increase of 4% compared to a year earlier. In cargo, it managed 558,566 tons, up 7.4%.
It was followed by Barcelona-El Prat, second in the network, which achieved in 2019 its record in number of passengers, with 52.6 million travelers, 5% more than a year earlier. It is just over 9 million Barajas, the biggest difference since 2012 (when there were 10 million passengers between them). During 2019, airlines operated 344,558 flights at the Catalan airport, 2.7% more than a year earlier, with a 2.5% increase in freight transport (177,271 tons).
The airport of Palma de Mallorca, with more than 29.7 million passengers, 2.2% more, consolidated as the third in the network, with a total of 217,218 operations (-1.4%). In December it registered 952,356 passengers, representing a decrease of 2.1%.
The impact of Thomas Cook
The tourist crisis derived from the Thomas Cook bankruptcy It is felt in the Canary airports. Thus, of the entire network, consisting of 46 airports and two heliports, only eight facilities closed 2018 with passenger falls: Gran Canaria (-2.3%), Lanzarote (-0.5%), Fuerteventura (-7.9 %), Girona (-4.4%), Jerez de la Frontera (-1.2%), Vigo (-10.4%), Zaragoza (-4.4%) and Valladolid (-1.5%) .
The eight Canarian airports exceeded 45.02 million passengers last year, which represents a 0.6% decrease compared to the previous year, partly due in part to the fall of Thomas Cook and the decline of the German market. In Gran Canaria airport, the number of its passengers decreased by -2.3% in the last year, while Lanzarote fell by -0.5%, and Fuerteventura by -7.9%. The Tenerife airports had a better year: the one in Tenerife Sur grew 1.1% and the one in Tenerife North 6.3%. On the other hand, that of La Palma grew 4.5%, El Hierro 8.8% and that of La Gomera 25.3%.
In the Balearic Islands, the other community most affected by the bankruptcy of the British tour operator, the airports of Ibiza and Menorca, with 8.1 million passengers (+ 0.6%) and 3.4 million travelers (+ 1.5%) , registered respectively, broke their record.
In addition, the airport of Malaga-Costa del Sol in 2019 approached 20 million passengers, with 19.8 million (4.4%) and three others again exceeded the barrier of 10 million passengers: Alicante-Elche , with just over 15 million (+ 7.6%); Gran Canaria with 13.2 million (-2.3%), and Tenerife South with 11.1 million (+ 1.1%).
As for the number of operations, in 2.3 Aena airport network operated more than 2.3 million movements, 2.6% more than in the previous year.
The airport with the highest number of landings and take-offs was Adolfo Suárez Madrid Barajas, with 426,376 (+ 4%), followed by Josep Tarradellas Barcelona-El Prat with 344,558 flights (+ 2.7%); Palma de Mallorca with 217,218 (-1.4%); Malaga-Costa del Sol with 144,920 (+2.5); Gran Canaria with 126,452 (-3.5%), Alicante-Elche with 101,408 (+ 4.8%) and Valencia with 77,699 (+ 2.5%).