Spaniards rush to buy on Black Friday for fear of the lack of products at Christmas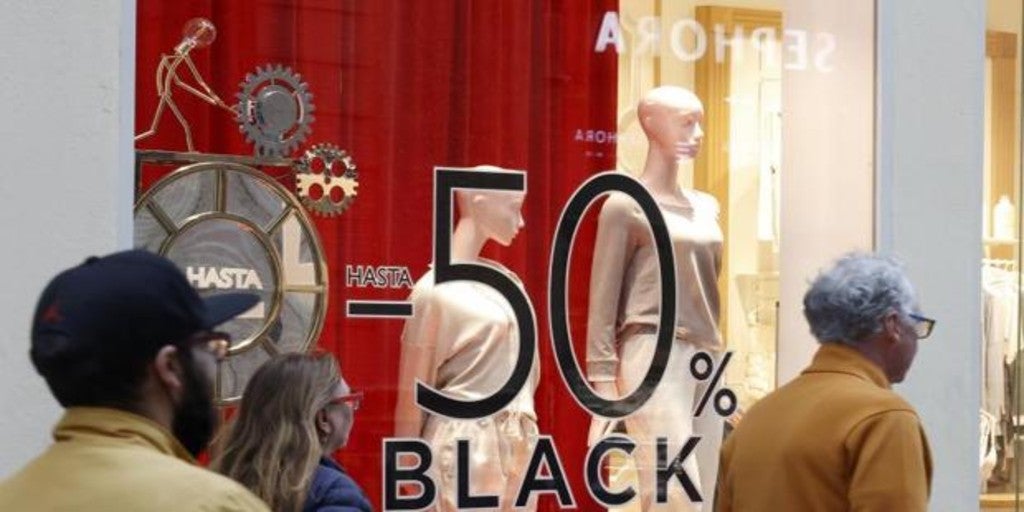 Updated:
Keep

The Black Friday sales campaign, which has its main day today, will serve as a thermometer to measure the economic recovery and consumption in Spain. The need to anticipate purchases due to the shortage of supplies invites us to think that the 2021 campaign will be positive, but at the same time the offers and discounts this Black Friday will be lower than last year, according to the experts consulted. The willingness to buy of the Spanish for this Christmas campaign increases up to five points, according to the Nielsen Digital Consumer Survey. In addition, the number of Spaniards who will seek discounts and promotions when purchasing gifts rises from 12% to 17% this year.
«Black Friday has come to Spain to stay and now that the Spanish consumer is once again more willing to spend during Christmas, companies have the opportunity to understand their buying and consumption habits to adapt to the needs of consumers and thus meet their demand, "says Maira Barcellos, head of Nielsen for Spain and Portugal.
"The fact that we have been hearing about a supply crisis and businesses are experiencing 'stock' breakages, together with the desire to celebrate a more normal Christmas than the previous year, may lead consumers to advance purchases even further », Predicts, for his part, Pedro Rey, professor of Economics, Finance and Accounting at Esade.
Another EY report points out that 65% of Spanish consumers will attend the discount campaign, a percentage that has risen 21 points compared to 2020. Transy Rodríguez, partner responsible for the Consumer Products and Distribution sector at EY, indicates who are seeing a return to 2019 activity levels in the fashion subsector. «This factor, coupled with the huge savings pool generated during the pandemic Since currently it is still not possible to travel with total normality, it makes us foresee a Black Friday in Spain more than optimistic and a large influx at physical points of sale ", says the EY expert.
The EY partner also remarks that the shortage of components in the world market will lead to a lack of some products in the electronics and computing subsector. «The situation is going to be striking as the product 'stock' has been reduced and, therefore, the need to be more aggressive in discounts. Therefore, there are likely to be significant delays in deliveries and the best promotions will not coincide with the latest launches on the market, "he adds. Regarding the toy sector, Rodríguez hopes that "the crisis experienced in transport costs, which is now tending to stabilize, although it is no longer worth anything for the Christmas stockpile, anticipate purchases as much as possible." "The products most affected by the problems in the supply chain are those of electronics in general and products imported from China or from other countries outside the European Union", confirms, for his part, Marc Brichs, Head of Wayflyer for Spain .
«Accumulated inflation and the increase in transport, energy and raw material costs that the sector has been suffering, especially in the last quarter, will result in the consumer perceiving the final product more expensive than last year, even with good promotions at the view, "adds Rodríguez.
Massive participation
From the Organization of Consumers and Users (OCU) they also point to a massive participation in this day of discounts. Thus, it concludes that a large majority of consumers, 77%, "have been seduced by the crushing advertising of brands and shops and plan to buy something in the next few days." The figure contrasts with last year where only 30% of consumers intended to spend on purchases.
The star sector this year will be fashion, footwear and accessories: 65% of those who will buy something indicate this type of product. It is followed by electronics products (50% of buyers), toys (30%) and small household appliances (25%). Home purchases, furniture and decoration (19%), sports equipment (17%) and food (16%) will also be frequent, thus anticipating many Christmas purchases.
"The desire to celebrate the holidays in a more traditional way and the prospect that some restrictions will perhaps be recovered, effectively point to a recovery in consumption. In this sense, it must be taken into account that a large part of the consumption carried out on these dates is associated with social gatherings that will be able to take place again ", concludes Rey.
Small businesses at a disadvantage
This campaign of large discounts, despite encouraging consumption, does not find the full approval of small businesses due to its disadvantage compared to large stores. «We are skeptical with campaigns based solely on discounts. It is very difficult for small businesses to compete on prices. Especially when its competitiveness is based on other attributes such as specialization ", Julián Ruiz, general secretary of the Spanish trade confederation, explains to ABC.
One of the main reasons why they do not fully support Black Friday is the duration of the sales, since if before it lasted a specific day, now it extends for several days and even weeks. The same occurs with sales, which since its liberalization in 2012 allows companies to make discounts throughout the year. "This in the end it is unsustainable. More if possible with very low margins due to high costs, "says Ruiz.
On the other side are the department stores, which take advantage of this day to bill more and have more treasury. From the employers' association of large Anged companies, where companies such as El Corte Inglés, Ikea and Mediamarkt are represented, they admit that they have "positive feelings" this year. An optimism that comes mainly because this year stores will be able to function "with full normality" and not with the restrictions that they experienced last year.
As for possible shortages, large companies say they have done their homework and that there will be a "normal campaign", although they do admit that there could be "specific problems." Even so, they hope that the savings impounded by the pandemic will boost consumption and they trust that the sectors that have had the worst time in the pandemic, such as textiles and footwear, "have a good time."