Spain will take the song 'Palante' sung by Soleá to Junior Eurovision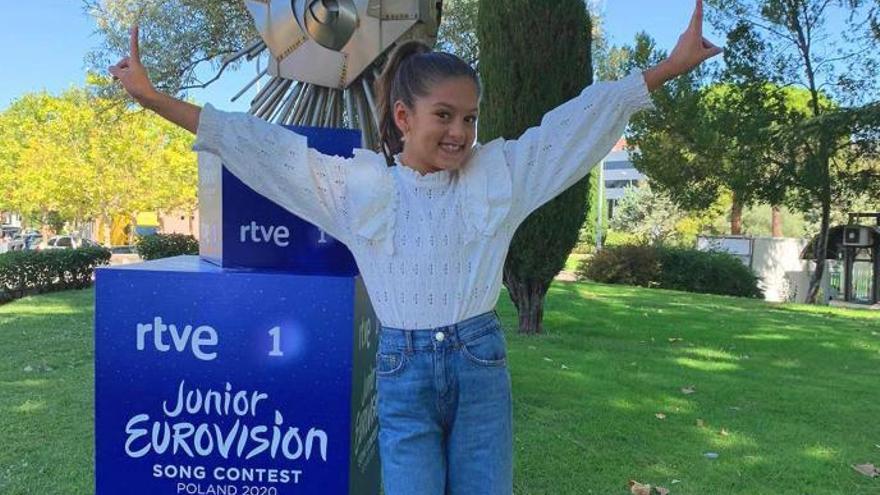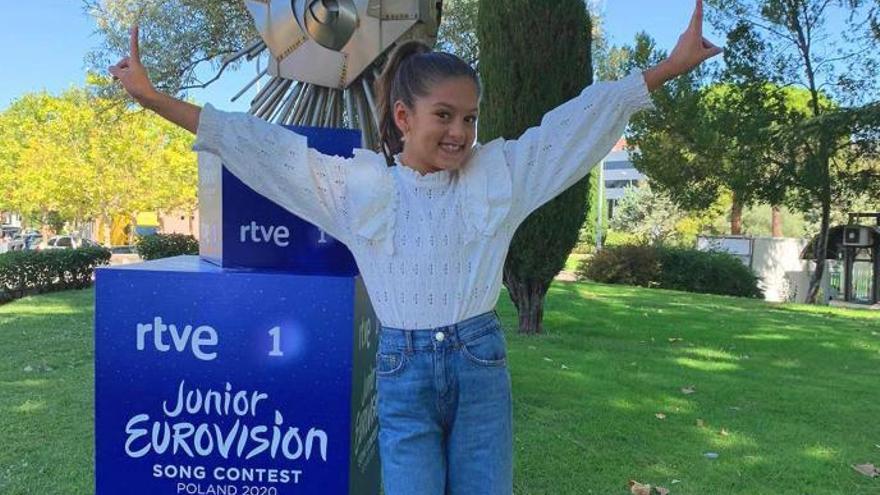 'Palante' is the title of the song with which Soleá will participate in the next Eurovision Song Contest Junior 2020, a theme that deals with send a "positive and encouraging message in times of coronavirus."
As highlighted by RTVE this Tuesday, it is about "Urban pop, very current in the music scene, impregnated with the personality of the young Sevillian artist" family of artists and Farruquito's niece.
In this sense, the Public Corporation has indicated that 'Palante' has been composed by César G. Ross, Hajar Sbihi and Bruno Valverde, and produced by the latter, winner of a Grammy.
"It combines different musical influences in a song of encouragement that appeals to collective responsibility in the face of the situation we find ourselves in due to COVID-19. With its catchy beat and positive message, Soleá wants to encourage the youth to always look ahead and emphasize the importance of social union. It is a message that complements this year's Junior Eurovision slogan 'Move the world', "said RTVE.
Regarding the authors of the Spanish proposal for the European competition, he stressed that they have "a wide career" in music and have composed (and produced) some of the hits of artists such Ricky Martin, Lola Indigo, Pastora Soler, Juan Magan, Joey Montana, Álvaro Soler, Danna Paola, CTangana, Gemeliers and Álex Ubago.
Specifically, he has pointed out that César G. Ross is an author and composer from Marbella with more than twenty years of experience in the music industry. He has composed singles such as 'Míranos', by Álex Ubago, 'Too much love' by Pastora Soler, 'What have you done with my life', by Eva Ruiz and 'I prefer to tell you like this', 'There is no one like you', 'If you leave' and 'Thank you' by Gemeliers, with 5 platinum records the latter. She has also composed songs for various albums of 'La Voz Kids'; the movie animation 'Secret Life of Pets' (Pets); or Dyango and Serafín Zubiri, among others.
For her part, Hajar Sbihi, better known under the stage name ASHA, is a multi-platinum artist and composer born and raised in Morocco. At the age of 12, she was selected to participate in the song 'BOKRA', a project promoting peace in the Arab world produced by Quincy Jones and Redone. At the age of 20, she obtained her first success as a composer: 'Ya no quiero ná'.
In 2018 he composed with Becky G and C. Tangana 'Booty', triple Platinum in the US and Double Platinum in Spain. That same year, she worked on the melodies of 'Oye Pablo', by Danna Paola (Triple Platinum Disc in Mexico). She has also achieved success as a singer with the song she composed, 'Bésame', with more than one and a half million reproductions on digital platforms in just two months.
On Bruno Valverde Juárez, he explained that he is a music producer who was awarded a Grammy for 'La Mordidita', by Ricky Martin in 2015 and nominated for the same award in 2016 for the Los Rakas (Raka Party) project. Graduated from Berklee College Of Music and Full Sail University (Boston), specializing in music production and sound engineering.
Producer of the triple Platinum Disc 'Ya no quiero ná' by Lola Indigo, and the success of Mexican singer Danna Paola 'Oye Pablo', as a composer highlights the song 'Booty', by Becky G and C Tangana. He has worked on projects for Ricky Martin, Becky G, Joey Montana, Juan Magan, Álvaro Soler, Danna Paola, Lola Indigo and CTangana and has collaborated with Karol G, Reik, Sebastián Yatra, among others Eurovisión Junior
A total of thirteen countries will participate in the XVIII edition of the Junior Eurovision Song Contest 2020, which will be held on November 29 in Warsaw (Poland) under the slogan '#MoveTheWorld'. This year, due to the coronavirus pandemic, the event will experience changes in the format: Although the presenters will be live in a television studio in Warsaw, the 13 participants will record their performance in their countries to preserve the health of the artists.
Spain returned in 2019 with Melani to Junior Eurovision, thirteen years after his last participation. RTVE has participated in the contest on five occasions with very good results: a first place (Maria Isabel in 2004); two second positions (Sergio 2003, and Antonio José, 2005); the third place won by Melani in 2019; and a 4th place (Dani in 2006).