Spain, to the futsal Eurocup in one minute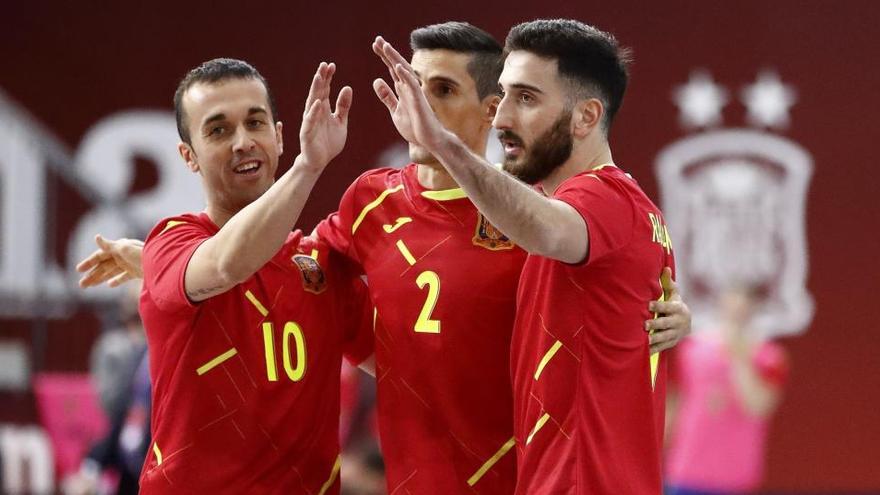 In just one minute and 38 seconds of play, the victory of the Spanish team in Latvia was already undeniable, with a 0-3 as soon as the match started, which later expanded to the final 1-12 to complete your qualification for Euro 2022 with full of triumphs and two days in advance.
His firmness has been undeniable; throughout the whole group – he still has to play the double duel against Switzerland, the bottom of the quartet, next April, although it is already an unsubstantial procedure – and even more so this Tuesday, when he did not even give the slightest margin to the surprise, decisive and unstoppable from the first moments.
In 49 seconds, Cecilio scored the 0-1, a pass from Carlos Ortiz; In 56, the Inter footballer also made it 0-2, assisted by Raúl Campos; and at minute and 38 seconds Carlos Ortiz shot the income to 0-3 to devour his adversary without nuances, so overcome by such staging that his coach asked for an immediate timeout.
The triumph was already done, with 38 minutes and 22 seconds to play whose only question was how many goals Spain would be able to score. At the break, the result already highlighted the abysmal difference between the two, with a 1-8: 0-4 was Cecilio; Borja's 0-5 and Bebe's 0-6 and 0-7 -assisted by Marc Tolrà- on 15 and 17, reduced by Germans Matjusenko with 1-7 already close to the interval, although there was still time for 1-8 Scored by Raúl Gómez.
Almost half of his shots between the three sticks were goals in the first 20 minutes; 8 of the 20 pitches, in addition to two posts, from Spain, which increased its victory in the second period, with Solano's 1-9 (m. 25), Raúl Campos's 1-10 (m. 30), the 1-11 from Solano (m. 36) and 1-12 from Pola (m. 38). You already have a ticket to the Eurocup.
Data sheet
1 – Latvia: Bondars, Matjusenko, Ikstens, Baklanovs, Tarakanovs -starting five-; Pastars, Zabarovskis, Kulesovs, Mat. Babris, Mik. Babris, Kolesnikovs, Rimkus, Putans and Nerets (ps)
12 – Spain: Jesús Herrero, Ortiz, Cecilio, Borja, Raúl Campos -initial five-; Chino, Solano, Bebe, Tolrà, Sergio González, Raúl Gómez, Eric and Pola
Goals: 0-1, m. 1: Cecilio. 0-2, m. 1: Cecilio. 0-3, m. 2: Ortiz. 0-4, m. 12: Cecilio. 0-5, m. 13: Borja. 0-6, m. 15: Drink. 0-7, m. 17: Drink. 1-7, m. 18: Matjusenko. 1-8, m. 20: Raúl Gómez. 1-9, m. 25: Solano. 1-10, m. 30: Raúl Campos. 1-11, m. 36: Solano. 1-12, m. 38: Pola
Referees: Petar Radojcic and Nikola Rabrrenovic (Serbia)
Incidents: match corresponding to the fifth day of the qualifying phase for Euro 2022, played at the Zemgales Olympic Center, in the Latvian city of Jelgava.