Spain received only 18.9 million foreign travelers in 2020, the lowest number since 1969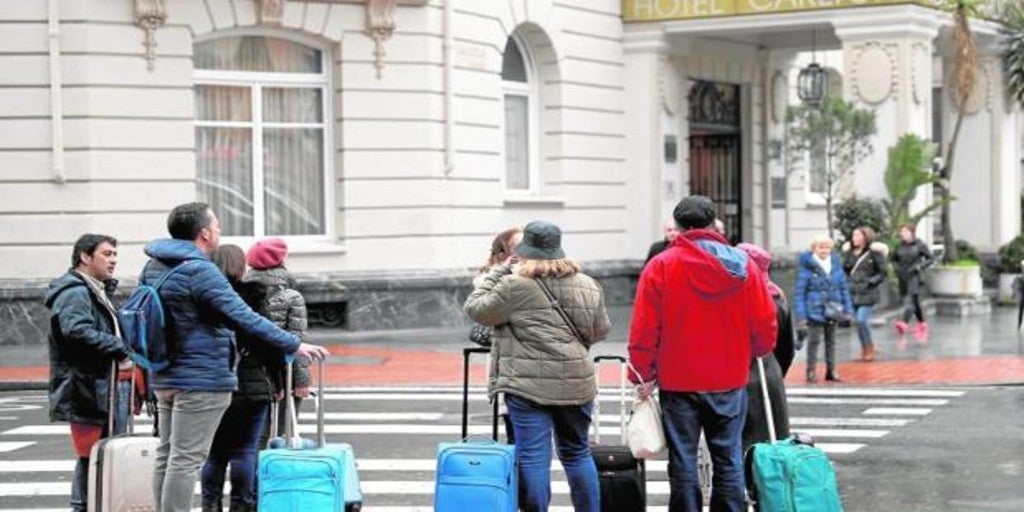 MADRID
Updated:
save

Black year for tourism and business related to the sector in Spain. The arrival of international tourists to Spain plunged 77.3% in 2020, with only 19 million visitors, an unprecedented figure since 1969. Thus, Spain lost 64.8 million foreign travelers compared to the 83.5 million that arrived in 2019. The revenue figures left by these tourists suffered a similar cut of the same magnitude since the 91,912 million of euros that had entered Spain in 2019 rose to 19,740 million in 2020, 78.5% less, according to the figures published this Wednesday by the National Institute of Statistics (INE).
These crashes end seven consecutive years in which records for both visitors and spending had been broken performed by them. There was no less than 20 million tourists since 1969. In addition, last year's figures follow a 2019 in which tourism broke a new record in both arrivals and receipts, with a rise of 1.1% in the number of visitors and 2.8% in spending.
The year began with sustained growth rates in both arrivals and receipts, but in mid-March the declaration of a state of alarm and the spread of the coronavirus caused a 63.3% decrease in arrivals, which in the following two months -with much of the confined world and forbidden trips were settled with absolute zeros.
The main countries of residence for tourists who visited Spain in 2020 were France, the United Kingdom and Germany. The arrival of tourists residing in France fell by 65.2% (to 3.87 million), that of tourists from the United Kingdom 82.4% (3.17 million) and that of German tourists 78.4% (2.41 million).
By regions, Catalonia was the main autonomous community of main destination in 2020, with 20.4% of all tourists. The Canary Islands (with 20.0%) and Andalusia (with 14.3%) were behind. Nearly 3.9 million tourists arrived in Catalonia, 80.0% less than in 2019. The main countries of residence of tourists from this community were France (with 33.8% of the total) and the rest of the world (14%).
The number of tourists visiting the Canary Islands fell by 71.2% and stood at close to 3.8 million. 30.4% came from the United Kingdom and 21.4% from Germany. The third main destination community by number of tourists was Andalusia, with more than 2.7 million tourists and an annual decrease of 77.5%. The United Kingdom was the main country of origin (with 21.8% of the total), followed by France (13.9%). For its part, Comunitat Valenciana received 2.5 million tourists (73.3% less than in 2019), Illes Balears 1.7 million (87.4% less) and Comunidad de Madrid 1.7 million (77 , 7% less).
Regarding the form of entry to Spain, 13.7 million tourists used the airway in 2020, with a decrease of 80.1%. About 5.0 million arrived by road, 61.1% less.
The main reason for tourists on their trips to Spain during 2020 was leisure, recreation and vacations. For this reason, 15.5 million arrived, with an annual reduction of 78.7%. For business and professional reasons, 1.4 million tourists arrived (74.9% less).
The duration of the majority stay among tourists in 2020 was four to seven nights, with 8.2 million tourists and a decrease of 79.2%.
Cut daily spending
Average spending per tourist reached 1,041 euros, representing a decrease of 5.4% compared to 2019. For its part, average daily spending fell by 13.8%, to 133 euros. The average duration of international tourists' trips was 7.8 days, which was an increase of 0.7 days compared to the 2019 average.
The country that spent the most in 2020 was the United Kingdom, with 3,141 million euros, 82.4% less than in 2019. It was followed by Germany (with 2,632 million and a decrease of 77.5%) and France (with 2,413 million , 68.2% less).
The autonomous communities that concentrated the highest total spending in 2020 as a whole were the Canary Islands (with 4,816 million, 71.4% less than in 2019), Catalonia (with 3,640 million and a decrease of 82.9%) and Andalusia (with 2,877 million, 76.8% less than in 2019).