Spain ranks 24th in accessibility of online education | Fortune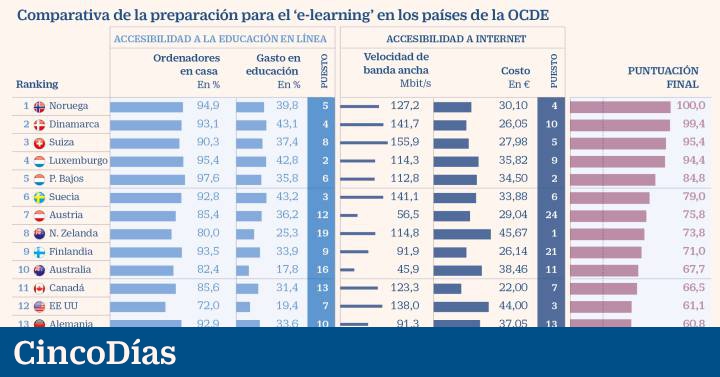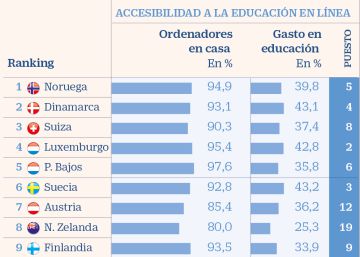 Since colleges and universities closed in March, one of the great debates has been what to do with education and how to continue classes away from schools. However, the means necessary to continue from home go far beyond having high-speed internet and access to a computer. This is how the report points out Are you ready for e-learning? prepared by the Preply online learning platform, where it is collected that Spain occupies the 24th position in the world in terms of accessibility to education distance is concerned.
The study analyzes the situation in a total of 30 OECD countries and notes the gap between internet access and access to online education. This is the case of Spain, which, with a broadband speed of 132.8 megabits per second, it has the 5th fastest internet in the OECD – according to data from the Speedtest Global Index – ahead of countries like Norway. But it is relegated to the last positions in the global calculation due to its low rating in the rest of the variables. The Nordic country, however, leads the general classification of predisposition to online education, which takes into account variables such as spending on education, access to computers at home, the cost of the internet or the fee for tutors.
One of the great pending issues in Spain is access to a computer at home. Only 78.4% of the population can have private computers at home, According to the document Access to computers from home, published by the OECD. On the contrary, this percentage reaches 94.9% in Norway, again, the best unemployed.
Another reason why Spain lags so far behind in the ranking is the percentage of GDP that goes to education. While in Sweden this reaches 43.2% and in Denmark, 43.1%, here it stagnates at 21.8%. Even Mexico, at the bottom of the ranking, dedicates 29.7% of GDP to this area, according to analysis data Public expenditure per student, prepared by the UNESCO Institute for Statistics. "The higher the expenditure, the greater the budget available for the development of novel methods for training, such as e-learning (e-learning) ", reads the report.
The possibilities of these formats, however, improve little by little. "There are many opportunities to start investing in the digital infrastructure needed to drive a shift toward online learning," says Kirill Bigai, CEO of Preply. This is also shown by the market: in Spain, the online training offer has grown by 75.4% in recent months, which is also a symptom of an increase in demand related to Covid-19.