Spain overwhelms Bulgaria in its debut to the rhythm of Lorenzo Brown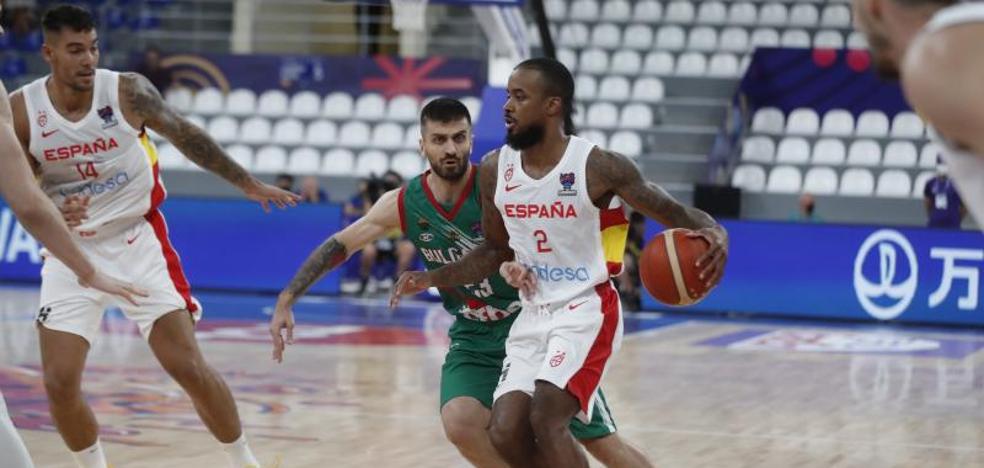 eurobasketball
The team opens with a solvent victory, relaunched by its defense and the remarkable direction of the recently nationalized American point guard
Spain passed its debut at the Eurobasket with flying colors, which will test the replacement of a team that, now without the talent that it exhibited with the Gasol brothers and the best generation in history, keeps the group spirit and the ambition and desire very much alive. keep growing. Bulgaria is the weakest rival in the group in which Spain must occupy one of the first two places to go through to the round of 16, but in their first official match without their long-awaited stars, Sergio Scariolo's renewed team exhibited many of their virtues, with a notable defensive sacrifice that allowed him to sentence at half-time and reserve strength for more complicated commitments.
Spain showed that, although it does not have the level to aspire to a medal in a major championship and has much to improve given its limitations, it is ready to continue taking steps in its progression, with young talents who are entering the dynamics of the team and letting go together to veterans. Rudy Fernández and the Hernangómez brothers must be the pillars of this team and the three wanted to show from the beginning that Spain can trust and cling to them in this championship in which one of the newcomers, Lorenzo Brown, in his first official match with Spain also wanted to silence criticism for its controversial nationalization,
Hit in the base position by the injuries of Ricky Rubio and Sergio Llull and the withdrawal of Sergio Rodríguez from the national team, Spain crushed Bulgaria precisely to the rhythm of Lorenzo Brown, whose presence now seems essential. The American player took the lead with an outstanding direction, contributed points (17) and assists (five) for a PIR of 21 and also worked hard in defense, to push Spain to a solvent victory, forged in a splendid first half in which did not stop growing.
114
Spain
Brown (17), Jaime Fernández (12), López-Arostegui (5), Juancho Hernangómez (13) and Willy Hernangómez (16) -initial quintet-; Pradilla (19), Rudy Fernández (14), Brizuela (7), Díaz (5), Sáiz (-), Garuba (10) and Parra (5).
87
Bulgaria
Bost (6), Marinov (9), Alipiev (-), Vezenkov (26) and Stoilov (12) -initial quintet-; Karamfilov (-), Kostov (13), Yanev (-), Pavlin Ivanov (16), Andrey Ivanov (-), Dimitrov (5) and Simeonov (-).
Partials:
28-17, 29-18, 32-31 and 25-21

Referees:
Gurion (Israel), Männiste (Estonia) and Attard (Italy).

Incidents:
First match of Eurobasket 2022, played at the Tbilisi Arena.
Based on defense, clarity in the game and speed, with Willy Hernangómez dominating in the paint and machine-gunning from the outside (a 53% success rate in the triple before the break), the team worked behind and enjoyed half a court forward during a meeting that allowed Scariolo to carry out many rotations and continue testing men and systems.