Spain neither saves lives nor saves the economy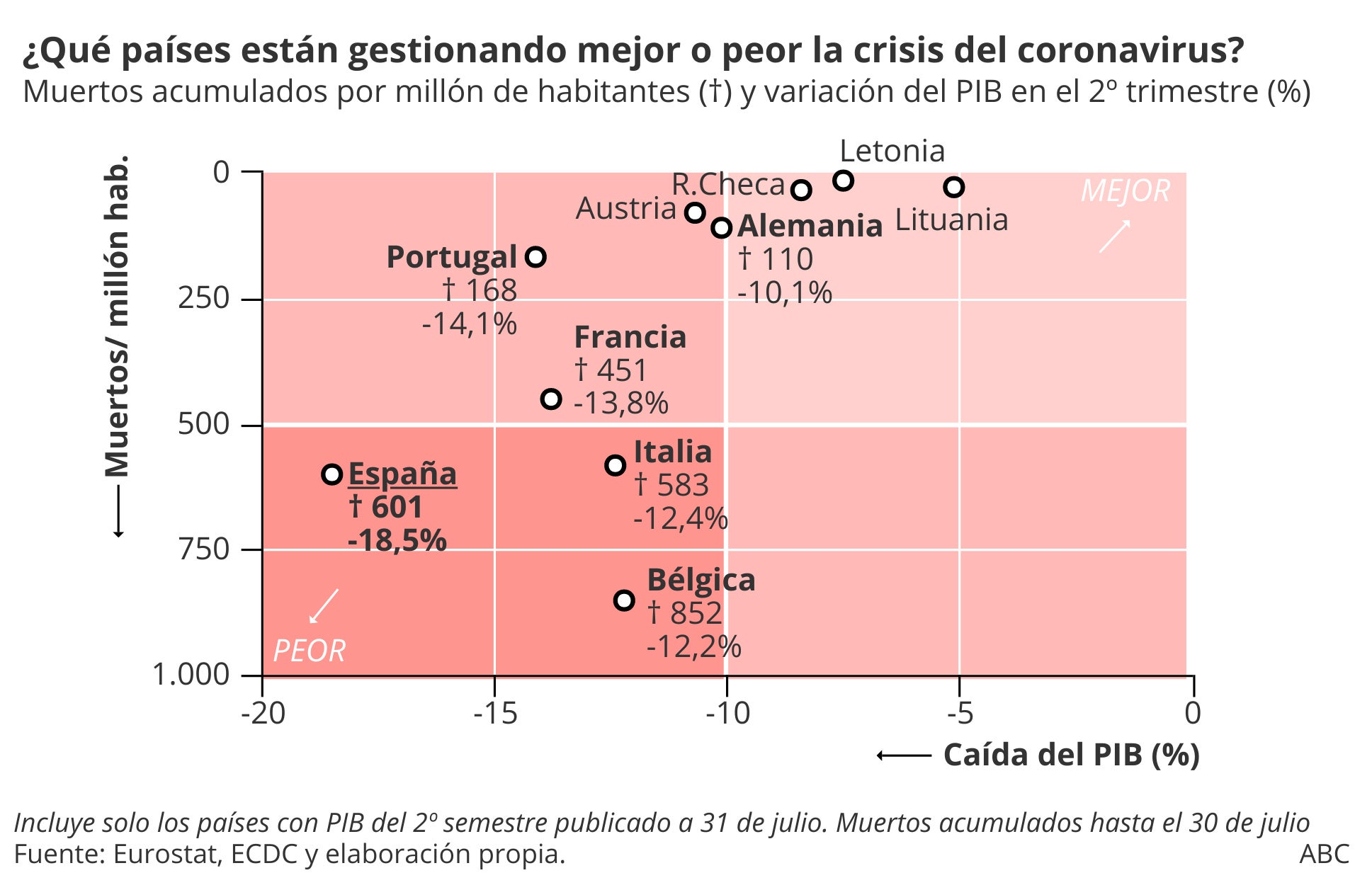 Updated:
save

In the crisis of coronavirus Governments are striking a difficult balance between safeguarding the health of their citizens and maintaining economic activity as much as possible to avoid ruin. All countries are leaving behind a large number of lives and shreds of their wealth, although none is leaving as badly as Spain.
Spain presents the worst data of all the countries of the European Union that have already published the statistics of the gross domestic product (GDP) of the second quarter of the year. The Spanish economy lost 18.5% of its wealth in the last quarter, worse than Portugal (-14.1), France (-13.8), Italy (-12.4), Belgium (-12.2) , Austria (-10, 7) and Germany (-10.1). In the euro area, the drop has been -12.1%, according to Eurostat data.
All countries significantly worsened data from the previous quarter. However, Spain's statistics were not the worst then. The decline of 5.2% of Spanish GDP was overcome by poor data from Italy (-5.2%) and France (-5.4). The economy has deteriorated faster in Spain in the second half.
Between April and June, Spain was immersed in the state of alarm, ended on June 21. The progressive lifting of confinement with the phase system timidly reactivated the economy, but not enough to avoid the worst drop in GDP since there are records, much worse than the 2008 economic crisis, when the worst figure did not exceed -2, 3%, in the first quarter of 2009. The last stop data they are also at the bottom of the EU.
Killed by coronavirus
Now, Spain is experiencing a rebound in cases, sharpened in the second half of July, after managing to reduce them with confinement. The regrowth is among the most intense in Europe. The increase in infections is already beginning to translate into an increase in the number of hospital admissions, although not yet in the number of deaths.
The figure of deaths from the coronavirus in Spain it is also among the worst in Europe. Spain thus leads the combined statistics of the worst drop in GDP and the highest number of deaths per million inhabitants among the countries that have already presented their economic data on changes in wealth in the second half of the year.
Spain is the second country in the European Union with the highest number of deaths from coronavirus according to its population, second only to Belgium. The 28,443 deaths accumulated until July 30 represent 601 per million inhabitants. Belgium, with the smallest population, stands at 852 deaths per million, according to data from the European Center for Disease Prevention and Control (ECDC). Spain surpasses Italy (583) and France (451), and is far from Portugal (168) and Germany (110).