Spain is already thinking about the Eurobasket: "We have to build a team"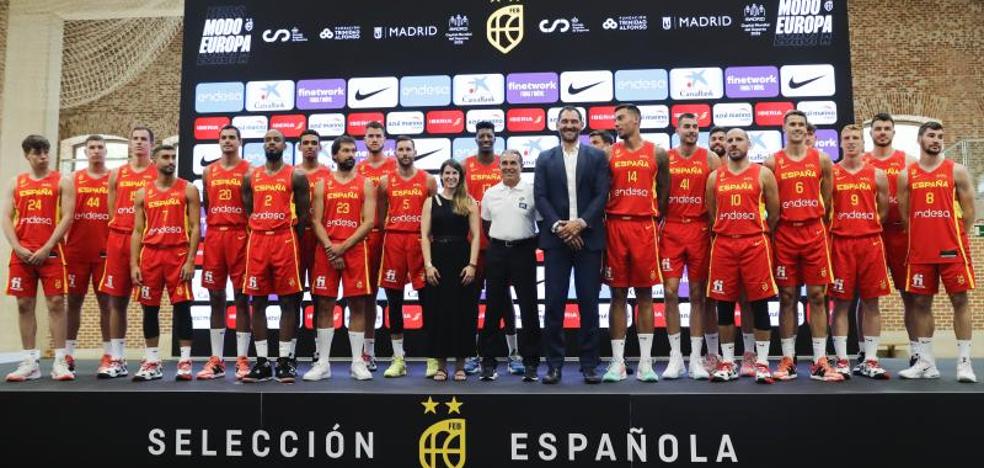 The national team led by Sergio Scariolo appears in public and begins preparation for a tournament that marks the beginning of a new stage
The Gasols are gone, neither Pau nor Marc. Neither is the injured Ricky Rubio. Gone are the Felipe Reyes, Juan Carlos Navarro, Sergio Rodríguez. All of them symbols of the most successful era of Spanish basketball. Now the goals no longer necessarily go through the title or the medal, although the Spanish team intends to remain competitive in the Eurobasket and also do so by completing the necessary generational change that is coming, the most traumatic in the last two decades.
Sergio Scariolo's pupils appeared in society and began with the preparation training sessions for the European Championship in September this Tuesday in Madrid. On the immediate horizon, the 'Europe Mode', a plan prior to the great continental tournament that will consist of four games: two demanding friendlies against Greece and Lithuania and two official commitments, in the context of the qualifying window for the next World Cup year, compared to Iceland and the Netherlands.
"This is not the time to think about goals, but to focus on doing what we have done on other occasions: building a team. That is the starting point and we will see where the competition takes us", valued the Spanish coach, Sergio Scariolo, during a ceremony held at the Daoiz y Velarde Municipal Sports Center in Madrid.
"Now a selection arrives that is the fruit of the work of the clubs and that carries a trajectory. In 2017, when we prepared the qualification for the 2019 World Cup, there was a plan worked out with Sergio. And we are in that cycle. There are five world champions, there is a large block of players from the classification 'windows', there are players with injuries who want to be with the national team... I don't know if we will win a medal, but we will return with our heads held high", he valued for his part. Jorge Garbajosa, president of the Spanish Basketball Federation (FEB), in an analysis similar to that of Scariolo, who is committed to the development of a new generation of players beyond the specific result.