Spain hones its defense in an easy win over Iran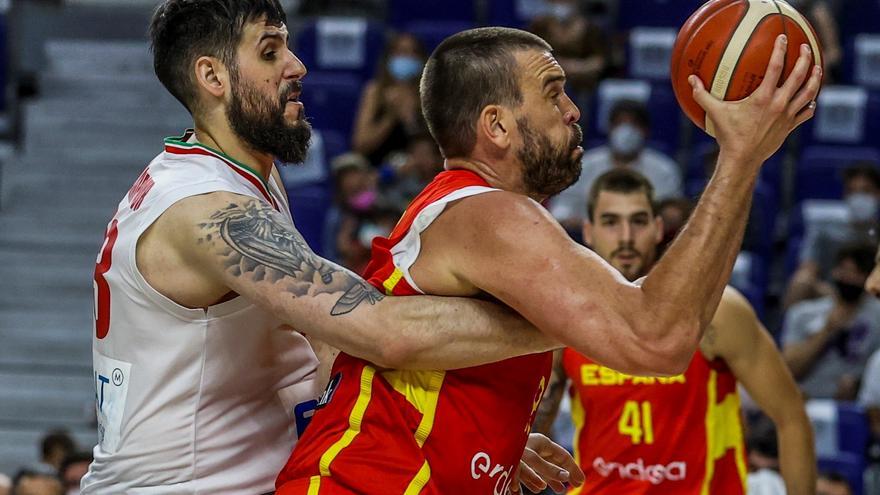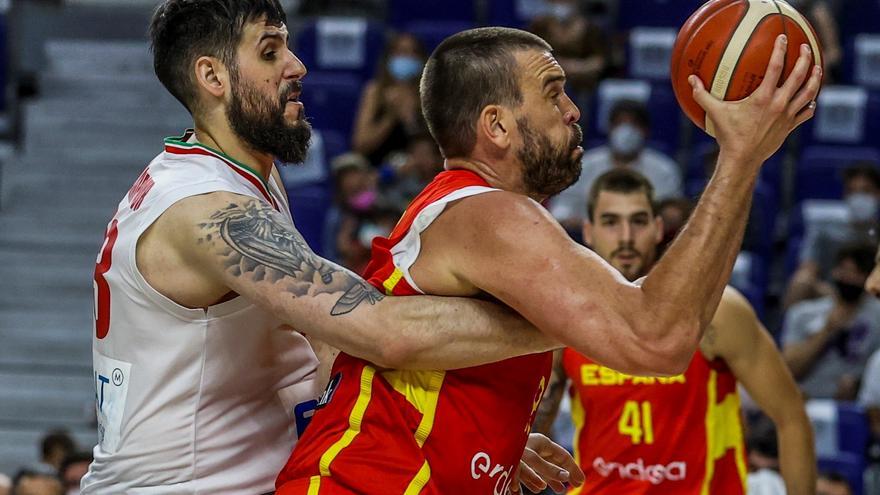 The defense of Spain begins to carburet. In his second friendly in 48 hours, Sergio Scariolo's team left Iran with 53 points (96-53), dominated and had fun before a WiZink Center in Madrid delivered to the reunion with Pau Gasol and the irruption of the young man Usman Garuba, authors of 9 points each.
In a shorter concentration than usual, the improvement that real action gives against an opponent on the floor is worth a lot. In 48 hours, a Spain that in Valencia disconnected at times in its defense this time she was firm, dominating on the rebound (43-25) and begins to find useful connections for Tokyo, like the inner couple Marc Gasol-Usman Garuba.
Spain repeated the starting five of Valencia, with Ricky Rubio, Rudy Fernández, Víctor Claver, Juancho Hernangómez and Marc Gasol, toned from the triple but weak in defense that allowed a small Persian rebellion, a team of fast shooters (6-11, min. 3).
While WiZink applauded Pau Gasol's entry, Scariolo praised his players for their defensive warmth. As soon as Spain covered the corner shooter -12 points in this quarter between Benham Yakhchali and Mohanmadsamad Bahrami- Iran was over: partial 14-0 (27-18, min. 8) with triples from Ricky and Llull, and a pat from Pau. The quarter ended 27-21.
The first half was not for testing, except for Garuba, who begins to take a place in the rotations of the Spanish coach with Marc Gasol, who led and turned to score, taking advantage of the slowness of the Iranian giant Haddadi.
The Madrid youth squad responded to the challenge. He defended, rebounded and lifted WiZink doing what he does best: fighting and hanging from the basket (41-23, min. 15). Juancho Hernangómez joined the 'show' with a career, an 'alley-oop' by Pau and another mate, in a match already in exhibition figures, despite the final 8 points of the Iranian Mohammad Jamshidi: 58-34 to rest.
After the intermission it was time for Abalde, Brizuela and Oriola. Of them, the Galician seems to be the one that best completes Scariolo's fixed group, due to his position, defensive effort and triple hit, and he liked it with a nice turn before the layup or running with 'Chacho' Rodríguez, who gave him a gift a gold assist for 69-38 (min. 26). Spain was already a lock in defense, with Pau dominating under the ring and the score runaway: 78-44.
The fort remained in the last quarter, with two Spartans like Willy Hernangómez (top Spanish rebounder with 10 sacks) and Pierre Oriola filling the gaps: the Iranian 'Team Melli' needed 6 minutes to score their first basket of the fourth quarter, a triple of the Iranian-American Mike Rostampour.
Sergi Martínez joined the show with a basket from behind (89-49, min. 37) and Carlos Alocén, who directed the entire room, and Abalde continued. Spain will continue its preparation on Thursday 8 at the Martín Carpena in Malaga, with a level test: France.
Data sheet:
96 – Spain (27 + 31 + 20 + 18): Ricky (10), Rudy (6), Claver (4), Juancho Hernangómez (9), Marc Gasol (9) -the starting five-, Willy Hernangómez, Pau Gasol (9), Llull (7), Abrines (9), Sergio Rodríguez, Garuba (9), Abalde (6), Brizuela (5), Oriola (2), López-Aróstegui (3), Alocén (3) and Sergi Martínez.
53 – Iran (21 + 13 + 10 + 9): Yakchali (9), Jamshidi (8), Bahrami (9), Kazemi (2), Geramipoor (6) -the starting five-, Hassazadeh (2), Haddadi (5), Jalalpour, Rezaeifar (3), Rostampour (3) , Vahesi (4), Darvapanah (2) and Arghavan.
Referees: Carlos Peruga (ESP), Carlos Cortés (ESP) and Sergio Manuel (ESP). Eliminated by five personal fouls the Iranian Geramipoor (min. 28).
Incidents: Friendly match in preparation for the Tokyo 2020 Olympic Games, played at the WiZink Center in Madrid before 6,425 spectators. During the break, they received a tribute, organized by the Association of Professional Basketball Players (ABP), the players Sergi Vidal, David Navarro, Jordi Trías, Andrés Miso, Fran Vázquez, Ricardo Uriz, Guillem Rubio and Felipe Reyes, who ended their careers sports in the last year.