Spain has only administered 2% of the anticovid pills for which it paid 238 million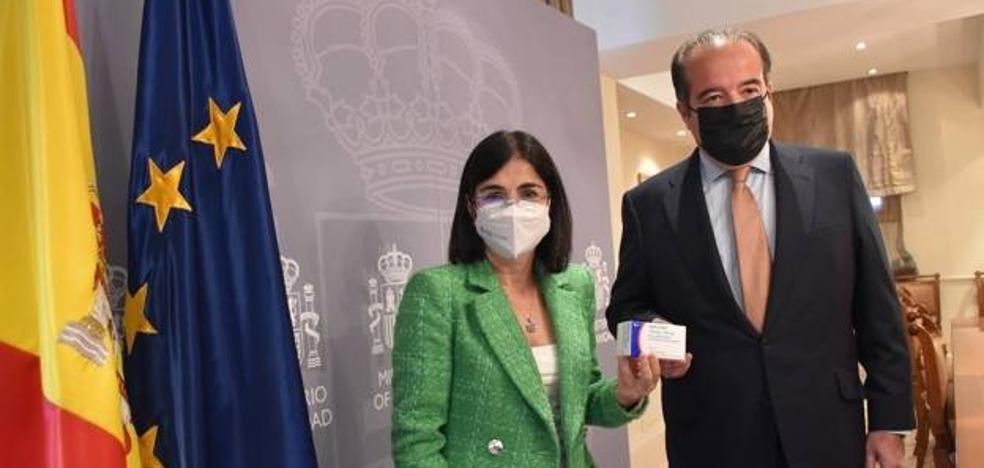 The Ministry of Health, which bought 344,000 treatments at 691 euros each, has barely dispensed 1,218 of the 51,649 that it has already received
After the vaccines, Paxlovid was the great hope to end covid-19: an oral treatment produced by the pharmaceutical company Pfizer that reaches up to 89% efficacy in reducing hospitalizations and deaths and that works against all variants, including omicron. On January 27, the European Medicines Agency (EMA) gave the green light to these anticovid pills and Spain soon showed great interest in acquiring them. So much so that the Ministry of Health reached an agreement with Pfizer to receive 344,000 complete treatments for 238 million euros (at 691 euros each). "This drug represents a very important advance to continue saving lives," said the Minister of Health, Carolina Darias, on March 24, when she signed the contract with the company. But the use of Paxlovid is being almost nil. Health has already received 51,649 treatments, of which 50,000 have been distributed to the communities, but so far only 1,218 have been dispensed, just 2.35% of them, Darias revealed in the Congressional Health Commission.
The causes of the low use of Paxlovid are varied and in part have to do, according to several experts, with the lack of clarity of the requirements that must be met by patients who aspire to receive this treatment. According to the criteria established by the Spanish Agency for Medicines and Health Products (Aemps), Paxlovid is preferred for unvaccinated people or vaccinated people over 80 years of age and "with at least one risk factor for progression". The majority of those over 60 years of age are excluded from this priority, an age group in which 98% of its members have the complete guideline. "How many covid patients are there who are not vaccinated and who have a severe immune deficiency or have suffered a heart attack?" asks a doctor. And he answers: "Almost none."
Another hurdle for Paxlovid is the mode of dispensing. In Spain, a Primary Care or hospital doctor can prescribe the treatment after the patient has tested positive, but in the new phase of 'flu', the number of tests is limited, so that covid patients who have done the tests at home, but that they do not go to a health center, in no way will they be able to access this medicine. This system is very different, for example, from the United States, where Paxlovid is being used more successfully. There the Government has opened some centers called 'Test to treat' (take a test to receive treatment), where PCR is performed instantly or even patients carry theirs from home. If they test positive (and meet a series of requirements), they already leave with a box of Paxlovid.
Stranger still are the "psychological" causes that explain the failure of Paxlovid in various autonomies. One doctor explains that some communities are "afraid" of dispensing doses of Paxlovid and "running out." "They are so afraid that they don't distribute them and in the meantime, patients get sick or die. But in a few months », ironically, « the rush will come and they will send Paxlovid to all the professionals. And it will happen like with Tamiflu (the medicine that was bought during a threatened avian flu pandemic in 2006), that I still have the drawers of the practice full of Tamiflu packets ».
health problems

But not all problems are bureaucratic, there are also health problems. Paxlovid's significant drug interactions are holding back its use. A Primary Care professional can prescribe the pills, but the diagnosis then goes through a second filter, that of the hospital pharmacy, which guards the treatments. Pharmacists are the ones who check Paxlovid for interactions with other medications, and since this happens frequently, the patient ends up without their medicines. "That is why the Merck antiviral (the other approved by the EMA) is being prescribed almost more, which has less efficacy, but also fewer interactions," explains another specialist. In addition, the drug must be administered in the first five days of symptoms, a requirement that is increasingly difficult to meet in 'flu'.
The spokesman for the Spanish Society of General and Family Physicians (SEMG), Lorenzo Armenteros, regrets that Spain is not taking advantage of the benefits of Paxlovid. "We are left with the suspicion that many of the patients who are hospitalized right now were candidates to have taken this drug, but they will no longer be able to do so," he reflects.
A cocktail of six pills a day for five days

Paxlovid is an antiviral cocktail made up of two drugs. One is PF-07321332, known as nirmatrelvir and specifically designed to act against SARS-CoV2. The second is ritonavir, a molecule used against HIV infection. Paxlovid is given as a separate drug cocktail: nirmatrelvir, a pink 150-milligram (mg) tablet, and ritonavir, a white 100-mg tablet. Two tablets of nirmatrelvir (300 mg) and one tablet of ritonavir (100 mg) are taken together twice a day for five days. In total, 30 tablets at the end of the five days.