Spain grows and has fun against the host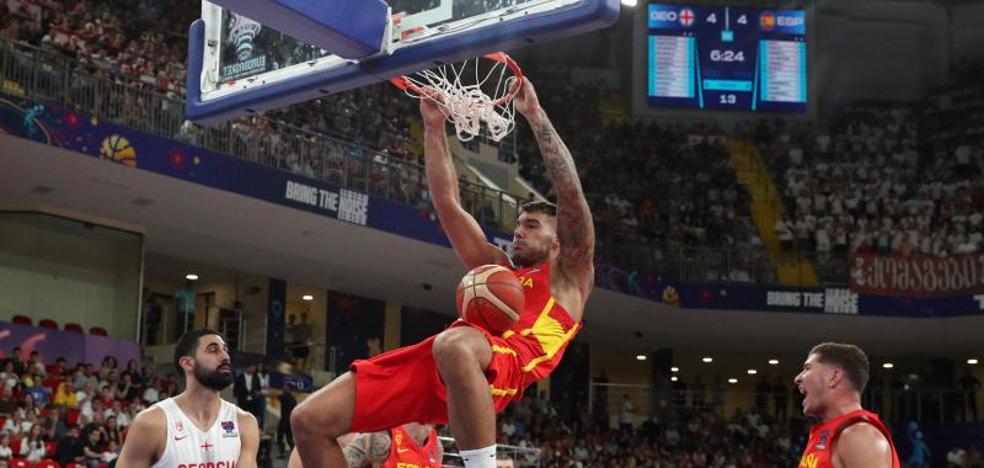 eurobasket 2022
The national team offers another choral exercise to also beat up Georgia, with a step forward in defense and another offensive festival
Spain took a step forward in defense, as Sergio Scariolo had demanded, and had fun against the group host to continue growing in the Eurobasket, in which the national team reinforced its self-esteem with a new demonstration of character, collective work and good basketball. After crushing the weak Bulgaria in the debut, Spain also went over Georgia, subdued by a team released from pressure that continues to show signs of its group spirit and in which young values ​​such as Jaime Pradilla, Alberto Díaz, Joel Parra and Xabi López-Arostegui, who offered a defensive display in the first half to nullify McFadden and become one of the architects of the resounding victory against the former Soviets. Scariolo's team offered another choral exercise to continue fueling their hopes in a championship in which they are not favorites for the medal, but in which they are almost guaranteed one of the first two places in the group, which in theory will lead to an easier crossover in round of 16.
Although it had outstanding individuals, such as the Hernangómez brothers and, once again Pradilla, Spain was above all a team against Georgia, which without the injured Tokio Shenghelia and, despite its physical superiority, could not compete against a team with plenty of ambition, claw and cheek. With Willy Fernández as the top scorer and rebounder (five sacks), and a second unit that is gaining in confidence and going further, Spain minimized Georgia thanks to its defensive sacrifice and another offensive festival took place. Scariolo had already predicted that it would be fun for the national team to play in a full pavilion against the local team, and he was absolutely right. Above all, he achieved it in a third quarter in which he destroyed the Georgians and definitively broke the match, relaunched not only by Willy Hernangómez, who maintains a high level, but also by the outside shot: 32% at the end, when at the break he only had a success in triples of 18%.
Spain swept Georgia off the track not with its starting lineup, only modified from the debut with Joel Parra instead of Jaime Fernández, but with a team led by the indefatigable Rudy Fernández, who is already the second Spanish player with the most caps, only surpassed by Navarro, but in which the youngsters Pradilla, Díaz, Parra and Garuba also shone. Spain did not allow Georgia to exceed 17 points in any of the quarters, and it was after passing through the locker room that they offered their best version. Powerful inside and devastating from long distance, with a better game at the controls of Alberto Díaz than Lorenzo Brown, far removed from his remarkable match in his debut against the Bulgarians. This is how Spain reached a maximum difference of 24 (47-71) before facing the last quarter and having the possibility of measuring up.
Willy and the triples

After suffering some blockage in attack in the first half and suffering from the offensive rebound that then kept Georgia alive in this period, Spain's start in the second half was overwhelming to also beat their second rival. Then he endorsed a 3-11 run, relaunched by Willy and Juancho and the long shot, against a very hasty opponent with the triples who always wanted to grab Shermadini but had no resources in the face of mobility and the great game of Spain. Although the reigning world champion played well in the first half, the shots did not enter her then, although she did respond in a big way in containment, with a defense by López-Arostegui over the Georgia starting point guard that left McFadden alone three points at halftime. Inside, however, Willy already scored ten points in the first half, accompanied on the scoring side by López-Arostegui himself, Pradilla and Díaz.
Spain improved a lot after the restart, especially offensively, and ended up beating Georgia in all facets. Not only in rebounding (39 sacks vs. 33 for the hosts), but also in assists (23 vs. 14), which is another demonstration of team play. Spain finished with only two players with double figures in scoring (Willy and Pradilla), but another seven scored ten and the team almost doubled Georgia in overall value (115 points to 61 for the locals). This Sunday Belgium awaits in a third commitment that a priori will be more affordable for the Spanish.