Spain ends 2021 with 840,700 more jobs and an unemployment rate of 13.33%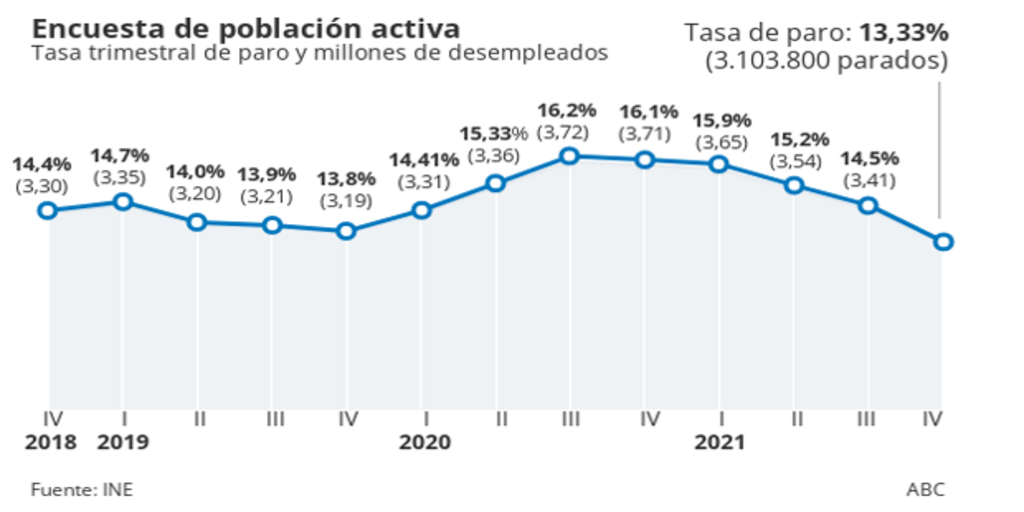 Updated:
Keep

The Spanish labor market signed its recovery in 2021 after the hardships registered during the worst months of the pandemic. There is no better thermometer to measure the health of employment in Spain than the INE's Active Population Survey (EPA). Thus, the Statistics data certify that Spain created 840,700 jobs in 2021, a figure that drives the total number of employed in Spain to 20.2 million, that is, the highest level in thirteen years. What's more, unemployment fell by 615,900 people in 2021, which was 16.5% less than in 2020 and its largest annual reduction since 2015. Thanks to these numbers, the unemployment rate fell to a percentage of 13.33% - compared to 16.13% with which it closed 2020 -, until accounting for a total of 3,103,800 unemployed in the fourth quarter of last year.
All this after
Spain suffered in 2020 its worst evolution since 2012 due to the impact of the pandemic and lockdowns.
By sectors, in the last year unemployment has decreased in all of them, highlighting the decrease in services with 440,500 fewer unemployed) For its part, the number of unemployed who lost their job more than a year ago has fallen by 55,900 and the number of unemployed people looking for their first job in 4,000 people.
The EPA for the third quarter already hinted at the recovery of employment after the hard blow dealt by the coronavirus. At the end of September, the total number of unemployed stood at 3,416,700 people, with what the unemployment rate decreased almost seven tenths, from 15.26% to 14.57%its lowest figure since the first quarter of 2020, thus recovering the levels from before the pandemic.