Spain destroys 100,200 jobs and unemployment increases by 70,900 people in the first quarter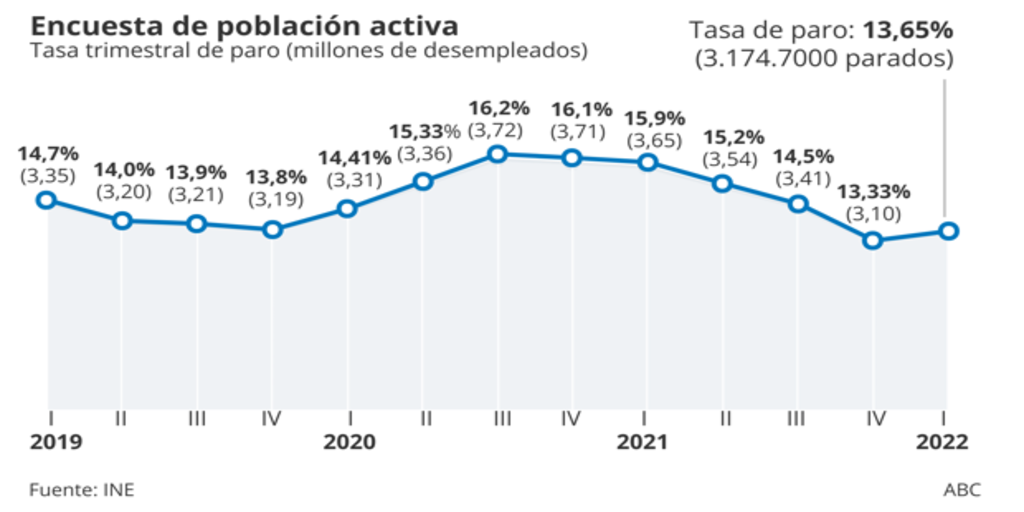 Theresa Sanchez VincentFOLLOW, CONTINUE
Updated: 04/28/2022 09:49 a.m.
Save
Related news
High inflation and high energy prices took their toll on the Spanish labor market, which slowed down both in job creation and in the drop in unemployment at the start of the year. The labor market lost 100,200 employed persons in the first quarter of the year compared to the previous one, placing the total count at 20,084,700. For its part, unemployment increased by 70,900 people, to a figure of 3,174,700 unemployed, and with an unemployment rate that rose from the previous 13.3 to 13.65%.
From the data of the Active Population Survey (EPA) it is extracted that employment fell in industry, with 68,000 fewer worker positions; services, where a total of 50,100 were lost; and in agriculture, with a destruction of 12,500 jobs.
By contrast, employment rose in construction, with 30,300 more employed.
It should be remembered that the Spanish labor market signed its recovery in 2021 after the hardships registered during the worst months of the pandemic. In this way, the increase in unemployment in the first quarter of this year contrasts with the cut in 65,800 unemployed registered in the same period of 2021.
By sectors, unemployment increased this quarter in the services sector (96,300 more unemployed), in industry (15,700) and in non-construction (1,700). On the other hand, it fell in agriculture (6,300 less).