Spain beats France in the first big test before the Games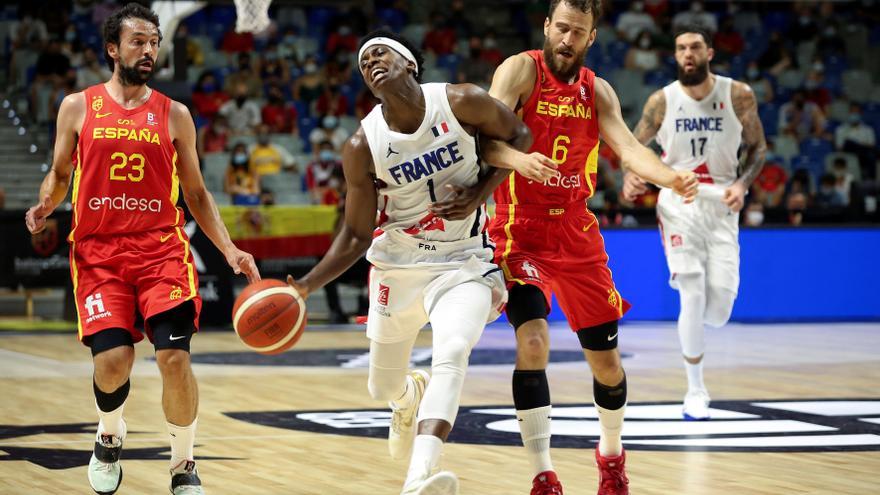 The Spanish selection won this Thursday in his third friendly preparation for the Tokyo 2020 Olympics to that of France for 86-77 in a match that he dominated with Ricky Rubio (16 points) and Sergio Rodríguez (14) as protagonists in a Carpena that saw how Juancho Hernangómez left injured.
Spain took a valuable victory repeating the quintet of the last game with Ricky Rubio as point guard, Rudy Fernández and Juancho Hernángomez as external threats and an interior area composed of Víctor Claver and Marc Gasol.
The triple and the circulation of the ball were key to counteract a France full of talent, although without the presence of Thomas Heurtel, recent signing of Real Madrid, nor the named defender of the year in the NBA, Rudy Gobert (Utah Jazz), in a very physical match from the start.
A triple from Marc and another from Pau Gasol put the noise in Carpena and Spain ahead (16-14), but the French responded with the same medicine, shooting three, scoring four in a row – two of them from the Brooklyn Nets guard Luwawu-Cabarrot – to close the first quarter ahead (21-24).
The bad news was in the departure of Juancho Hernangómez, who had to retire due to a blow and did not play again.
At 6:48 of the break, Rudy's triple after Marc Gasol's block made it 30-30, a reflection of the great defensive bolt that Spain put in, without losing intensity and betting on keeping an impeccable Alberto Abalde on the track (3/3 in field shots) in attack.
Scariolo, after performing the usual rotation, introduced Ricky again to join him on the court with Pau, who with a dunk after a fight for the rebound reminded for an instant of that pivot who dominated France in the semifinals of the Eurobasket 2015. The dynamite was put by Rudy from the perimeter, France did not find Nando De Colo and Spain turned the result (44-38).
Real Madrid player Vincent Poirier was charged with three personal fouls in his battle with Marc Gasol, while Garuba came in for Claver, who left early after four fouls. With Brizuela taking off, Llull and Chacho breaking, Ricky leading (12 points in the third quarter) and Garuba prevailing in defense, France entrusted Evan Fournier and Nando de Colo to stay alive in the match.
The last quarter was the moment of 'Chacho' Rodríguez: under his direction, Spain went 12 points up (76-64) in Ecuador, with a recital of tickets to the basket and game reading. Not a Fournier (20 points) in its best version could stop the Spanish team, who knew how to manage their advantage until the end.
The Spanish team will travel to Paris with three of three victories to play, again, a friendly against France on Saturday July 10 (8:30 pm). EFE
Data sheet:
86 – Spain (21 + 23 + 21 + 21): Ricky (16), Rudy (11), Claver (5), Juancho Hernangómez (3), Marc Gasol (8) -the starting five-. Pau Gasol (7), Willy Hernangómez (6), Llull (5), Garuba (0) Sergio Rodríguez (14), Abalde (11), Brizuela (0), Oriola (0), Abrines (-), López-Aróstegui (-), Alocen (-)
77 – France (24 + 14 + 20 + 19): De Colo (17), Yabusele (7), Albicy (2), Fournier (20), Fall (4) -initial quintet-, Ntilikina (7), Luwawu-Cabarrot (9), Poirier (2), Cordinier (0 ), Cornelie (2), Lacombe (-).
Referees: Antonio Conde Ruiz, Yohan Rosso, Luis Miguel Castillo.
Incidents: Friendly match in preparation for the Tokyo 2020 Olympic Games, played at the José María Martín Carpena Pavilion in front of 2,600 spectators.