Spain and the Netherlands ask to review European fiscal rules to ensure growth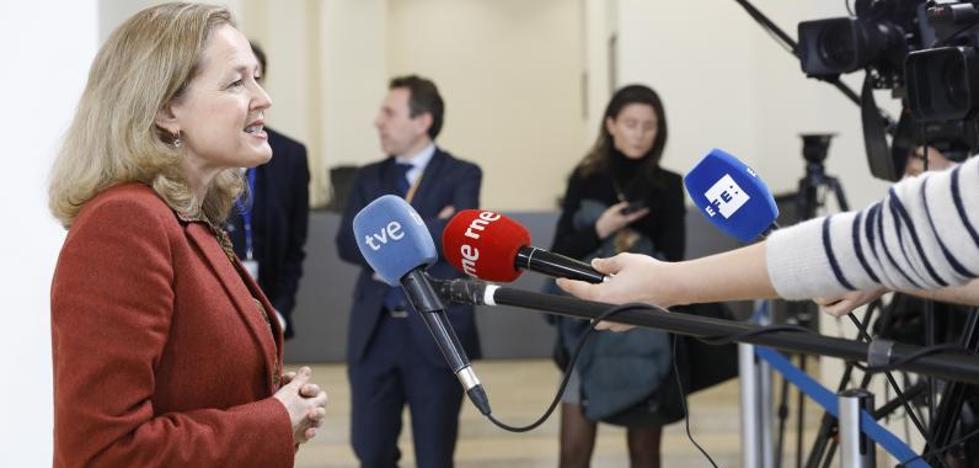 The two countries are committed to withdrawing the debt reduction clause and adapting it to the situation of each Member State as of 2023
In critical moments it is easy for urgent decisions to overshadow those in the medium and long term. Spain and the Netherlands presented this Monday to the economy ministers of the euro zone a joint proposal to review the fiscal rules in 2023, so that they ensure economic growth. The two countries hope that the document "lays the foundations of consensus" and opens a debate that must be addressed "as soon as possible", since it is "strategic".
At the end of the Eurogroup meeting, the Spanish First Vice President and Economy Minister, Nadia Calviño, and her Dutch counterpart, Sigrid Kaag, presented the joint text, which contemplates the elimination of the annual debt reduction rule. The two states defend that the fiscal rules must be adapted to the circumstances of each country, leaving room for economic growth, public investments and reforms. The proposal also contemplates the design of fiscal mechanisms that help cushion the effects of future crises. "We have to address and advance debates that are strategic and structural for the future," said Calviño, who trusts that the text will lead to a proposal from the European Commission before the end of the year.
The Stability Pact sets minimum annual debt reduction for the Member States, with a maximum target of 60% of GDP. Due to the pandemic, this clause was suspended to allow European countries to increase their public spending. And it will continue like this until the end of 2022, although there have already been those who have proposed a possible extension to face the economic impact of the war in Ukraine.
They rule out recession

The economic consequences of the Russian invasion were the main debate in the Eurogroup. "The impact is there, it is too early to estimate how much, but we will not reach the level of growth that we had anticipated," said the Commissioner for the Economy, Paolo Gentiloni, who acknowledged that the Eurozone will remain "very far from those figures. Everything will depend on the duration of the war, the price of energy and the confidence of the market and consumers.
Despite the fact that inflation is skyrocketing and the economy is slowing down, both Gentiloni and Deputy Commissioner Valdis Dombrovskis ruled out that the Eurozone is going to enter a recession. Brussels and the European Central Bank calculate that inflation will remain high in the short and medium term – due to the high price of energy – but they do not believe that it will enter an upward spiral in the long term.
The president of the Eurogroup, Paschal Donohe, highlighted the resilience that European banks have shown during this crisis and valued the union as a recipe for the current situation. In this sense, he announced an extraordinary meeting of the group to promote the Banking Union, a fundamental tool for the economies of the common currency.