Soyuz MS-18 'YAGagarin' takes off for the International Space Station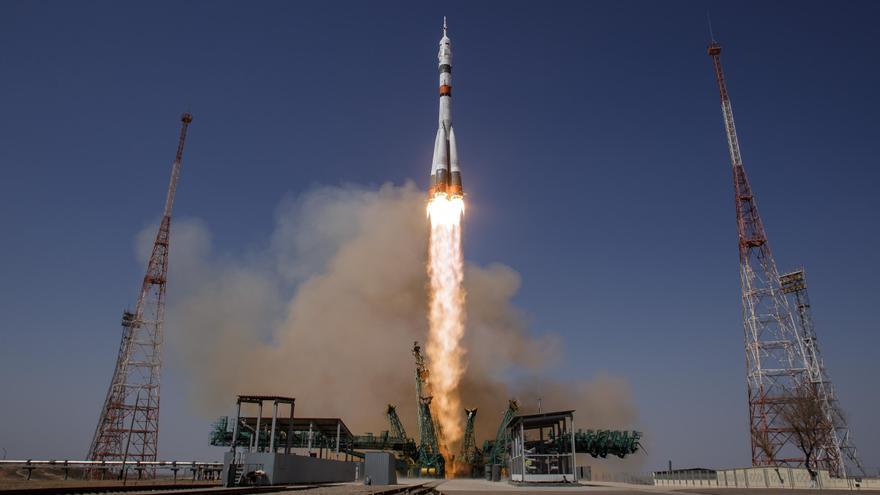 The Russian manned Soyuz MS-18 spacecraft took off this Friday for the International Space Station (ISS) on a mission dedicated to the 60th anniversary of a man's first flight into space, carried out by Soviet cosmonaut Yuri Gagarin on April 12, 1961.
The launch of the Soyuz MS-18, named 'YAGagarin', in which the Russian cosmonauts Oleg Novitski and Piotr Dubrov and the astronaut from POT Mark Vande Hei, was carried out at 07.42 GMT from the Baikonur cosmodrome (Kazakhstan) with the help of a Soyuz-2.1a rocket, and broadcast live.
Docking to the Rassvet module of the Russian segment of the ISS is scheduled for 11:08 GMT, after circling the Earth only two times, which is known as the fast track. At the time of the Soyuz MS-18 launch, the orbital platform was flying over northern Pakistan. "The spacecraft has been separated from the third stage of the carrier rocket", they announced at the Baikonur cosmodrome minutes after takeoff, to indicate that the Soyuz had begun its autonomous flight to the ISS.
For Novitski, the commander of the ship, it is his third space mission, one more than Vande Hei has under his belt, while for Dubrov it is his first flight. The crew of the Soyuz MS-18 will be received on the ISS by the members of Mission 64: NASA astronaut Kate Rubins, who arrived on the orbital platform last October together with cosmonauts Sergei Rízhikov and Sergei Kud-Sverchkov. They will also be welcomed by the crew members of the SpaceX Crew Dragon 'Resilience', the American astronauts Michael Hopkins, Victor Glover and Shannon Walker, as well as the astronaut of the Japan Aerospace Exploration Agency (JAXA) Soichi Noguchi, who arrived at the EEI last November.
Only next day 17 the number of crew of EEI will be reduced from ten to seven, when Rubins, Rízhikov and Kud-Sverchkov return aboard the Soyuz MS-17 to Earth on the 17th. The International Space Station, a project worth more than 150,000 million dollars (124,000 million euros), is made up of 15 permanent modules and orbits the Earth at a distance of 400 kilometers and a speed of more than 27,000 kilometers per hour.