"Sowing the seed of equality in young people is sowing an egalitarian future"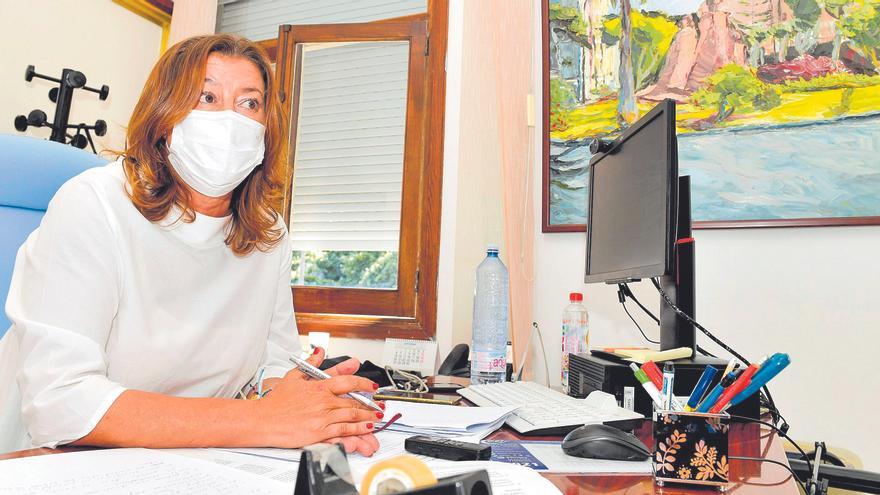 Las Palmas de Gran Canaria has been chosen one of the 17 Spanish cities to host the Dialogue on the future of Gender Equality, promoted by the Spanish Government and the European institutions. What do you think?
The fact that a city like Las Palmas de Gran Canaria has been chosen as one of the 17 venues to carry out these conferences is a boost for the equality policies that we are developing. In addition, as a great city that we are, we must have great policies.
Inequality is a scourge …
Yes, and it is not an ideological question of a party or of a particular government. The figures are there. Not having equal pay, a key issue at the meeting, implies inequality at all levels. You can see it in the numbers. The difference in salary for the same job, the salary, between men and women, is something objective. This inequality increases as we get older.
"The inequality in the salary of women becomes worrying after 45 years"
In what sense?
As we get older we are in a greater situation of vulnerability. Among young people there are salary differences, but they increase as they age. When we are over 45, the data becomes worrying. This brings with it a difference also when it comes to benefits, pensions. Hence the high vulnerability in older women right now. That is why it is so important to celebrate these days in Las Palmas de Gran Canaria. In the Canary Islands, more than 50% of the population are women, so this situation cannot be happening in 2021.
What will be the other points to be discussed in those days of November 4 and 5?
It's going to be two pretty intense days. They will talk, as I have said, about the wage gap. One of the tables will refer to what we need to do to achieve equality before 2050. Equal policies are needed that, depending on the government in power, do not change, because inequality affects us all. If we use it in an ideological and partisan way, we lose everything, as well as society, because, if it maintains these differences, it will not be fair. You have to mark road maps to end this.
"As long as the current figures for gender violence continue to be given, equality is impossible"
Isn't the year 2050 too long to achieve true equality?
The previous term should have ended. There should already be a totally egalitarian society. We are setting times. It is necessary to continue advancing in the pursuit of the objectives. These are strategies that have a future and where goals are set and it takes a few years.
Other measures to end inequality?
Another of the tables will refer to concrete measures to end inequality. Regardless of the political color that governs in one place or another, the measures to tear down these walls and end the glass ceilings and sticky floors must be a separate roadmap. They will talk about how to close the gender gap and justice in the post-coronavirus world.
"More than 80% of those who ask for a reduction in working hours with a lower salary are women"
What has the pandemic situation revealed?
It has shown that, if before women were already in a vulnerable situation, with the pandemic there has been an increase in calls to 016. We had a serious problem. During the confinement, the women lived with the abuser 24 hours a day, in the case of gender-based violence. As long as the current figures for violence continue, it is impossible to achieve equality. This is the ultimate expression of the opposite. It is impossible to achieve equality if a person has in their hands and can decide about your life, no matter how much we reach equal pay, no matter how much we want to remove all those glass ceilings in the labor and economic world, as long as only one woman is killed for the simple fact of being. It was the case in the confinement that the victims gave our staff the hours when they could be called that coincided with the moments when he went down to buy bread. It was difficult to be able to phone because of the confinement. In addition, with the Covid situation there was a triple use of women due to so much coexistence.
They will also talk about fatherhood and motherhood, conciliation and co-responsibility …
In this sense the figures are clear. Slightly more than 80% of the parents who have been requested, either leave to take care of children or a reduction in working hours and what it entails, the consequent reduction in salary, are women, not men. That is why we will talk about conciliation, but we will focus on co-responsibility.
"Minister Pilar Llop will come, two MEPs and women of reference on equality issues"
And what about equality in schools?
We will refer to how to teach it in the centers. It represents an endorsement of the policies that we do from the City Council. In recent years we have been working a lot with the educational community, both from equality and from other areas of the City Council, in this case, the Central District of which I am also a councilor. We organize different workshops per quarter. Sowing the seed of equality in young people is sowing an equal future. Boys and girls are sponges that we can mold so we have to instill in them this seed, that of good treatment and ending toxic relationships already in adolescence.
They will do cyber violence workshops, right?
Yes. Right now, well-used social networks are a fantastic tool, but at certain ages you don't have the training, you do have the information. There are many channels through which it reaches young people, but there is a lack of training or tools to deal with this information, which has increased the crimes of cyberbullying, controlling whether you are online, Twitter, Instagram, the Tik Tok and others. We are influencing a lot this quarter and we have already done it before, because there is a lot of demand, in the workshops for the detection of cyber violence. We have also set up a WhatsApp consultation system, called Vida, with a QR code in all centers and one of the units of the Department includes social educators who receive WhatsApp inquiries and respond to them. These can be referred to psychologists or social workers.
The City Council also has a section for women in sports, right?
We have campaigned for the incorporation and promotion of women in sports, especially in those that are very masculine, such as motor sports. Last year we had a few days of incorporation to this sector, but not only as drivers, but as mechanics and engineers. It was quite successful and very novel. We have campaigns with basketball clubs, Canarian wrestling and Latin sailing. Equality is a cross-cutting issue, so we work on it from all areas, but especially with children and adolescents.
"For the 25N there will be a campaign to raise awareness and awareness about sexist violence"
Is the attendance of Minister Pilar Llop, MEPs and women of reference on equality issues confirmed?
In addition to the minister and the MEPs, we will have experts from different areas. For example, in journalism, such as Noemí López, editor of New Travel or Ana Requena. At one of the tables they will talk, as I have said, about professions closely linked to the male sector, which include the security forces where, in the capital, the chief of the local police and the fire department will be. There will also be a ship captain.
Will the Miller building be open to all interested audiences?
Not only will it be face-to-face, they will also be able to connect. In addition to all the speakers, there will be a part dedicated to workshops with citizens where the contributions made from different sectors or at the individual level will be incorporated into everything that comes out of these days. If you cannot go in person, you can do it online.
Will the conclusions of the 17 autonomies be condensed into a global proposal from Spain and assumed by the European Commission and Parliament?
I guess so. This work will present a framework where both the contributions of the institutions and, especially, of groups that are directly related to the subject, as well as those of the individual citizens, will be taken into account.
Can you advance the forecasts for the next 25N?
We are closing with different groups. Last week we already had a meeting with the Feminist Network that confirms that there is going to be a demonstration. From here to there we hope that the situation does not change. There will also be a campaign of discussion, visibility and awareness about sexist violence, as every year and we will have a conference where we will remove the focus of the victim because we do not want to re-victimize women in violence. Last year we focused on society to say what it means to keep quiet. You have to mobilize and report. It is not an internal problem of a family or a couple but a social one. This year we want that, in addition to removing, as we did in 2020, the focus on women, put it on who causes the problem, in which we must work with men those beginnings of violence that we know goes by degrees. Elena Terreros will come to give a talk, a psychologist who deals with men who exert or have exerted violence against women. We will continue to accompany the victim and remain with her, giving her all kinds of help and the necessary benefits. With the victim, we will continue to work from the social and psychological area, from that of the workers, educators and work orientation, but we also want to address the male gender.
Tell me about your opinion on vicarious violence, which has gained relevance in recent times with the case, for example, of the father of Tenerife.
It is the greatest violence against a woman, because it attacks what you love the most, the children. It will never end. In the case, for example, of Tenerife, it was very hard not to have known where those girls were. It has a complicated solution. It is a problem that concerns us all and that stems from a patriarchy and an unequal society. When someone punishes you through your children for being a woman and wanting to leave the relationship, it is impossible to achieve an equitable society.
Another current issue is the controversy over the draft of the new transsexuality law at the national level where part of feminism is suspicious of a norm that those affected demand to improve their lives …
You have to sit down, talk and try to reach meeting points. We cannot afford the luxury of seeing how rights recede and, much less, in legal matters, because until now the equality that we had in full was legal. In the points of disagreement it is necessary to look for agreements between the different positions, it is fundamental to advance. Rights must be consolidated and it is necessary to try to reconcile positions.