'Sorriso' masks discover the gritty streets of La Graciosa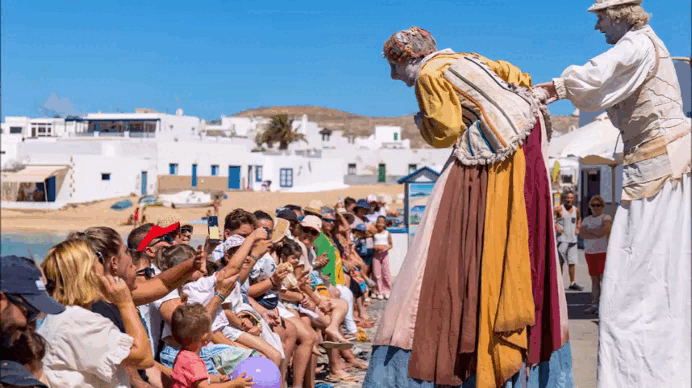 theater
The play inaugurated, this Sunday, its show of eleven performances, which will tour the entire Archipelago
The performing arts have filled, this Sunday, the sandy streets of La Graciosa. The Caleta de Sebo square, next to the pier, has been the setting for the performance of Sorriso, a piece of visual poetry by the Portuguese company 'Teatro Só', which lands for the first time in the Canary Islands.
The show, which began at 11:00 am, was attended by the entertainers who were walking around the area and some visitors who had just arrived at the port. With this, begins a tour of eleven performances throughout the Archipelago that can be enjoyed
for free within the programming of Maps Fest.
Sorriso, by the Portuguese playwright Sérgio Fernandes,
it is a play of masks, unspoken and visually poetic, presenting the story of an endless love. Not one of those stories of romantic and heroic love, but the one that springs from the entire life of an elderly couple, for whom love is that same life fully realized. When one of them dies and loneliness traps the other, it is not sadness but the reflection of gestures and the gratitude of memory that drives the work. To define this work, 'Teatro Só' uses the Portuguese word «recordação», whose French origin 're-coeur' means 're-heart', that is, letting it go through the heart, again, once more.
'Teatro Só' develops a
multidisciplinary work relating the circus arts, the technique of the mask, the physical theater, the installation and the plastic arts. All these components converge in an imaginative, unspoken and visually poetic theater in which communication between actor and audience occurs through the power of gesture. The themes on stage focus directly on social stigmas that cut across all cultures and generations.
The play, performed by
Sergio Fernandez and Ana Gabriel, will be performed in Arrecife, in Lanzarote (June 26); Antigua, in Fuerteventura (June 27); Telde, in Gran Canaria (June 29); Los Llanos de Aridane and El Paso, in La Palma (July 1); Frontera and Valverde, in
El Hierro (July 2 and 3, respectively); Agulo and Hermigua, in La Gomera (July 5 and 6, respectively) and in the Plaza del Auditorio de Tenerife, in the capital of Tenerife (July 7).
The Vice-Ministry of Culture of the Government of the Canary Islands, within its program Canary Islands on stage, launches '
Fest Maps' with the collaboration of 25 local and island public institutions from the eight Canary Islands, with a special commitment from the Cabildo de Gran Canaria.