Sorogoyen shows the other side of riot control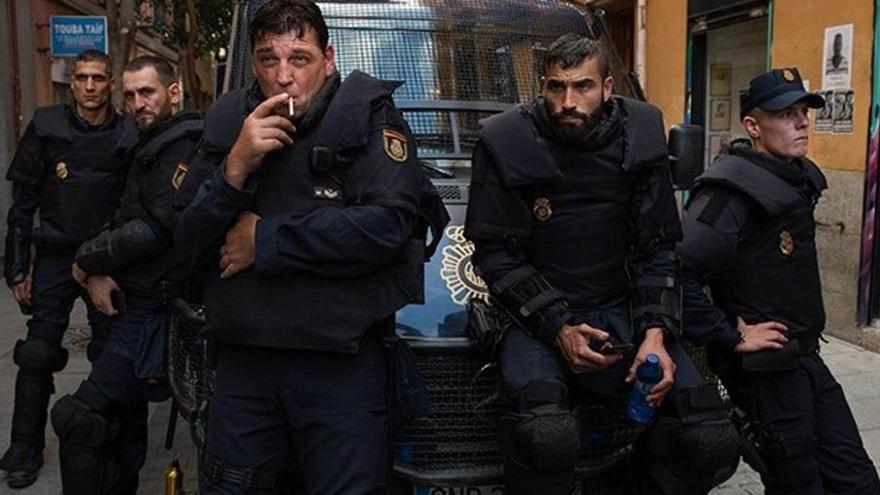 TO Rodrigo Sorogoyen likes to tackle uncomfortable topics. Her films are loaded with moral ambiguity, toxic relationships and shady characters. He himself admits it: "If there is something that the system questions, it is the object of my interest." In the first versions of the script of 'May God forgive us', the character of Roberto Alamo he was going to be a riot police, and that thorn stuck in his mind, waiting to be able to address the subject in a more specific and complex way.
From there 'Anti-riot' emerges, a television fiction for Movistar + co-written with her regular collaborator, Isabel Peña, who over six episodes not only introduces the viewer inside a police van, but also explores how violence affects the lives of the protagonists and what way they are able to separate their work from the private sphere.
The germ of 15-M
"I think it was from the scenes that began to circulate on YouTube during 15-M and the extremely violent police charges that occurred when we began to obsess over the issue. That led us to reflect on that body in a way similar to that of the corrupt politicians in 'The Kingdom'. Later came the demonstrations in Catalonia, the recordings of the evictions and the riot police became a symbol of repression and a hated group, "says Sorogoyen.
The first episode introduces the viewer, precisely, in a shocking eviction in a corrala in Madrid that will end in tragedy. A truly harrowing set-piece, perfect in execution, full of visceral tension. "We saw many videos of people recording them from within and we suffered a lot because they are very harsh and devastating images. But we wanted to tell it from the other side, giving us good advice on what decisions were made at each moment when things started to get ugly. "
A female protagonist
In the series coexists the individual and collective portrait of a group of six policemen from that specific unit (embodied by some great and very cohesive Hovik Keuchkerian, Raúl Arévalo, Roberto Álamo, Álex García, Raúl Prieto and Patrick Criado), their testosterone-laden dynamics, and the respective issues they face when their armor is removed. But there are several more layers within the series. In reality, the real protagonist is a woman, Laia (Vicky Luengo), who belongs to internal affairs and who will be in charge of investigating a possible negligence in one of the operations.
"It had to be a woman who opposed and faced that male world "continues Sorogoyen. "At first it seems that she is a secondary character, and as the chapters progress she will become the true protagonist. She will be the one who is in charge of clarifying the case, and when she begins to scratch, she will be submerged in the sewers of power."
High places
And that is where we find the last layer above all others, that of the powers that be, corruption, speculation schemes or social justice. Isabel Peña believes that with this series they have been able to continue delving into some ideas that were already present in 'El Reino', but this time in an implicit and more elusive way. "Actually, the riot police are a tool of the State and that is why we start from them to reach those high spheres that are the ones that pull the strings."
Sorogoyen knew that viewers were going to face the series with very strong prejudices from the beginning. That is why he decided that in the first chapter the point of view fell on the riot squad and, therefore, that the viewer became one of them. That is why he uses a very physical visual style, with a handheld camera and getting very close to the faces of the characters, and with wide-angle lenses. "He wanted the public to put themselves in his shoes, to receive orders, to hit hosts. But little by little, the mechanics will change and we will see them from afar. That's when it's time to give an opinion, not before. "