Sonsoles Ónega's anger with a collaborator: "Do you want me to be fired? Are you hiring me?"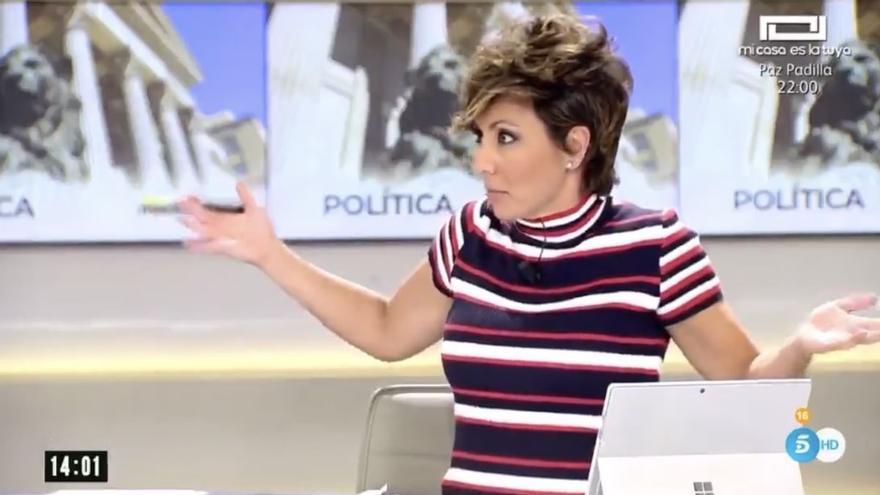 'It's already noon'analyzed the decision of the head of the Court of Instruction number 16 of Madrid, Margarita Valcarce, who has requested the scientific police an "exhaustive" analysis of the images picked up by the security cameras that recorded the alleged aggression by Íñigo Errejón on a Lavapiés neighbor in Madrid. The 67-year-old man claimed to have been the victim of an attack on May 2 after asking the leader of Más País for a photo.
The debate ignited in the Telecinco program that presents Sonsoles Ónega, taking more time of the account. "The images are not very clear, but you can see him, he was at the scene of the crime," he said. Manuel Cerdan. "That he does not deny. He denies the facts," said the presenter, who added: "Something happened".
Javier Ruiz, also present at the table, replied: "No, no, no. Or not. Something happened … or not. This is a procedure in which the pain is the process, in which you are dragged for months in programs giving voice to this type of information ". The presenter, also fully involved in the debate, wanted to clarify: "I say that he recognizes the anger, I do not want to sow doubt, for God's sake. "
It was then that Manuel Cerdán wanted to intervene, but the presenter cut him off to go to publicity. "I'm out of time, fellows." However, the member complained: "I've been asking you to speak for five minutes ". The presenter scolded him for not obeying the orders of the management: "No, no, no, Cerdán, I'm out of time. What do you want, to get kicked out? Cerdán, kick me out? Will you hire me later?"