Some 700 immigrants have arrived on the islands in the last week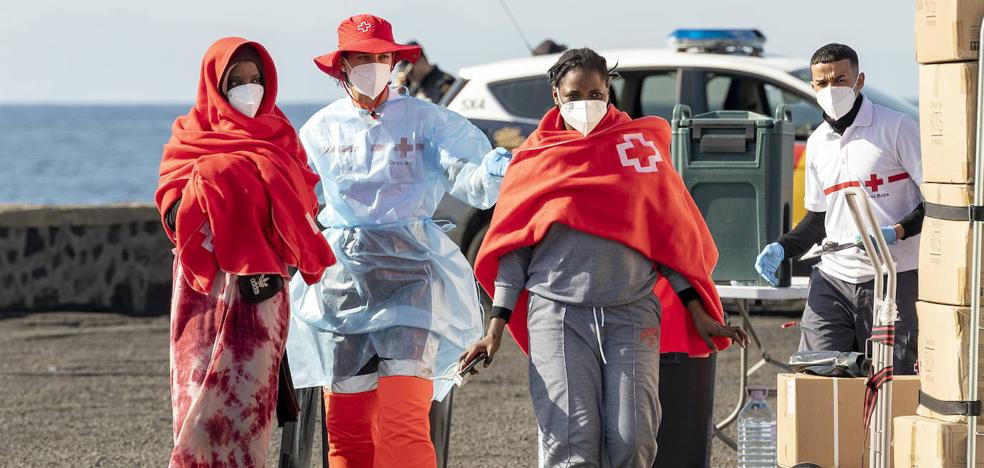 The Red Canaria collective for the rights of migrants demands more control of reception centers
More of
700 personas have reached the shores of
Canary Islands aboard
14 boats between
January 30 and February 6registering the biggest rise in the last five days.
only on the day of
this Monday,
233 personas reached the archipelago, since late in the afternoon,
45 immigrants were assisted by the health services in
Granadilla (Tenerife)after his boat was sighted in the vicinity of El Médano.
Likewise, the
guardamar calliope first thing in the morning about 35 kilometers east of
Lanzarote at 59 people of sub-Saharan origin located in a
inflatable boat.
According to a spokesman for
Maritime Rescuethese are four children, 13 women and 42 adult men, one of whom required medical attention for hypothermia.
This same salvamar had already provided help during the early morning to
84 people of Mabrebi origin who were trying to reach
Lanzarote aboard two small boats (among them a woman and five minors).
And in the morning, the
Salvamar Al Naír located and transferred to the port of
Reef 45 immigrants who were sailing in a dinghy 60 kilometers to the northeast of the island, including five women and a child.
nine boats

In addition to these people located on Monday, between the
January 30 to February 1 reached the shores of the archipelago about
238 migrants aboard
four boats.
Meanwhile, since the night of
February 3rd and until mid-morning on Sunday they rescued
nine boats con
426 people on boardincluding at least 28 possible minors and 48 women.
The last boats arriving in the archipelago at the beginning of 2023 are located in the days
January 7 and 8, when some 147 people arrived.
For a dignified treatment

On the other hand, the collective
Canarian network for the rights of migrants with
concentrated on the afternoon of this Monday before the
Government Delegation in Las Palmas de Gran Canaria to denounce the
«dehumanized treatment» that is offered by institutions and NGOs to the people received
in care centers.
The spokesperson, Valeria Mastroiannicriticized from the conditions of
overcrowding where they are up to
Social isolation. Mastroianni stresses that a
greater control of these resources why
not all the entities that manage them are qualified to do so.
This concentration also added to the
'X March for Dignity' in memory of the people
murdered in the early morning of February 6, 2014 by the Spanish security forces when around 200 people tried to swim across the border by the
Tarajal beach, in Ceuta».
That morning, Mastroianni explains,
The Civil Guard fired riot equipment for land use towards the people who swam towards the Spanish shore and
14 people lost their lives, one is missing and 23 people were "hot returned". In his opinion, what happened must be clarified and justice done.