Sofía Cristo, disciplinary expelled from 'Secret Story' after attacking Miguel Frigenti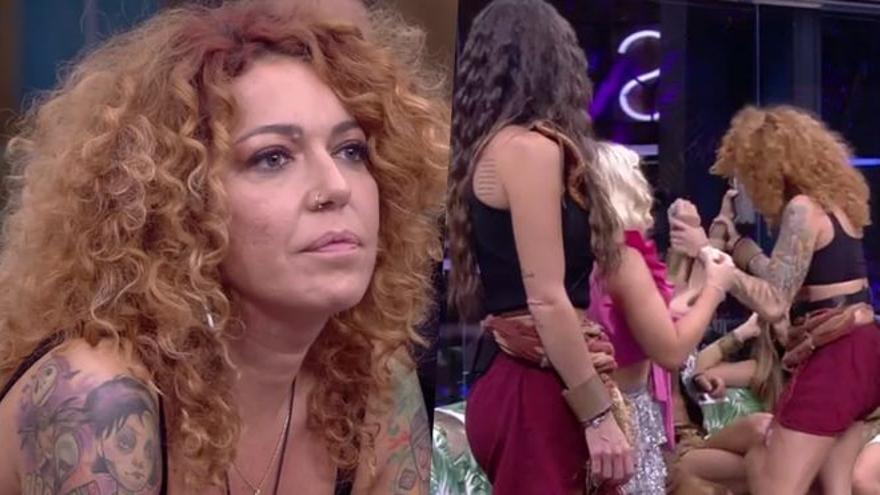 Sophia Christ abruptly ends his participation in the first edition of 'Secret Story'. The organization of the Telecinco reality show has decided Disciplinary expel the DJ after she lost her temper and assaulted Miguel Frigenti in a moment of high tension that occurred throughout the third gala of 'Countdown'.
"Sofia, this is not pleasant for me. You have not been up to the task, but there are things that involve crossing the line, and you have done it today. The organization has no choice but to expel youCarlos Sobera told Sofía in the final minutes of the gala. "I assume it and I apologize for the insults simply because in everything else I repeat myself. If he wanted to be the villain of the contest, he has succeeded ", answered the daughter of Bárbara Rey.
To be more exact, this moment came after Sandra Pica left the room after a new confrontation with Miguel Frigenti, who returned to talk about his relationship with Tom Brusse. Sofía defended the former participant of 'The island of temptations', receiving a response from the journalist that unleashed the clash between the two: "Get where you want, but make your plots and stop feeding on others. It would be better for you".
"Do you know what happens? That I am not as dirty as you. I don't have the need to make a plot and be talking about the whole fucking house to have a fucking minute of glory"Sofía was heard saying before the signal returned to the Mediaset set.
A few seconds later, Carlos Sobera interrupted the intervention of Sandra's mother to reconnect from the house, since the tension between Sofía and Miguel Frigenti was increasing. The collaborator of 'Save me' crossed the room with his ears covered while Christ rebuked him from behind: "I at least try to be a good aunt and try to be in all parts of the house, not like you, who isolate yourself and try to do the shit that you already know from reality shows: go to the minority group and that people have mercy on you".
After Lucía Pariente asked her to calm down, Sofía Cristo went to Miguel Frigenti, who was sitting in the living room. When trying to get up, according to the images, The DJ violently grabbed the journalist's wrists before pushing him back against the sofa and spilling the water from his bottle. "Don't do that!" Emmy said to Sofía as she tried to separate him from him along with other classmates.
"Run, come on, say kick me out, prick!"Christ yelled at Frigenti as he watched her leave the room after this unpleasant moment."You can be angry or criticize, but the show that you are giving at the moment is simply regrettable. and it does not contribute anything in your favor, of any of you. We are going to try to behave like elderly people, "assured Carlos Sobera, also stopping Bárbara Rey's daughter after threaten to leave the program before the program disciplinary expelled you: "That is not the attitude. Calm down a little, calm down. You are going to try to behave like adults and if we have to say things to each other, we do it to our faces but with education."
"Run, come on, say kick me out, prick!"Christ yelled at Frigenti as he watched her leave the room after this unpleasant moment."You can be angry or criticize, but the show that you are giving at the moment is simply regrettable. and it does not contribute anything in your favor, of any of you. We are going to try to behave like elderly people, "said Carlos Sobera, also stopping Bárbara Rey's daughter after threaten to leave the program before the program disciplinary expelled you: "That is not the attitude. Calm down a little, calm down. You are going to try to behave like adults and if we have to say things to each other, we do it to our faces but with education."