Sofi de la Torre shows her soccer passion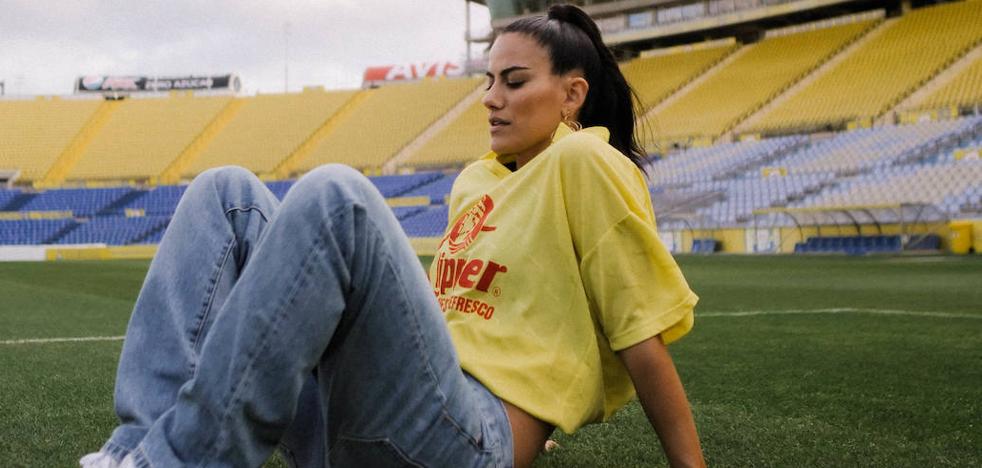 The singer from Gran Canaria, after her successful song with Pablo Alborán, launches 'Presión', a clear nod to life through football
I'm super excited about this job.". This is how the singer and composer from Gran Canaria Sofi de la Torre summarizes her latest song, 'Presión', which was released last night and can be enjoyed through the usual platforms and on YouTube. «I am a super soccer fan and since I can remember I continue to suffer with our beloved Las Palmas Sports Union. The subject had been in his head for a few months and he wanted to record the video at the Gran Canaria Stadium. The song is a nod to life through the passion for football. The passion that you have for the team of your soul is the same that you put into your work, and I believe that all people, whether or not they are soccer fans, can enjoy a theme made from the heart in which the importance of yours and the feeling of struggle, "he highlights.
The 32-year-old from Gran Canaria, and after many years in London, Los Angeles and Berlin, is very comfortable on her island and in her recording studio.
His name came to the fore two years ago when he performed his song 'Y duele' with Pablo Alborán. «That was a big media noise, with appearance in many media, but I like to have my feet on the ground and I never set expectations beyond the current ones. No collaboration of a great artist, as in this case was Pablo Alborán, catapults you. What he does is that they get to know you better », he recounts.
She has continued to compose and release new songs, but now she's like a girl with new shoes with 'Presión'. «It is a subject that she had to bring up, because she carried it in her heart. It is nothing commercial, but for me it is a tribute to what this island and football represent for me.
It's a tribute to everything that's important to me, and I'm very proud." emphasizes.
With the subject in his head, waiting for the recording, and in full swing for UD in the League.
"The classification for the playoffs arrived and I thought it would be the bomb to bring up the subject with the team in the First Division, but it could not be", nuanced The recording of the song took place at the Gran Canaria Stadium. «I called Larry Álvarez and told him my intention. He put me in contact with Rubén Fontes and everything was easy. I'm a UD subscriber and 'Presión' means a lot to me », but in the song there is also a nod to one of his idols, Juan Carlos Valerón. "What Valerón has meant for Spanish football is very remarkable," he points out, and then highlights that thanks to Erik Air, a mural was made by El Batán, with Valerón's face, so that Sofi de la Torre could record the video clip.
It's a catchy song, a "calm R&B", as she defines it, in which she also plays with her base in English. "This song came from my soul," she concludes.
Sofi de la Torre has not yet offered a single concert on her island, Gran Canaria. She continues to compose and her songs are mainly used in series in the United States.
She dreams of continuing to dedicate herself to a music that she sees from many angles, in a mix of styles, with pop, R&B, ballad or hip hop as the main styles.
Sofi de la Torre's intention, apart from promoting 'Presión' to the fullest, is to close the year with an EP and she thinks of recovering her traveling adventures for next year. With the yellow shirt as a symbol of a feeling and with a letter full of values, Sofi de la Torre launches 'Presión' into the ring.