Sobera defends Olga Moreno's special and opens the door to Antonio David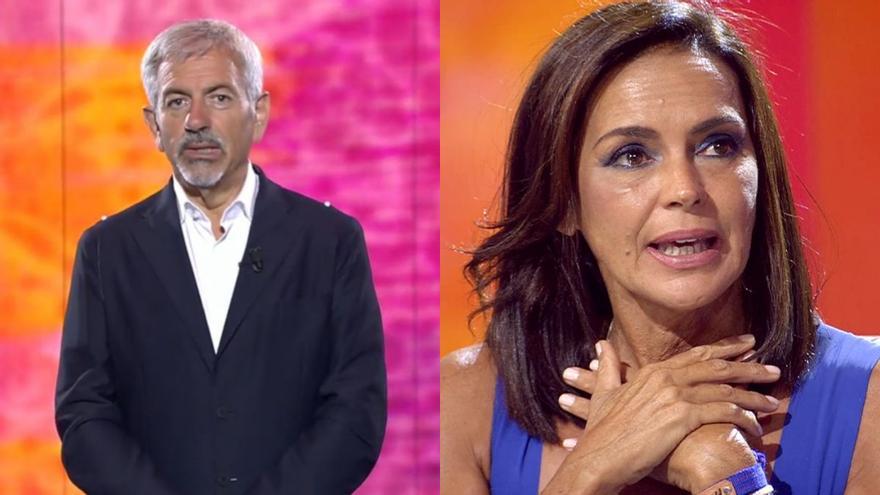 Last night Telecinco issued 'Now, Olga', the special that he dedicated to Olga Moreno so that the winner of 'Survivors 2021' could reply to Rocío Carrasco. The woman of Antonio David Flores had stayed in Honduras for most of the broadcast of the documentary 'Rocío, tell the truth to stay alive', so the chain wanted to take advantage of the fact that it already had the other protagonist on set to know her version of the events despite the controversy.
In fact, Carlos Sobera defended the special after the numerous criticisms he had received for giving Moreno a voice in such a delicate matter. "In a civilized society everyone has to have the right to speak. For years Antonio David has spoken of his children, later it was Rocío Carrasco, who was able to do so after years of silence. Now Olga has to have that opportunity, listen to what has been said about her and explain what she considers, "the presenter began by saying.
Sobera tried to justify the program even though "Her husband has a lawsuit against Mediaset. Even so, we insist: everyone has the right to speak and here we are only going to talk about issues related to Olga Moreno. And clarify that far from looking for a rematchWe do not love her at all, what we really hope is that one day the rapprochement between mother and children, hopefully it will be a fact, "said the presenter, who minutes later opened the door upon the return of Antonio David to the chain.
"Antonio David will have his opportunity within Mediaset"
It all happened when Isabel Rábago, one of the collaborators present on the set, asked Olga her opinion on the numerous covers that her husband had starred talking about Rocío Carrasco. The presenter cut the journalist and asked her to ask only about matters directly related to Olga: "I suppose that Antonio David will have his opportunity at the time within Mediaset to answer about thisSobera pointed out.
His revelation couldn't have been more unexpected, as Antonio David Flores was fired abruptly from Mediaset programs after the broadcast of the first episode of the Carrasco documentary. In it, Rocío Jurado's daughter provided evidence and documents to validate her testimony. Some evidence that was conspicuous by its absence in last night's delivery, in which Olga fell into several contradictions and hesitated at the questions of those present.