Snowden's legacy: the leaks that transformed the internet | Technology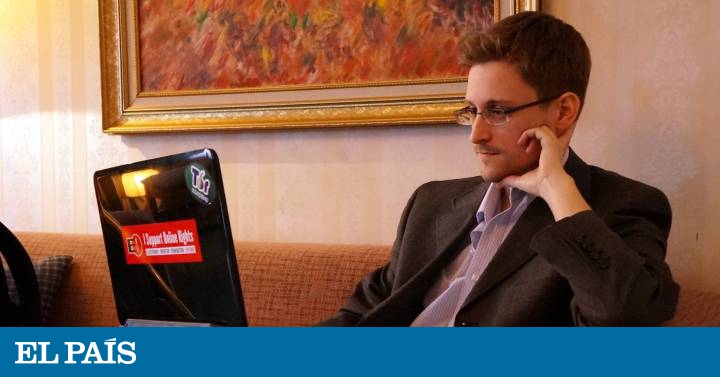 "I was determined to bring to light (…) that my Government had developed a global system of mass surveillance and was using it without the knowledge or consent of its citizenship." On September 13, Edward Snowden published his memoirs. In them, this former worker of the US National Security Agency (NSA, for its acronym in English) tells how he decided to filter hundreds of classified documents to various media. The revelation confronted citizens with an uncomfortable truth, that no one could ensure the privacy of their communications, and caused an earthquake in the network whose effects are still noticeable.
In June 2013, Snowden made known to the world the true scope of his country's mass surveillance programs. "It was not like a normal surveillance operation, on specific objectives, the agencies influenced protection systems to make them weaker, monitored the traffic of large communication companies, intercepted telephones, telephone antennas, routers… they spied on everyone , as if we were all guilty until proven otherwise, "says Alfonso Muñoz, founder of CriptoCert, the first training certification for cryptography and information privacy worldwide.
Although the leaks had more social than technical impact, since none of the programs revealed by Snowden were unknown to cybersecurity experts, they did change the scene. "The revelations and the wave of subsequent indignation created an environment in which encrypting communications became a requirement of an important part of users and companies had no choice but to react," says journalist Marta Peirano, author of several books about online privacy and one of the only two Spanish journalists who has been able to interview Snowden.
Soon the largest companies in the technology sector reacted, such as Microsoft, Google or Yahoo !, whose information had been intercepted by the NSA through a surveillance program called MUSCULAR. Just a few months after the filtration, between September and December of that same year, these companies announced They were encrypting traffic between their server centers to prevent further attacks.
Also the protocols that browsers use to connect to web pages have advanced in these six years. According to data offered by the Internet Security Research GroupIn 2013, most of the websites on the network (about 80%) used an unencrypted protocol, which made it possible to intercept the information that users shared with the websites, such as personal data, account numbers , credit cards, etc. Today, however, the encrypted protocol, known as HTTPS, has become a standard in the network.
Nor did the messaging services offer security in their communications in 2013, since the vast majority of text messages were sent via SMS or unencrypted services. However, a few months after the Snowden case broke out, Telegram launched a messaging service that included what is known as end-to-end encryption, a way to encrypt messages that prevent anyone but the sender and receiver from reading them. . WhatsApp, the great reference in the sector, did not include this type of encryption until 2016.
Encryption
Although it is difficult to specify to what extent Snowden's revelations accelerated the introduction of encryption in these companies, the temporary correlation indicates that, at least, they were forced to make public their efforts to improve their security. "I think that the change would have occurred the same, after all, for all these companies, protecting their communications is a basic thing," says Muñoz, although "it is true that before Snowden's publications, most communications were not encrypted. , which greatly simplified the work of surveillance agencies. "
However, beyond the technical developments in cybersecurity that have occurred in recent years, the greatest impact of the Snowden case was probably at the social level. "Cryptography and citizens' concern for privacy have advanced a lot in these years," says Muñoz, and "now you see how many people cover the cameras of their laptops or even their mobile phones and are aware that behind the microphones of your devices may have someone listening and that is something Snowden got. "
The growing citizen concern was not only in small actions of a sector of the population to protect their privacy, but "came to affect European legislation," says Peirano. In 2013, the Austrian lawyer Max Schrems sued Facebook before the Court of Justice of the European Union for using the data of European citizens commercially without their explicit consent. Part of the lawsuit was based on several of the documents leaked by Snowden and precipitated a series of changes in the legislation until reaching the new privacy law. "Without Snowden we would not have the data protection regulation that we now have in the European Union," says Peirano.
Limits
However, the extension of encryption in communications and the public debate generated around the limits of government surveillance have also caused opposite reactions in several states. In recent years, countries such as Russia, the US or the United Kingdom have publicly demanded that technology companies give them access to their data, limiting the encryption of their communications or introducing mechanisms to weaken it, which is known as backdoors.
Although governments claim that these mechanisms improve security, experts warn that introducing vulnerabilities leaves communications exposed to third-party attacks. "Although, in many cases, this is done so that the attacks can only be successful if there is a certain computing capacity, which usually has only one government agency, we must understand that if we weaken communications we do for everyone and this is a risk, "says Muñoz.
In the end, the cross interests of surveillance agencies, large technology companies and users They have generated a new scenario that is almost as difficult to decipher as the character who uncovered the scandal. "With Snowden you have to separate the usefulness of the information you leaked, which was very important for society, from the character itself," says Muñoz, who claims to have "enough doubts about what his main motivation was." For Peirano, however, his motivations were based on "his enormous moral rectitude and a sense of extraordinary civic duty." History will tell what place it occupies, but what hardly anyone doubts is that Snowden is already an icon of this century.
. (tagsToTranslate) legacy (t) snowden (t) filtration (t) transform (t) internet (t) encryption (t) communication (t) be (t) practical (t) standard (t) use (t) former employee ( t) nsa (t) show (t) program (t) surveillance (t) massive (t) mass (t) usa



Source link