'Sky Rojo': unforgiving rhythm, lots of action and pulp aesthetic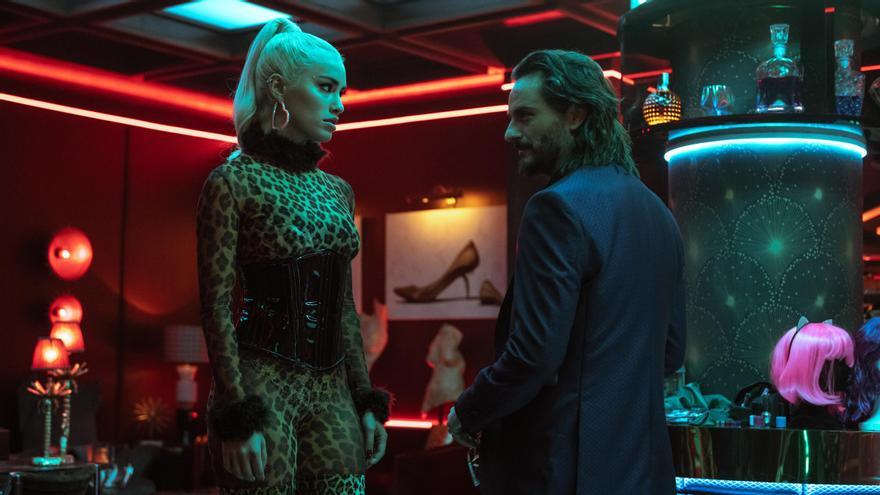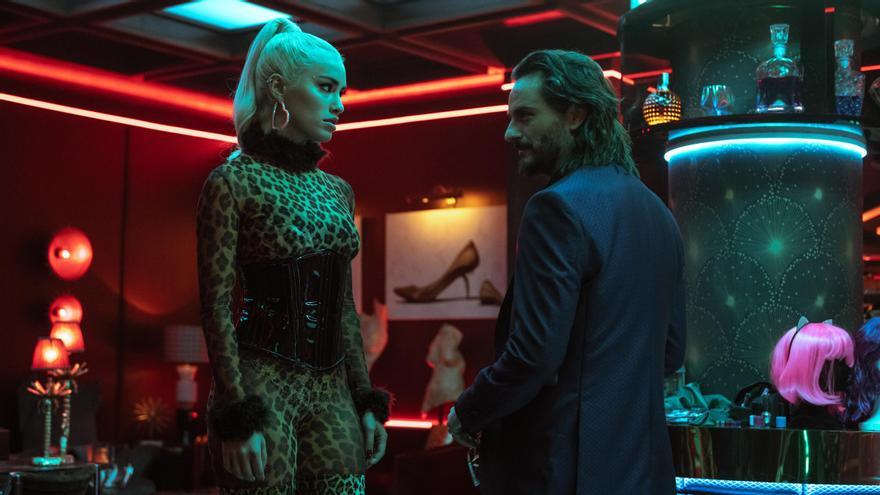 A cocktail of action and adrenaline with pulp aesthetics and a lot of background, in episodes that are "a constant third act" of 25 minutes, this is 'Sky Rojo' the new one Serie from the creators of 'La casa de papel', Álex Pina and Esther Martínez Lobato, who, through a cast of faces made up of Miguel Ángel Silvestre, Lali Espósito and Asier Etxeandia, will arrive on Netflix on March 19.
"We try that all our fiction has a very strong emotional content support"Álex Pina and Esther Martínez Lobato (Vancouver Media) have explained to Efe in an interview, that they narrate a story about prostitution and try to separate themselves from the drama, which they substitute for a format of action and black comedy," genres that expand the possibilities of hitting the viewer while having fun, and not with the raised guard that one has when watching a social drama ", they reel.
Coral (Verónica Sánchez), Wendy (Lali Espósito) and Gina (Yany Prado) they are three prostitutes who flee from Club Las Novias on a road trip, making this escape the trigger and common thread of the series, which with an inclement pace and in a format that, according to its creators, is "a constant third act", they trap the viewer through a story grounded in entertainment to incur a great social background.
"Generally, the action of the fictional chapters starts in the third act, which is our starting point for each chapter.", They have added about this new format, a" challenge "that results in action-packed episodes that hook the viewer through this escape story and its characters, macerated in a frenetic pace, humor and a lot of color, and that will have a second season of eight chapters
They also star in 'Sky Rojo' Asier Etxeandia, Miguel Ángel Silvestre, and Enric Auquer, who become the pimps of fiction, one of the most anticipated premieres of the platform Netflix, which arrives on March 19 with a story that makes action and black comedy vehicles to communicate to the viewer a "stark and forceful reality".
"We have all seen the neon signs and the letters of some club on the road, and we systematically see traffic dismantling on the news. This is happening It is a limbo in reality that everyone knows without seeing the back room of what happens; we want to involve the viewer in this reality ", they have indicated.
In a creative process that they have defined as "very complicated" when working "under the dictatorship of the constant third act and action" to tell realities such as prostitution and trafficking, and in whose narrative "psychology and damaged personalities come into play of the characters. "The series raises these crude realities, which" like a Trojan horse "strike the viewer's consciousness through humor pills and lots of action.
"These topics are not usually discussed because they are very rugged, they can label you as emptiness or intensity, and we did not want to fall into any; from the beginning we were aware that making entertainment with something so tremendous is very difficult ", they have detailed about their narrative, which leaves behind common codes:" comedy can be a genre to tell drama, and action seems an innocuous genre, but it hooks the viewer ", they assert.
After a "long and very hard" documentation process, through real testimonies, months of "extreme" filming and days after the series premiered, the result is a story "with an emotional truth that is completely real", and that relies on a ´pulp´ aesthetic to achieve a " balance "that both creators define as the most complex part of the entire project:" telling this sensitive reality outside the drama is like tightrope walking ", they have said.
"He is one of the most brutal characters I have ever had in my life," said the actor. Asier Etxeandia, who plays Romeo, the Club boss, ensuring that he is a "borderline character with a lot of composition work" behind him. Miguel Ángel Silvestre also agrees with this statement, defining the project as "shocking".
For Enric Auquer, Goya for Best New Actor of 2019, playing this role is "a challenge", and if fiction serves "for a single person who engages in prostitution to change their way of acting, that is enough," he explained about the series, which is for Lali Espósito, one of the most acclaimed actresses in Argentina, the portrait of "a dark subject that is on everyone's nose, told in a very personal way," he pointed out.
Regarding the preparation of their characters, both Espósito, Sánchez and Prado have indicated that they have worked together and with the choir: "we made a powerful team backstage, and also in front of the camera", they have remarked on Coral, Gina and Wendy, characters who They find strength in staying together.