'Sky Rojo': the keys to the controversy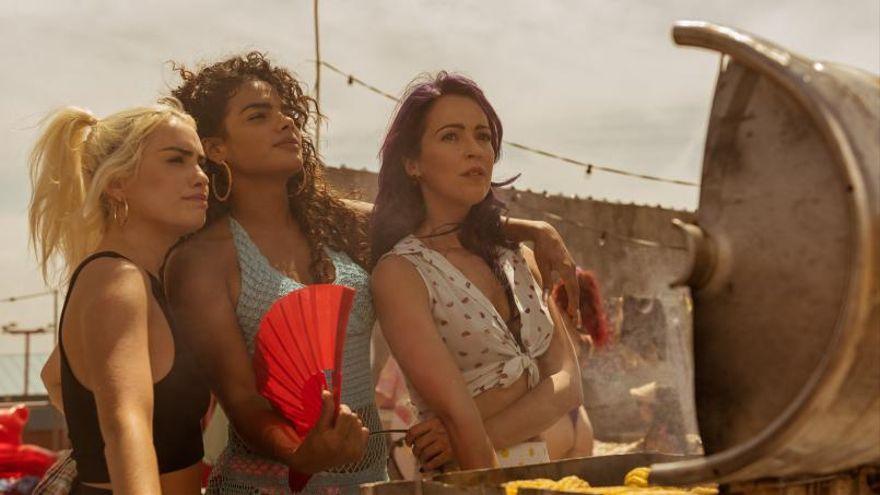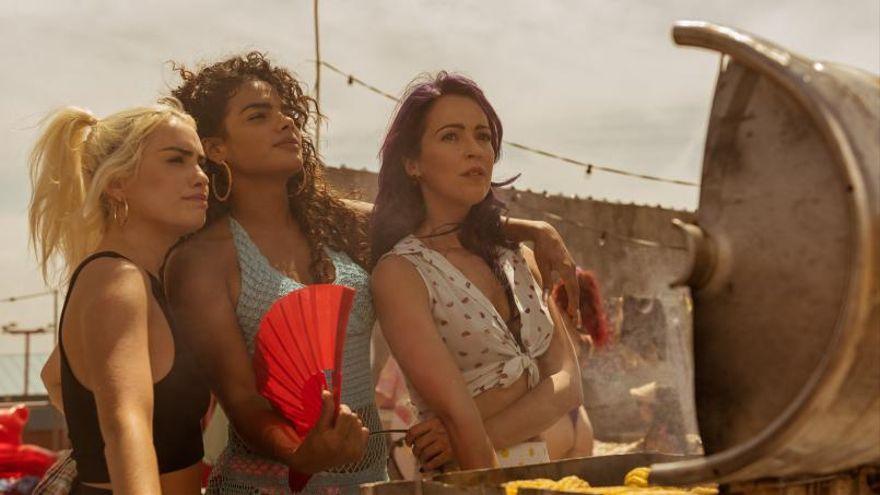 On Friday 19 it premiered in Netflix 'Sky Red', created by Álex Pina and Esther Martínez Lobato, responsible for the international boom 'La casa de papel'. In just one week, and predictably, the series became a global phenomenon: number four in the ranking of most viewed Netflix series in the world, according to the FlixPatrol website, and number one in Spain and countless Latin American countries. 'Sky Rojo', made up of eight sparkling episodes, tells the story of three young people who work as prostitutes in a road club and who, after fleeing from the pimp who sexually exploits them, try to avoid falling into the hands of the two hitmen who are chasing them .
Wrapped in an attractive format, with 25-minute episodes of frenetic and addictive rhythm, and marked by a captivating pulp aesthetic that refers to Tarantino's cinema, the Serie began to arouse controversy from the first day of broadcast. The reasons? The vision offered of prostitution and human trafficking, the sexualization of its female protagonists and, especially, the verbal and physical violence that is exercised against women.
"I'm going to cut off your arms and legs and leave only the holes," says Romeo's character. (Asier Etxeandia), to threaten the three girls who he exploits in a hostess club in Tenerife. It is one of the many thickly drawn phrases that adorn a series that gives off a slippery moral discourse. On the one hand, it tries to present Coral (Verónica Sánchez), Wendy (Lali Espósito) and Gina (Yany Prado) as three empowered heroines a la Thelma and Louise who face the abuses of patriarchal power to free themselves from their chains. It also pretends denounce the shame inherent in prostitution and human trafficking. But, at the same time, the series turns the harsh human adventures of its protagonists into an irresistibly cool adventure, into a spicy and addictive amusement full of neon lights, loud music and scantily clad girls, something that was already the brand image of the Pina's previous Netflix product, the White lines series. Not only that: in 'Red Sky' there is a strange fascination when it comes to subjecting women to all kinds of humiliations without ever losing the sexy and provocative image that is intended to underline. The male gaze is imposed.
"I don't know if you remember that news from 2008 about the man who entered a Granada brothel with a gun screaming 'I'm the boss and tonight he's sending my cock' Well, to that man, if he saw 'Sky Rojo', it would seem like a romantic comedy ", wrote the cultural analyst Juan Sanguino on his Twitter account. Not everything is critical, of course. Filmmakers like Paco Cabezas (Neon Meat, Penny Dreadful) have shown their enthusiasm for the hit Netflix series: "I found it an enjoyment. It is not a documentary on trafficking in women. It's pulp, violent and funny. And it doesn't seem macho to me. The protagonists are women and they suffer because, if not, there would be no series. To have fun you have to take risks, "Cabezas wrote on Twitter.
"I know it is a fiction, and I think that on a visual and montage level it has things that are good. But I didn't like the treatment of prostitution ", explains the journalist Marta Jaenes, who has just published with Rosa Márquez the essay Did you close your legs? Against the culture of rape. "His way of sexualizing the protagonists, who have been running for hours and still wear the heels and cleavage of the brothel; That canallita and cool atmosphere that I doubt is similar to what happens in a brothel… It is the same as always: denouncing violence by eroticizing violence. I don't see it ", Jaenes concludes.
In this way, "This is something that, in some way, could already be perceived in the slashers of the 70s, that subgenre in which a psychopath who brutally murders adolescents and young people, especially girls, and who was naturally reactionary", analyzes the critic and film professor Quim Casas. "In both Sky Rojo and the slasher, the leads are young, attractive and determined heroines. It is a somewhat fictitious and fanciful empowerment ", adds the critic.
Both Pina and Martínez Lobato have admitted in various promotional interviews for the series that they were aware that the tone used would arouse criticism for its, say, lightness and frivolity. The glamorization of prostitution. "Yes, it has been risky, but comedy and action is our bet to tell something very sordid, very dramatic, in a way that reaches the maximum possible number of viewers. If the series serves for someone to stop for a minute to think about what is happening on the other side of the road, we will have already achieved something ", declared Pina in a recent interview with the Sensacine portal.
Parallel universe
Certainly, Sky Rojo is neither nor is it intended to be a realistic drama where grime and torment abound. It would be much closer to exploiting the balance of Rick Jacobson's Bitch Slap than it is to Lukas Moodysson's human trafficking drama Lilya Forever. Pina and Lobato strive to enter us a parallel universe that is far from the codes of reality and that is more like the world of comics. Incorporating, yes, discourses that do have an authentic basis when it comes to talking about prostitution. "We did not win in the steel industry, we did not win in mining. But we win in whores, "says pimp Romeo. According to what is said in the series, Spain is the first country in Europe in prostitution consumption and the third in the world.
These last sentences are precisely extracted from the book El pimp, by the writer and director Mabel Lozano, who has been researching trafficking for more than 15 years and has just won the Goya for best documentary short film for Biography of the corpse of a woman. "All the brushstrokes that are given on reality you do not see, they are only said. Therefore, they are useless ", sentence.
Law against trafficking
Curiously, 'Sky Rojo 'has appeared at the same time that the Government was promoting the work to elaborate a comprehensive law against trafficking and sexual exploitation. A delicate matter on which it has been trying to establish a regulation and that the series always deals with from the show. Do the series have a responsibility when it comes to educating viewers in values? Can you use any topic in any way you want, appealing to freedom of expression? Even if it denigrates women or is it an apology for sexist violence? "Cinema is one of the best tools that exist to educate the viewer, but it can serve precisely the opposite, since it affects so much the collective imagination that we have idealized Pretty Woman", Lozano responds. "And I think that the look on violence, inequalities, exploitation, has to be transversal to everything, without curtailing the freedom of the creator. The question is, are they aware in many cases of what they are doing or not doing?
Fictions can become a warped reflection of reality. They can portray their miseries, they can be dark without the need to be sobering or moralistic. But in Sky Rojo, the complaint ends up buried under his explosive sense of entertainment. Also, under his questionable good taste. "Do you want me to suck your eggs, darling?" Is one of the first phrases heard from Coral's mouth, after saying: "I'm a whore, before I was a housewife and before that, a biologist." Details that, however, matter little to the hundreds, thousands of Twitter users who applaud the "forcefulness and effectiveness" of Sky Rojo when it comes to dealing with the thorny issue: "Without clients, there is no prostitution."