Sister cannabis, the false nun at the head of a drug empire | Doc & Roll blog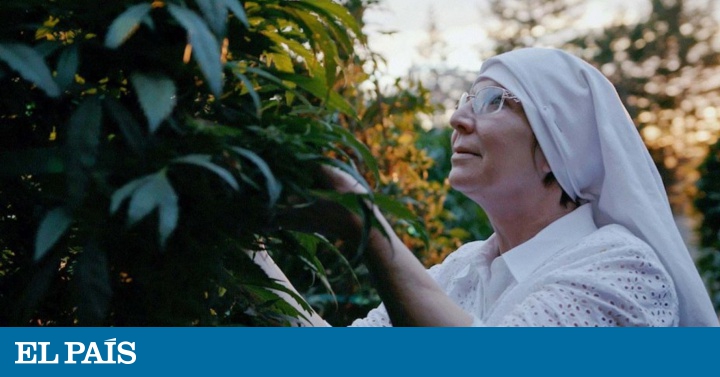 Before putting on a false habit and setting up a congregation dedicated to the cultivation and mass sale of medical marijuana, Sister Kate was Christine Meeusen, a faithful servant of that god called capitalism. The American had developed a successful career in the corporate world when her husband, Bígamo, disappeared with all her savings after 17 years of relationship. With three teenage children in his care and before an economic crisis that had left her without a job, she moved in 2008 to her brother's house in Merced, in the State of California (United States).
Perhaps it was the name of his new residence, his education in nun schools, his almost 10 years living in Amsterdam or a mixture of all these circumstances that inspired his entrepreneurial spirit. With impudence and much imagination, he managed to invent an alternative existence in the years in which the Occupy movement expanded throughout the country.
He started selling ointments in a virtual store on Etsy and ended up hiring several bodyguards to protect himself from the men who competed in the drug business. Director Robert Ryan sneaked in his crazy life for years to shoot the documentary Breaking habits, issued by Movistar +.
The British read the story of this irreverent 59-year-old entrepreneur when her testimony jumped to the media pages as The Washington Post He decided to contact her through Facebook to propose to register her chaotic day by day.
"Like the viewer, he gets stuck with fictional characters like Walter White (Breaking Bad) or Jackie Peyton (Nurse Jackie), I knew that I would also do it with someone real like her. Watching someone who defies the rules and plays with the limits allows us to fantasize about how we would be if we also dared to break everything, "Ryan says by telephone to EL PAÍS.
Although California legalized the use of medical marijuana in 1996, Sister Kate has to juggle not to commit crimes with her particular business model. The oils and capsules that it commercializes are, officially, products to relieve the symptoms of insomnia, arthritis and anxiety. There is no tool that is not useful in your house of cards. Through his Instagram account, he almost daily promotes the benefits of his lifestyle.
The more he discovered the circumstances of his protagonist, the more cultural clashes the filmmaker faced. The California that he found in Merced takes place in a reality much more precarious than what television and cinema usually reflect. "I kept thinking that something like that can only happen in the United States. The most shocking was to see the naturalness with which weapons are handled there. It is a reflection of the desperation felt by its citizens, "he says now.
Meeusen's cannabis empire was growing as his alter ego became popular in the US media. And the first women who wanted to answer their call began arriving at their marijuana plantation. "His testimony connected with women who also dragged a tortuous life story. Some of them dared to take the step and move with her, "says the director.
Sisters of the Valley is called the congregation around which this lucrative company is built that has inevitably affected the family life of its founder. His eldest son is a key piece in his complicated business framework.
The American, who does not declare herself religious, prefers to define herself as the leader of a spiritual movement. "We don't spend our time praying on our knees, but when we grow our medicine we do it in an environment of prayer; it's our time for prayer, "the self-styled sister Kate had years ago to the ABC television channel.
After years watching her, the director of Breaking habits He defines her as a survivor who has turned her boredom into anarchy. "I do not believe that it becomes a habit to deceive public opinion. It is his armor. He just wants to feel protected in a world that has turned his back on him. I guess he trusts that even bad guys think twice before shooting someone who looks like a nun, "Ryan jokes.
. (tagsToTranslate) Sr. (t) cannabis (t) false (t) false (t) monk (t) empire (t) documentary (t) drug (t) breaking (t) habit (t) show (t) reinvention ( t) exejecutiva (t) exejecutiva (t) found (t) company (t) sale (t) marijuana (t) medicinal (t) california



Source link