"Since I was little I have always dreamed big"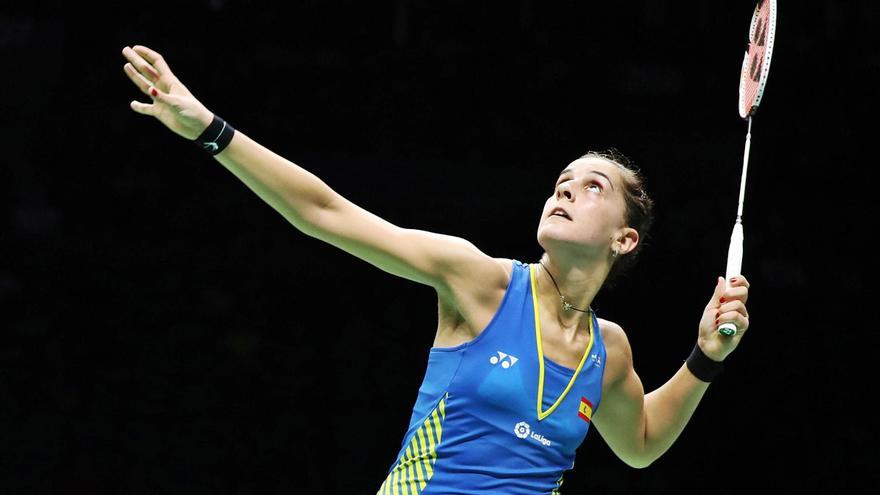 Carolina Marín, I am going to ask you how you are but it is not a formality, we all want to know how Carolina Marín is doing right now.
Well, fortunately my health is quite good, I have to say that at the moment I have not caught the Covid, I am taking great care of myself, taking all the precautions and following the rules that they are setting us, honestly, so far everything is quite well.
That documentary that talks a little more about you was released recently, a documentary that has been a hit because we all wanted to see a little more and know Carolina Marín even through the screen, that fighter person, that sportswoman who has always had a dream and has pursued it until it is achieved. And well, it shows that trajectory with moments that are also hard like that injury. Is it going to come out stronger from an injury that has complicated so much in recent months?
The truth is, I have to say that I am happy to have been able to do that docuseries, from the moment it was proposed to me I had no doubts, it made me very happy that everything behind it could finally be seen through images. I have always said that the medals are very beautiful and that is what everyone sees, but with those images you can see everything that is behind it, how much you have to do to get those medals. It is true that last year I thought that the knee injury was the worst thing that could happen to me in life and a few months ago I had the loss of a relative, and that has been the worst. It is clear that I came out of that knee injury very strengthened, the entire rehabilitation process that was seven and a half very very hard months, many hours of dedication every day, after five days I was already sitting in a chair with my leg in tall and a racket in hand, there are many images in that documentary that I think people have been fascinated.
As a professional we already knew about her, as a person we have been able to know her a little more, they are images that capture that motto 'I can because I think I can', which has defined her throughout her career from a young age. Where does that phrase come from?
Well, it was born a little through that psychological work that I have been doing since I was 15 years old that I have been here at the High Performance Center, I have been forging it little by little, one day that phrase came out and I have always kept it within me. The truth is that I use it a lot in some situations, even game moments and complicated moments in my personal life. Today I am proud that many people can also serve in their lives.
"I thought the knee injury was the worst thing that could happen to me, but I came out of it very reinforced"
And have you ever stopped believing in this?
It is clear that there are moments of doubts, of fears, as I always say this is not a bed of roses, it has been clearly seen through those images that suddenly a knee injury comes to me, my crusader breaks and I kind of it stops the world. In the end, it is true that there are moments of doubt, will I ever be the same again? Will I win a game again? Will I play badminton again? There is always some fear, even at your best there can always be minimal doubts but thanks to all the work I do with each of the members of my team I always come out very reinforced.
From having touched the sky, literally, to having to stop and not for want of desire but for a physical matter. It has to be tough.
Very hard, I already tell you that I thought it was one of the worst things that could happen to me in life, we in high-level sport push our body over the limit, always beyond that, that's what I think differentiates us from the people who are not on the podium. Yes it is true that in the end to take the body so to the limit you have to take great care of it, fortunately I had not had any such serious injury until that break in the crusader last year but you have to take care of yourself day by day, you live by your body.
I'm going to read something to you: «What I've always been clear about is that I wanted to win, that I had to be the best. When I was a child I did flamenco I wanted to dance better than anyone. When I started playing badminton at the age of eight, for fun, I wanted to win. And, of course, when at twelve it became a bigger hobby the objective was to win and nothing else to win. They are verbatim words from one of her books and that define her, she is a very demanding woman, has she ever been harmed by being so pesky?
I have played a little in those two bands, it has benefited me in many things because being so demanding has made me what I am, but it is true that many other times I should have given me a little more affection, perhaps have something more of patience with myself. In the end, that demand has sometimes made me fall lower than I was. Yes it is true that I am a very competitive person, those words that you just mentioned are through that competitiveness, I want to be the best version of me in everything I can, in all facets of my life, when I was little in flamenco, Then it was with badminton, it was clear to me that I wanted to become the best although I did not know that I could achieve everything I have achieved. Simply being clear about it and wanting to fight has been what has marked my whole life.
"Being so demanding has made me what I am, but it should have given me more love and patience"
Did you never imagine that you would become the best player in the world?
Let's see, I've always said it, I dream big and I think there are few people who dream big and who achieve those things that they precisely dream of. I am one of the people who dreamed big since I was little, I did not know how far I could go but it is true that those who do not dream I am sure they do not get those things.
This strange year he played seven tournaments, then a long pause due to the pandemic situation, these international trips cannot be carried out, when are we going to see Carolina compete?
In November we had three weeks of tournaments that were going to be held in Thailand, but they already told us from the World Federation that they were going to postpone it to January, so right now I am already preparing and training for that return in January, I have three weeks of very high level there.
The countdown begins, I do not know if they have put a lot of 'cane' after all that time without being able to train, without competing and at home.
In confinement it is the first time since I was eight years old that I have spent three months without picking up a racket and shuttlecock, at first we had to be careful, we could not go crazy because we could not get injured, we had to live from day to day, With the Covid we did not know if we were going to have tournaments, if they were being canceled, if they were postponed, today it is important to continue day by day. Both my team and I are quite planned people who like to keep things well organized but right now, unfortunately for what we are living, there is nothing left but to go day by day and see how everything evolves.
You don't like to talk about training, is it true that you get to translate your interviews as a spy to get your methodology?
One of the things that I talked about with my team is that in the documentary you see many images of things that we have never wanted to tell, but in the end I am also excited that people see through images all those unthinkable things that come to pass. do to get the medals. It is true what you have said, all these interviews that they do with me in India or China I know that they translate them to see if they find any of the secrets that we usually hide in quotation marks and that in part differentiate me from all the others.
"I danced flamenco and a friend asked me to accompany her to her training one day. That's where it all started "
Having to separate from her family to become the great reference. Because we know that the origin of this sport is in Asia, India, Indonesia, Thailand, and also the great players, but suddenly a girl from Huelva arrives and the story changes a bit, how has she assimilated it?
I have to say that at the beginning I was like the weirdo of the competition, suddenly a Spanish woman who started to stand out was totally unthinkable, but hey, in the end they got used to it, it was like a louse with whom they had to be more careful. After my first World Cup that I won in 2014, the next tournament I had ten cameras behind me recording me in each of the games to see how my game was, my evolution and have control over myself.
Athletes feel the heat when they go up to collect the medals, but have you received messages of support during all these difficult months?
I will be eternally grateful for all the support that I receive from people, also at the time of the injury, which I already said was very difficult to face on a day-to-day basis. I had been training for nine hours, even longer than right now that I am not injured. Once again, thank you for all the support after the loss of my father a few months ago, it has undoubtedly been the most complicated moment, I am still pushing forward as I can and I know that there are people who support me and continue to trust me, that comforts you a lot.
Does it pay off on a personal level to have that global dimension and to be a reference for so many people?
For me it is a pride, apart from having opened that path here in Spain, that they want to notice me, that they follow in my footsteps, my methodology, how I have worked. Nothing is impossible, there is no secret, everything is work and work, many sacrifices, that is something obvious, but I sincerely believe that it is worth it and a lot.
Carolina, what is it like to play in a sports hall that bears your name?
When I played in 2018 it was a dream to enter that pavilion, to see five thousand people there, everyone cheering for me. I get goose bumps just telling it. Just imagining that next year we have the World Championship there, at the Carolina Marín Sports Palace in Huelva, fills me with emotion. The European Championship was already a dream come true, imagine being able to do a World Championship there with the support of all those people, I hope they push me and I can get that victory.
At what point does Carolina get to badminton?
All this begins because I danced flamenco and it was thanks to a friend, one day she told me 'Caro come and play badminton'. I said, what is that? We have a sports hall there five minutes from home and it all started there. I had seen tennis on TV but never a badminton racket, much less the shuttlecock, little by little I became more hooked and at the age of 12 I gave up flamenco, and studies took a lot of time, but I continued with badminton and to this day from today.
And if it wasn't badminton, what would it be?
That question has been asked me many times, but I have no answer.
I'm going to say just one word to you and I await your reaction: Tokyo.
Gold medal.
He has the Olympic rings that led him to touch the sky tattooed on his left wrist if I'm not mistaken, but Carolina always looks ahead and we have to bet on new challenges, and that effectively implies Tokyo.
Yes, of course, next year the main objective is Tokyo in the summer, that is our main point of view but I do not want to let go and forget that a few months later, in December, I will have the World Championship. Without any doubt for me 2020 is a year to erase, to turn the page, to end and I want to start 2021 with enthusiasm, with enthusiasm, with renewed strength. I have two very ambitious goals and I know it is going to be a complicated and tough year, but I really want to face it with clear goals, someone else's medal in the Olympic Games in the World Championship.
Carolina thinks that she can and we also think that you can and will achieve it.
Thank you very much for your support, kisses to all and taking good care of yourself.
The secret of a champion.
Carolina Marín has just published her second book with the experiences and fears of a hard year for everyone and especially for her |