SIMO Education: Educational innovation to enhance science and technology in the classroom | Economy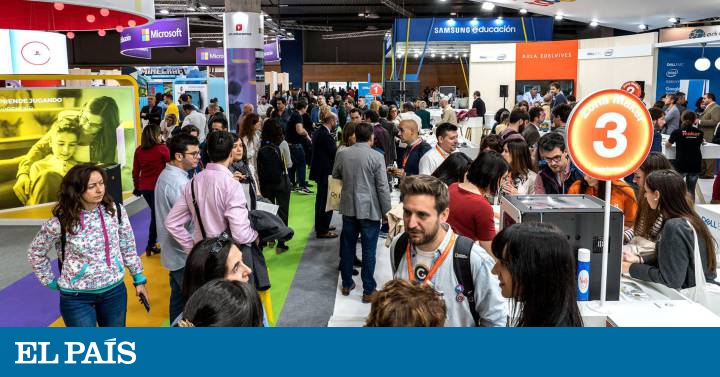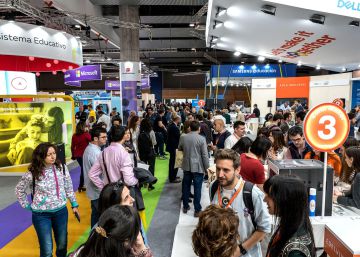 News to enhance creative skills, critical thinking and teamwork in a practical and collaborative environment focused on the development of the so-called STEAM (Science, Technology, Engineering, Arts and Mathematics, for its acronym in English). That has been the main objective of the 239 international companies that have gathered, over the last three days, in the International Exhibition of Technology and Educational Innovation (SIMO Education) in Madrid, cites that "it tries to humanize technology, that helps us teach and learn better, and that helps young people face the challenges that society itself imposes in this digital revolution," says Lola González, director of the fair. A contest that has also served as a meeting to learn about the good practices that are already implemented in our classrooms and highlight the gender gap that still persists in our country when accessing these disciplines.
Why this focus on STEAM? Especially because the number of students enrolled in Spain in this type of studies has been decreasing over the last years, which causes that there are not enough people trained to meet the market demand, and it is necessary to look for them outside. But also because, regardless of what we do, learning basic programming concepts can help to better structure thinking and develop other types of learning. "This loss of talent, especially in women, is a shame, because it occurs not because of a lack of capacity, but because they tend to consider that they are less qualified for careers of this type. It's a self-sabotage, "says González.
"Women tend to put more value in careers with a greater social component, and consider that technology does not have such a direct application in society. But it does: environmental engineering serves, for example, to purify water in developing countries, and engineering, through infrastructure development, helps bring communities closer together, "he adds. It is not a lack of female referents: there are, but they are not made known enough. And precisely to empower girls in the technological environment, the I.T. Girl, holding a round table with experts from the world of science and equality.
Artificial intelligence and STEM projects
Regardless of the educational level, the different proposals presented in this edition of SIMO Education emphasize personalized project-based teaching and a collaborative learning style. Thus, for example, they can develop their knowledge about electricity by building their own laser sword, or design a space sock that helps them understand the challenges astronauts face in space every day. From the hand of Microsoft and NASA comes a series of pedagogical Hacking STEM proposals that will help them experience microgravity or detect radiation, among other projects.
Thanks to the recent entry of Edelvives in the Aragonese start-up Innovart, a Inventors Academy with a whole program of proposals on robotics, 3D printing or design thinking that can be adapted to both extracurricular and curricular activities. Something that also brings bMaker, product of the alliance between bq and Macmillan Education, through challenges adapted to each level for which students have to find their own solution, or Rockbotic.
Artificial intelligence, data science and machine learning are the tools proposed by Microsoft to customize the learning of each student according to their needs and difficulties, so that teachers can detect possible cases of dropout before they happen, and apply prevention measures. "It is already possible for a bot to read a student's facial expression and indicate if it is difficult for him to understand a subject, and help the teacher modify the way he is taught to avoid school failure," says Belén Gancedo, director of Microsoft education in Spain. SM, meanwhile, will make it possible for we can use the Alexa assistant to consult information related to the day to day school.
Good teaching practices
Of course: no matter how much technology and many tools there are in the classroom, nothing would be possible without the presence of a truly involved faculty: "Right now they are required much more, for the vertiginous changes that technologies are forcing them to make," Gonzalez says. In this way, SIMO wanted to recognize the most innovative initiatives which are already being implemented in educational centers. Thus, the I INNOTECHEDU Prize has gone to the Escape Room Digital project, developed in several educational centers in Barcelona, ​​Cantabria, Murcia, Alicante and Zamora; and the 1st Prize for the Best Innovative Teaching Experience 2019, to Ada Byron and The Secret Club of Inventions (Colegio Tremañes, Gijón).
In the first one, students from 6th grade of Primary and 1st of ESO developed a gamification strategy with five challenges of Mathematics, Language, Biology, Social Sciences and Music and Art that students must solve in the shortest possible time. An initiative in which a total of 271 centers participated (of which 261 are in Spain). The initiative of the Asturian school set itself the objective of promoting gender equality in Science and Technology, through activities such as holding meetings-workshops with 20 scientists or creating and exhibiting own inventions.
In addition, the SIMO EDUCACIÓN INNOVA platform wanted to highlight this year 11 cutting-edge products for the classroom, according to technological innovation, functionality, design and usability criteria, such as the app Planetonia (SM Educamos), a gamified environment for early childhood education (3 to 5 years) with the purpose of acquiring digital skills and reinforcing aspects such as personal autonomy, knowledge of the environment and learning and language acquisition; the app Digital croquette (Edelvives), a project that addresses neuroscience through aspects such as creativity, emotional management or movement; or the new Promethean interactive panels, which integrate Chrome and Android operating systems so that the teacher has quick and easy access to all their apps, regardless of the device they are on.
The integral systems for the management of the centers and the communication with parents and students have also had their place in this edition. Among them, the environment of SM Educamos or Polp, of Edelvives, which presents the particularity of being an open and free content aggregator; or apps specifically focused on communication such as TokApp, integrated in both iEduca like in Academic Control.
Innovation in rural areas
The # MoverEspaña project, a joint SM and HP initiative presented today at SIMO Education, aims to finally encourage innovation and promote digital skills in rural areas, with the aim of approaching "a more sustainable demographic model that reverses the trend already called" Empty Spain ":" Robotics, apps and technology allow us to develop our online professions and achieve an improvement in opportunities in rural spaces ", in the words of Magí Almirall, corporate director of technology and digital business at SM. An objective that González, director of the fair, will subscribe in the 2020 edition, in which "a special recognition will be given to innovation in the rural school, which is not the same as in the urban environment. Technology is very effective for working in a connected way in physically dispersed communities. "
. (tagsToTranslate) innovation (t) educational (t) educational (t) enhance (t) science (t) technology (t) classroom (t) fair (t) simo education (t) bring (t) latest (t) novelty (t) skill (t) technological (t) technological (t) collaborative (t) student (t) propose (t) close (t) gap (t) gender (t) discipline



Source link