Simeone, delighted with Luis Suárez: "I found hope and desire to be here"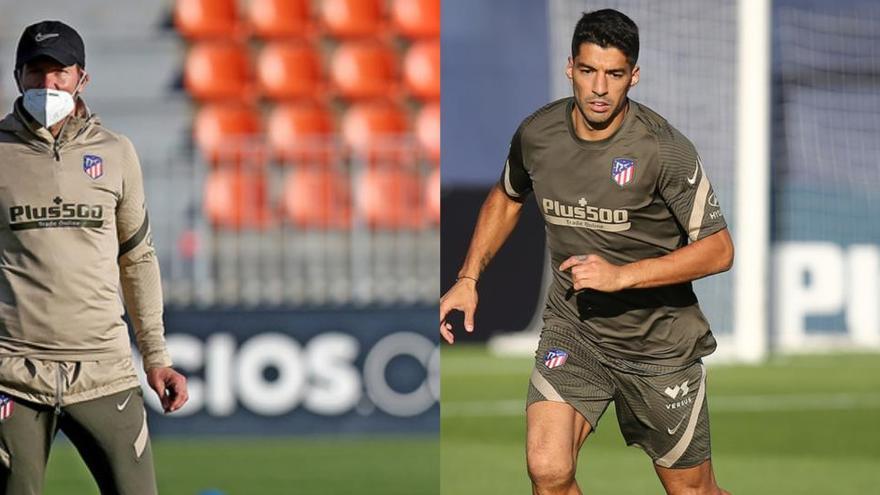 Diego Simeone, the coach of Atlético de Madrid, already has the Uruguayan Luis Suarez to which he will already give a tour in this Sunday's game against Granada at the Wanda Metropolitano, of which he highlighted his "offensive power" and of which he trusted that he would return the team "to compete until the end for everything".
"When we had a very good Falcao, a very good Costa and a very good Griezmann, we always came close to competing until the end for everything, so hopefully his arrival, with the presence of Costa, plus Joao's growth, plus the company of Carrasco, Correa, Vitolo, Lemar, allow us to improve and exceed what we did last season", the Argentine coach recited that idea twice during his first telematic press conference of the season, already reincorporated to training after overcoming Covid-19 "with few symptoms".
Only those three aforementioned attackers have exceeded 20 goals in a campaign under the command of the Argentine coach. When they did Radamel Falcao (34) and Diego Costa (21) in 2012-13, he conquered the Copa del Rey and the European Super Cup; when Costa (36) did it in 2013-14, he Athletic; And when Griezmann did it for four years, his team competed for example for the championship until the penultimate date in 2015-16 and cherished the Champions League.
AND Luis Suárez has guaranteed such a figure at least in his last eight campaigns, six in Barcelona and two in Liverpool: 30 in 2012-13; 31 in 2013-14; 25 in 2014-15; 59 in 2015-16; 37 in 2016-17; 31 in 2017-18; 25 in 2018-19 and 21 in 2019-20.
"His arrival invites us to continue growing as a club and as a team. Your hierarchy will give us internal competence and, above all, an offensive power in regard to their historical numbers that I hope they can continue to accompany them here, "said the coach.
The goal, so precious and so difficult in football, is what the Uruguayan striker contributes above any other consideration. And it is what Atlético needs, above any other aspect, according to the development of last season, in which he lacked an offensive plus, more hit to fight by much more than the third position, his priority objective, but not the highest.
Simeone spoke with Luis Suárez during the process for his signing from Barcelona, ​​but the coach himself downplayed the significance of such conversations: "He was convinced from the first moment that this was the place to continue being in force, showing that he is still an important striker and sustaining these years at Barcelona. I found in the round trip what we need in this club: illusion, desire to be here and the people, when he comes like this, he always or almost always goes well. "
"Suárez is an important reference for the team, with a great back game. His movements within the rival area generate his habitat where he best develops. Given the opportunity and the possibility that Álvaro (Morata, on loan to Juventus) had to go out, we understood that the best way to keep trying to improve was to look for someone who surpassed in goals last season. And when the possibility of Suárez appeared, because it was not easy to think of a replacement for Álvaro, the numbers speak for themselves ", he stressed .
Received by his teammates with "enthusiasm, with great enthusiasm and wanting him to adapt as quickly as possible", Simeone's desire to add him to Atlético is not new. He already tried years ago, when he was still at Liverpool. Then, the attacker went to Barcelona: "He chose another path. These six years have been successful and wonderful. And with absolutely great football in his game. "
Now he has selected the rojiblanco team. There are no doubts about him. Not even with the knee operation last January. "You have to see the end of last season, where he ended up scoring several goals. If I'm not mistaken, finished in a figure of 21 goals, with absences during all those three months away from the team, "recalled Simeone, who will seek to" enhance ", as he has always done," the characteristics of the best players "on the team.
"Many times many turned out very well and some evidently not throughout all these years. Hopefully this returns us to the times when we had the best Falcao, Costa and Griezmann, that we were always close to the successes that all fans especially need and want. "It is Simeone's challenge … And Luis Suarez.