Silvia Navarro will continue defending the colors of Rocasa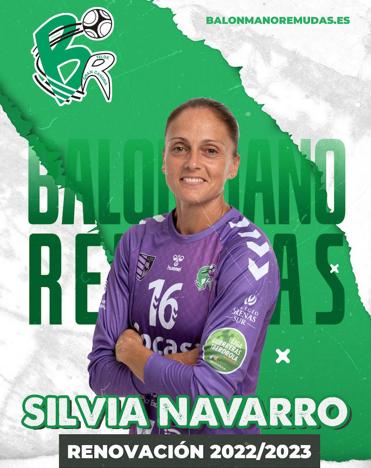 Handball
The Valencian goalkeeper renews one more course with the team from Teldense, with which she will sign her tenth consecutive campaign on the island
The
Rocky Gran Canaria will once again have its greatest legend, a crucial player for the club's successes and history.
Silvia Navarro (Valencia, March 20, 1979) will defend the goal of the Teldense squad one more year in what will be his
tenth consecutive campaign in the ranks of Rocasa. Work, effort and discipline are the words that define a player like Silvia Navarro. The goalkeeper has one of the greatest sporting careers in Spanish handball behind her. Her experience has led her to become a
essential pillar for the history of national sport.
Silvia
began his sports career in Mar Sagunto Handball, to later serve in the Itxako Sports Society from 2006 to 2012. After her time with the Navarrese team, the goalkeeper went to SCM Râmnicu Vâlcea in the Romanian league to play the 2012/2013 season. With a long career behind her, Silvia packed her bags and went to Gran Canaria to play for Rocasa,
where he militates since 2013.
Navarro became a fundamental player from the first moment she landed in Gran Canaria. Their
talent and perseverance They led her to be key in the Rocasa scheme, as she arrived as a goalkeeper of enormous level and career. The one from Valencia has left her mark on the yellow team after winning all kinds of national and international titles. In the extensive list of winners of her with the insular ones are
2 Iberdrola Leagues, 3 Queen's Cups and 2 Super Cups. In addition, Silvia Navarro has raised up to
3 times the EHF European Cup trophyachieving the last of them last season.
Icon

Silvia Navarro has become an icon of Rocasa Gran Canaria, but her legend does not end at her club, as the Valencian
She has also been a reference with the Spanish handball team. In his medal count he has a bronze medal at the 2012 London Olympics, a bronze at the 2011 World Championship in Brazil and a silver at the 2019 Japan Championship, as well as another silver medal at the European Championships in Hungary-Croatia 2014.
Without a doubt, the club is in luck, as one of the most important players in the history of the entity will remain one more year defending the shield of the Teldenses. Silvia Navarro has been and will continue to be an example on and off the track and a very important part of the history of Rocasa Gran Canaria.
Cuesta: «Silvia is an example as a person and as an athlete»

«Without a doubt, that Silvia Navarro is still in the team is great news. We all know what Silvia means, she is an example as a person and as an athlete and we are very happy with her continuity in the project for one more season," said the head coach of the Gran Canaria team, Robert Cuesta, regarding the renewal of the Valencian goalkeeper.